Giancarlo Esposito's Favorite Co-Star To Work With On The Mandalorian May Surprise You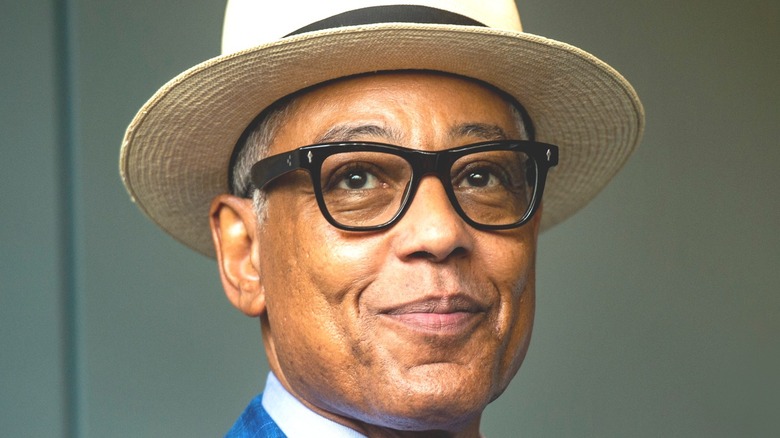 Bryan Regan/Shutterstock
Without question, one of the biggest hits on Disney+ since the streamer's inception is "The Mandalorian," marking the first time a live-action episodic TV series was produced in the "Star Wars" universe. Beginning five years after the events of "Star Wars: Episode VI – Return of the Jedi," "The Mandalorian" chronicles the exploits of Din Djarin (Pedro Pascal), a lone Mandalorian bounty hunter. Known simply as "Mando," Din Djarin's priorities shift dramatically when forms an instant bond with a 50-years-young creature dubbed "The Child," putting him at odds with several proponents of scum and villainy in the galaxy.
While "The Mandalorian" placed Pascal and yes, even the child (aka Baby Yoda and later, Grogu) front and center in the pop culture universe, the series also elevated the careers of several actors with each new episode. "Rocky" star Carl Weathers was celebrated for his turn as Mando's friend and sometimes foe Greef Karga, as was former MMA star Gina Carano as ex-shock trooper Cara Dune. Following the blazing success of his villainous drug lord Gus Fring in "Breaking Bad," Giancarlo Esposito's career was catapulted to an even higher place with his portrayal of the menacing Moff Gideon, an Imperial leader who wants to gain possession of The Child for nefarious purposes.
Naturally, when an actor is presented with so many talented collaborators, it's an impossible task to name favorites. Esposito was recently put on the hot seat, though, when a "Mandalorian" aficionado at a fan convention asked about which actor he liked working with the most. Esposito's honest and thoughtful answer may come as a surprise to some.
Giancarlo Esposito says Gina Carano is 'warm, and beautiful, and wonderful'
At Fan Expo Denver 2021, a young fan — dressed, appropriately in a Mandalorian costume — asked Esposito during a Q&A session who his favorite "Mandalorian" co-star was. Undaunted by the potential blowback by his answer, Esposito left any controversies surrounding the actor in question in the rearview mirror and noted, "I'll say it without hesitation: Gina Carano."
Carano, of course, was fired from "The Mandalorian" in February 2021 following a string of comments that met major resistance on social media. Never afraid to share her conservative beliefs, Carano raised the ire of the trans community, as well as COVID-19 masking and vaccine proponents. The post that led to her firing by Disney, though, came after she compared conservatives being hated for their political views to the plight of Jews during the Holocaust (via the New York Post).
Explaining his affinity for Carano, Esposito told convention goers that he wasn't going wasn't "going to weigh in on her political beliefs or what she said, [and] whether I think it's inappropriate or appropriate or not. We as actors, probably, sometimes ... I know for me I just shut my mouth. But sometimes I can't, and I've got to say what I believe because it has to go on record."
And the record is, Esposito admires Carano as an actor and a person. "I loved working with her. She's warm, and beautiful, and wonderful, and I don't care what her politics are," he said. "I love the fact that she came to acting late and that she was so raw and original and beautiful. And I just think she's a lovely person. So, I shout her out and I say she's one of my favorites."