Issa Rae Confirms What We Suspected All Along About Writing TV Over Zoom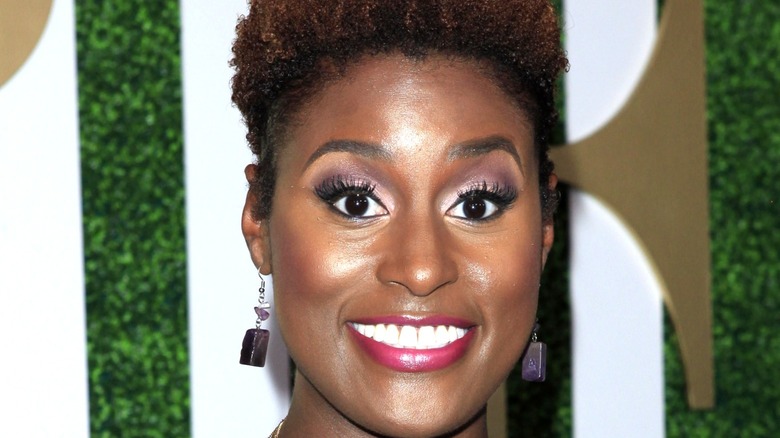 Kathy Hutchins/Shutterstock
Issa Rae's hit HBO show, "Insecure" is currently in the midst of its fifth and final season. Created by Rae and Larry Wilmore, "Insecure" follows Issa Dee (Rae) and Molly Carter (Yvonne Orji), two Black women and best friends living in Los Angeles. At the start of the series, Issa struggles to find purpose at her nonprofit job and questions her long-term relationship with Lawrence (Jay Ellis), while Molly succeeds as a high-profile lawyer at her firm but has a hard time finding a lasting relationship. Throughout the show's previous seasons, we follow them as they navigate work transitions, various romantic relationships, and friendship ups and downs. By Season 5, Molly and Issa are recovering from an intense friendship break and, both reeling from respective breakups, are now focusing on themselves and rebuilding their friendship.
Similar to other HBO shows preparing to release a new season this year, "Insecure" found itself affected by the COVID-19 pandemic. Their fourth season began in April 2020 and ended two months later, right at the height of the pandemic. This left fans to wonder when they would see the fifth season, considering the filming precautions for COVID-19 would make filming difficult. Luckily, viewers only had to wait about a year and a half, with Season 5 debuting in late October.
However, to make that happen, the team behind "Insecure" had to make some sacrifices — including giving up an in-person writers' room. Here's what Rae had to say about writing Season 5 over Zoom.
Issa Rae called writing over Zoom 'the worst'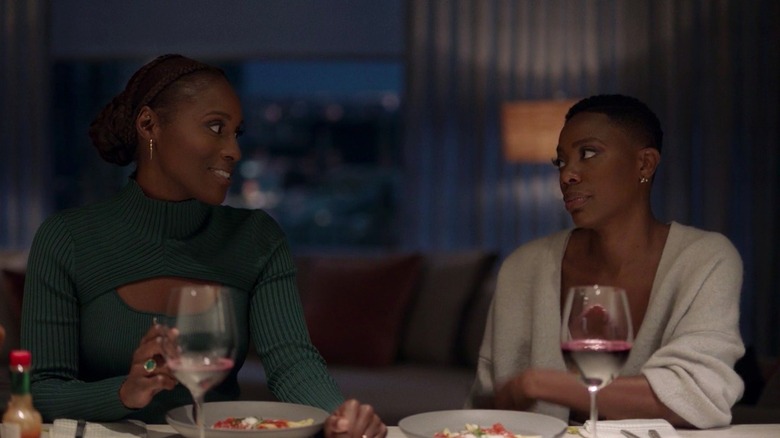 HBO
In a recent interview with Vulture, Issa Rae and the other writers of "Insecure" sat down to discuss bringing the popular series to a close. One of the first things interviewer Cate Young wanted to know was what it was like to write the final season over Zoom. Rae was quick to deem it "the f***in' worst." 
She continued, "So much of a comedy room's dynamic is in the jokes and looks you share with people, and to not know, like, 'I made that joke for them. Did they get it?' It sucked, and things took a lot longer. It was pretty devastating to write the last season of this show and not be able to even hug. The last day, we were all crying and saying goodbye to each other." Rae went on to recall another writer's disbelief at the thought of unceremoniously clicking the "Leave Room" button on the Zoom call on the final day. To this, writer Amy Aniobi added, "On that last day, I walked away — I think I was getting a drink — and I came back, and everyone had logged out."
While creating the show's farewell over Zoom may have not been ideal for the writers, the fans are definitely grateful to have not had to wait any longer to see the rest of Issa's and Molly's stories unfold. "Insecure" airs every Sunday on HBO at 10 p.m. ET and new episodes are available to stream every Monday on HBO Max.