HBO Max Pandemic Drama Station Eleven Gets A Teaser Trailer, Release Date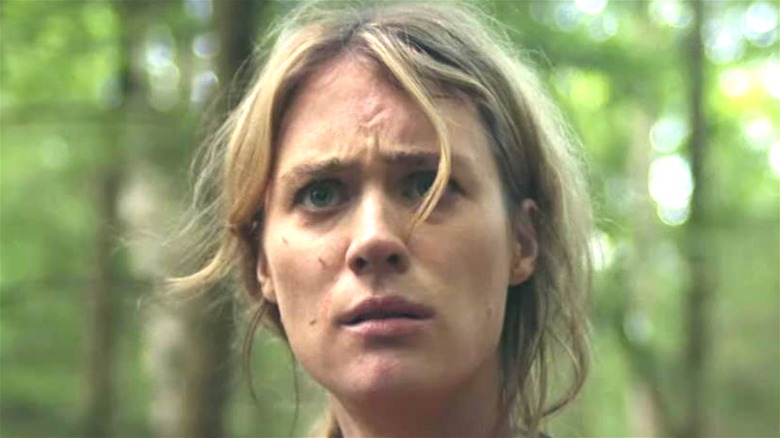 HBO Max
For reasons that should be painfully obvious to one and all, pandemic cinema has been very much en vogue of late with movie lovers continuing to devour apocalyptic tales of virus-decimated landscapes. And coupled with the fact that folks are still staying in a bit more than usual these days, the streaming realm has made it easier than ever for folks to seek out — and get creeped out by — such stories.
If you're among the pandemic-streaming masses who can't get enough of the cinematic subgenre — which covers everything from bloody zombie fiction (see "28 Days Later," and "Train to Busan") to austere human dramas (see "It Comes At Night," "Contagion") — there's a new series coming to HBO Max that should really be on your radar. Said series is called "Station Eleven," it's based on a best-selling hard sci-fi novel from author Emily St. John Mandel, and it's set to hit HBO's streaming platform on December 16, 2021.
We know that last fact because the streamer made it official in the just released trailer for "Station Eleven." And as thrilling as it is to finally know when we'll get to watch the series, the stunning new trailer should push excitement to see it into fever-pitch territory.    
Station Eleven looks to be an eerie, emotional trip through humanity's dark days and beyond
If you're unfamiliar with the source material behind "Station Eleven," it was published in 2014 with HBO announcing its adaptation well before COVID-19 hit. So while the new series is insanely timely, it's hardly an opportunistic play on the state of our world. In fact, much of the action takes place decades after a deadly flu decimates humanity. The trailer actually opens in the early days of that disaster, however, with a father stocking up on supplies with his young daughter in an eerily empty supermarket. 
From there, the needle drops on an equally eerie version of the timeless pop hit "What the World Needs Now Is Love," which plays over scenes of the world falling into chaos. As voices and times seem to blend, we jump years ahead to the aftermath, with humanity championing on amid images as breathtakingly sweet and surreal as they are bleak and brutal. Somewhere in the mix, "Station Eleven" promises thrills on par with both "The Walking Dead," and "Children of Men."  
As for its pedigree, "Station Eleven" is boasting serious talent behind the camera with "Maniac" mastermind Patrick Somerville serving as writer and executive producer, and frequent "Atlanta" helmer Hiro Murai directing all 10 episodes. The series is fronting some serious on camera talent too, with MacKenzie Davis, Himesh Patel, Lori Petty, Gael García Bernal, Caitlin Fitzgerald, and more appearing in multiple episodes. And from the looks of things, they've all got quite a story to tell.