The Real Reason Thomasin McKenzie Passed On Top Gun: Maverick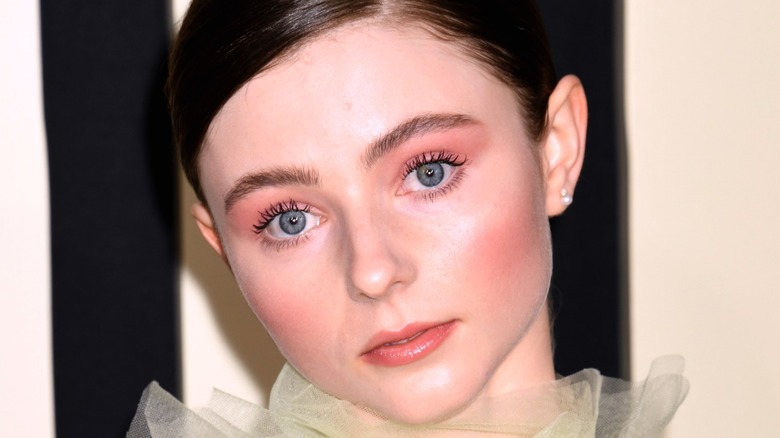 Featureflash Photo Agency/Shutterstock
"Top Gun: Maverick" has been at the top of many movie lovers' must-see lists for a very long time now. For some, the wait may actually be going on several decades, as viewers have been asking for a sequel to 1986's "Top Gun" basically since the late 1980s. However, for most people, the wait has probably only been a couple of years, as "Top Gun: Maverick" was first slated to be released in summer 2019, but delays resulted in its release getting pushed all the way to May 2022.
Fortunately, with its premiere only a few months away, it seems like fans will finally get to lay their eyes on the sequel soon enough. When they do, they will, of course, also get to see Tom Cruise reprise his iconic flyboy role from the '86 original. He'll be joined in the film by a brilliant cast of supporting players, including Jennifer Connelly, Miles Teller, Ed Harris, Jon Hamm, Manny Jacinto, and Val Kilmer.
But as stacked as the "Top Gun: Maverick" cast is, it was almost even more impressive. Indeed, "Last Night in Soho" breakout star Thomasin McKenzie was once set to appear in the film (via Collider). McKenzie's attachment was, unfortunately, quite brief, with the star exiting the project not long after joining it. Now, in a recent interview with Collider, the up-and-coming actor has finally revealed why we won't be seeing her in "Top Gun: Maverick."
Thomasin McKenzie chose to make a smaller movie than Top Gun: Maverick
Thomasin McKenzie originally joined "Top Gun: Maverick" in 2018, after earning rave reviews for her show-stopping work in the indie hit, "Leave No Trace," which put the New Zealand native on the map stateside. Taking that into account, it struck many as an undeniably odd move when she later opted to exit the high-profile project.
However, it seems like what led McKenzie away from the "Top Gun" sequel was the chance to star in another smaller, more personal project. Talking about her decision to walk away from the blockbuster film, McKenzie told Collider, "I think I really listen to my team because they've been in the industry for a lot longer than I have and so they have a lot more experience than I do. Also it just comes down to instincts. I was very lucky to have the option to do something else."
The "something else" McKenzie is referencing ended up being Netflix's overlooked true crime gem, "Lost Girls." According to McKenzie, that film's story, scope, and production team made the project far more attractive to her at the time than the "Top Gun" follow-up. "I was so honored to have been considered to be a part of 'Top Gun.' That's bloody amazing! It's really, really cool," Mckenzie said. "But I think 'Lost Girls' was a story that I was really interested in telling that was a female director, basically the entire cast was female so I really wanted to be a part of that."
The good news is that anybody who has seen McKenzie's work opposite Amy Ryan in "Lost Girls" will agree that she almost certainly made the right choice.