If You Love True Crime, You'll Love These Films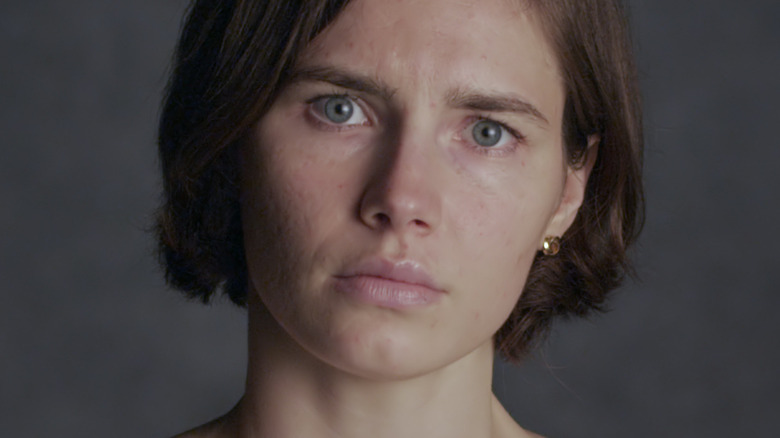 Netflix
This content was paid for by Netflix and created by Looper.
Some say that "truth is stranger than fiction," and you don't need to look much further than your daily news headlines to confirm the veracity of that sentiment. In a world where things are constantly moving and changing and virtually every event can be documented, we're all constantly inundated with real-life stories that would probably be considered too outrageous for a fictional creator to even dream of — and yet, they're actually happening.
While it can be a bit of a challenge to keep tabs on all of the wild stories that are still unfolding in real time, the most bizarre and captivating of them all tend to make for some pretty great movies in the end. In fact, audiences can now find a bounty of films that artfully distill some of the most complex and shocking true-crime stories into movies that are both informative and completely captivating. So if you're the kind of film fan that prefers a dose of that strange reality in your entertainment, be sure to check out these true-crime movies.
Britney vs. Spears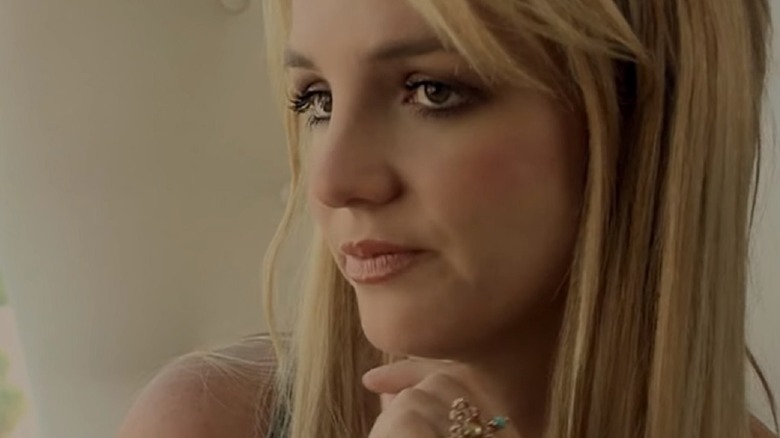 Netflix
Time will tell what ultimately comes of Britney Spears' battle to end the controversial legal conservatorship that's been in place for more than a decade of her life. But there's no doubt that the public's outcry to "Free Britney" has bolstered her efforts in recent months, as the pop superstar has finally been able to partly wrest her life from the control of her estranged father by a court order.
As with any high-profile case, there's even more than meets the eye when it comes to Spears' publicized dilemma, and "Britney vs. Spears" sheds light on some elements of the matter that might not be readily apparent from the ongoing news cycle. The highly informative documentary, from filmmaker Erin Lee Carr and journalist Jenny Eliscu, examines the intricacies of Spears' conservatorship arrangement, and with inside details from people close to the situation, it shows just how long and arduous the road to autonomy has been for the singer. The movie is also illuminating about the entire process of conservatorships as a whole, shedding light on a realm of the legal world that's clearly subject to some darkness.
American Murder: The Family Next Door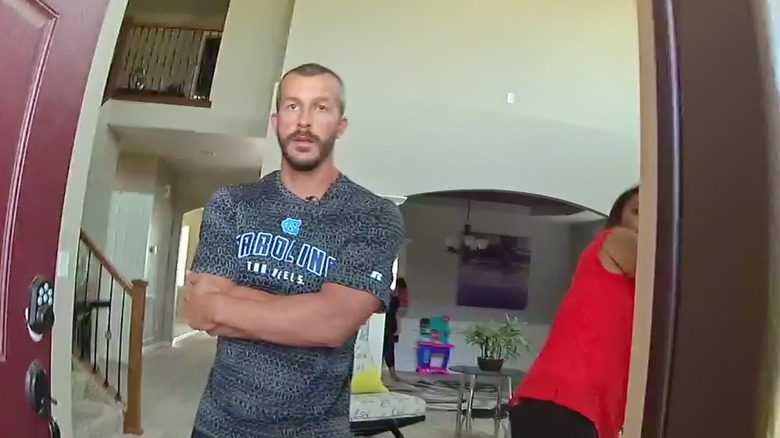 Netflix
In 2018, the news-watching world was rocked by the tragic stories coming out of Frederick, Colorado, after 34-year-old Shanann Watts and her two young daughters went missing and the agonizing truth about what happened to them slowly came to light. In "American Murder: The Family Next Door," director Jenny Popplewell looks back on the many unsettling developments in the case, with archival footage that includes everything from social media posts and personal text messages to police recordings to even some home media recordings that shed light on what was really going on in the Watts home as these horrors happened.
The film is carefully focused on giving a voice to the victims of the case — rather than mythologizing the perpetrator of the crimes — and deftly showcases how deceptive a person's digital presence can truly be even in a moment of personal crisis. It's a chillingly authentic look at a story that horrified the nation in real time.
Operation Varsity Blues: The College Admissions Scandal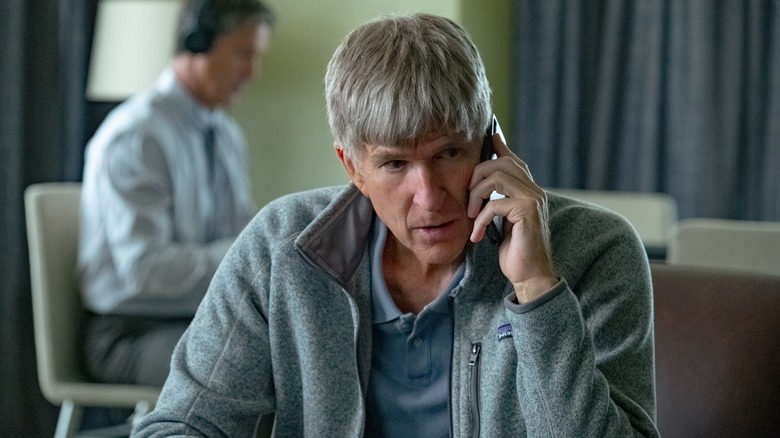 Adam Rose/Netflix
Another true crime story that continues to send shockwaves throughout society is the infamous college admissions scandal that came to a head in 2019 when the FBI announced a series of charges in a conspiracy sting it dubbed Operation Varsity Blues. Included in the list of indictments were some high-profile celebrities — namely, actresses Felicity Huffman and Lori Loughlin — along with other wealthy parents, collegiate college, and officials who participated in the scheme. The arrestees were allegedly all involved in a nationwide bribery ring to doctor test scores, sports records, and other application materials so that certain children could get accepted to some of the country's most prestigious universities.
"Operation Varsity Blues: The College Admissions Scandal," from director Chris Smith, chronicles the events leading up to that stunning FBI announcement, with actor Matthew Modine starring in the film as Rick Singer, the mysterious man at the center of the entire criminal enterprise. The film combines real-life news footage and first-person testimonials with reenactments of the actual conversations Singer had with his wealthy clients, both before and after he was caught in the scandal and agreed to cooperate with investigators. This clever format fills in the gaps and gives details about how Singer's long-running operation actually worked — and how it was ultimately exposed.
Abducted in Plain Sight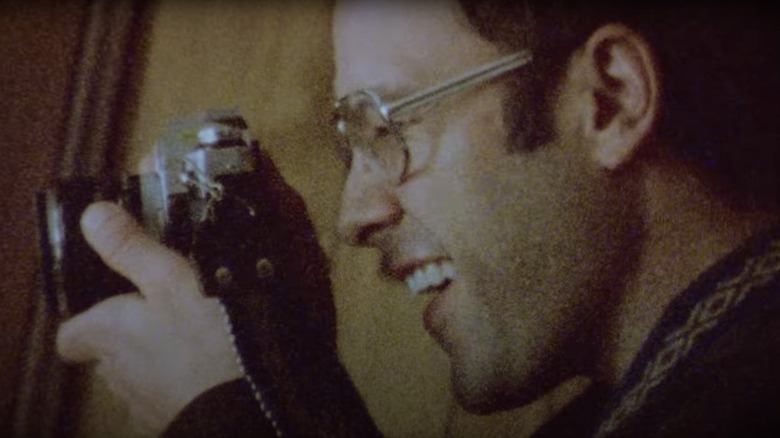 Top Knot Films
You might be compelled to scream at your television screen a few times while watching "Abducted in Plain Sight," but that's only because the film is so effective at laying out the truly revolting circumstances that led to Jan Broberg Felt being kidnapped by the same man twice at the ages of 12 and 14 in the 1970s. The film, from writer-director Skye Borgman, delves into the most disturbing details of her childhood, particularly her repeated abductions by a monster who used notions of faith and friendship to ingratiate himself to her parents.
The film centers on the church-going Broberg family and Broberg Felt's abuser, revealing how exactly this man was able to manipulate her mother and father into letting him become so unusually close to their daughter, even after he'd stolen her the first time. The details of the story are as bizarre as they are infuriating, but the film holds absolutely nothing back from the bitter truth of this tale, including bewildering testimonies from those who admittedly missed the red flags that were waving right in front of their faces.
If you or anyone you know has been a victim of sexual assault, help is available. Visit the Rape, Abuse & Incest National Network website or contact RAINN's National Helpline at 1-800-656-HOPE (4673).
Athlete A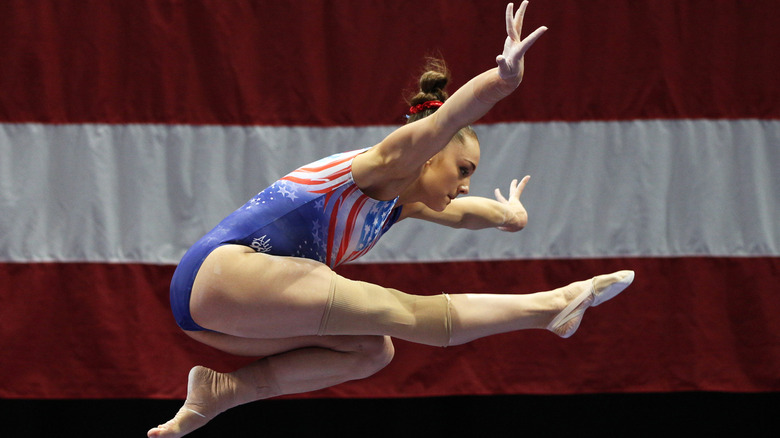 Netflix
Another film that reveals some truly stunning inadequacies when it comes to failing to protect children from repeated abuse is "Athlete A." The documentary, which is co-directed by Bonni Cohen and Jon Shenk, is named after the identity-protecting pseudonym that was given to gymnast Maggie Nichols while USA Gymnastics doctor Larry Nassar was under investigation for sexual abuse.
The film follows the investigative reporters at The Indianapolis Star who first looked into Nassar's history of assaulting young girls in the USA Gymnastics program, along with the alleged cover-up effort by the disgraced former CEO of the organization, Steve Penny. The film allows some of the many victims of Nassar's crimes to share their stories and shines a light on the toxicity of the environment that allowed them to suffer for so long.
If you or anyone you know has been a victim of sexual assault, help is available. Visit the Rape, Abuse & Incest National Network website or contact RAINN's National Helpline at 1-800-656-HOPE (4673).
Icarus
An athletic scandal that changed the entire sports world was the massive doping enterprise that got Russia banned from competition at the Olympic Games. And audiences have director Bryan Fogel's Oscar-winning documentary "Icarus" to thank for helping expose this pernicious state-sponsored practice of evading detection of banned performance enhancement drugs in Russian athletes.
The film follows Fogel as he, a cyclist, personally immerses himself into the world of doping in order to prove the inadequacies of current testing techniques, and he fortuitously befriends the scientific mastermind behind Russia's entire illicit practice, Grigory Rodchenkov. The film then follows Rodchenkov as he decides to accept protection from the U.S. government to speak out about how Russian officials encouraged him to cover up the national team's use of steroids to improve their performances at the 2014 Winter Olympics in Sochi. 
The impact of this story cannot be overstated. Rodchenkov's testimony sparks investigations and retribution by the World Anti-Doping Agency and the International Olympic Committee, and the impacts of these revelations continues to be felt across the globe.
Made You Look: A True Story About Fake Art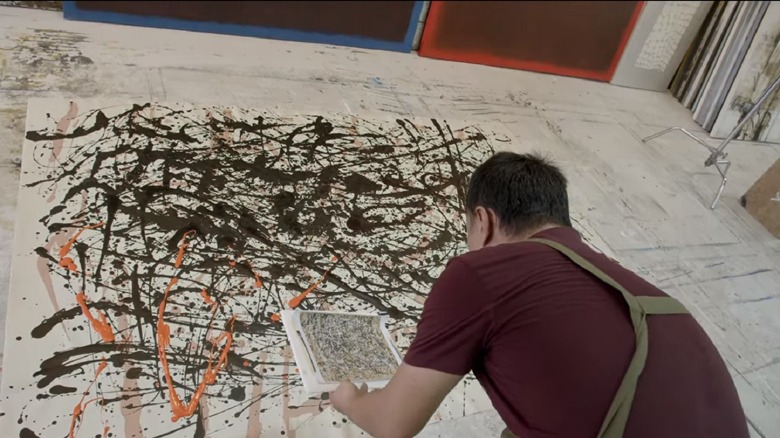 Documentary Channel/Netflix
They say all art is subjective, but when it comes to authenticating the works of history's most renowned painters, you might think there would be something of a science to it. But in 2013, the New York art world was hit with the revelation that dozens of forged paintings had been bought and sold by one of the city's most renowned galleries. In addition to fooling the gallery's director, these pieces were also intensely scrutinized and ultimately authenticated by the most esteemed experts in the industry as the original works of artists like Mark Rothko, Jackson Pollock, and more.
Barry Avrich's 2020 documentary "Made You Look: A True Story About Fake Art" dives into the $80 million fraud involving a mysterious Long Island couple, a struggling but obviously very skilled painter from Queens, and the duped director of the formerly preeminent Knoedler Gallery in Manhattan. The film shows that it wasn't just the con artists and gallery officials who were on the hook for this scheme. The implications stretched far throughout the whole art world, as the experts who gave their stamp of approval to the convincing fakes also had to answer for their part in the matter. The film also reveals the impact these crimes had upon the collectors who were financially harmed in the process of purchasing these phony paintings and, perhaps most compelling of all, the unassuming artist who managed to fool everyone without necessarily meaning to.
Amanda Knox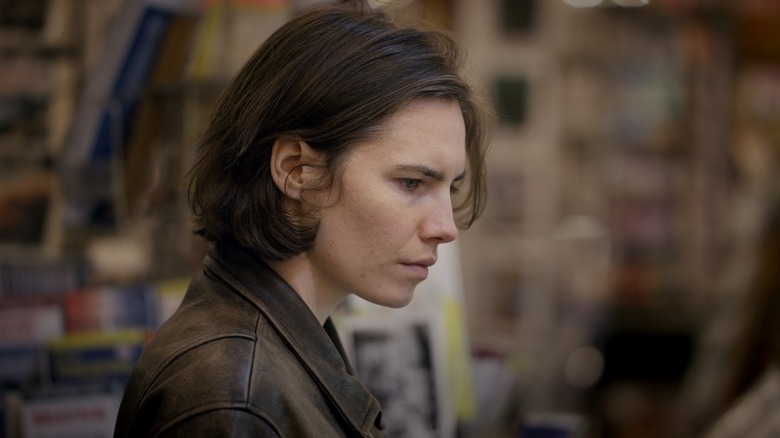 Netflix
The court of public opinion might be separate from real judicial systems, but it's not always necessarily distinct. And the 2016 documentary "Amanda Knox," co-directed by Rod Blackhurst and Brian McGinn, highlights one of the most notorious examples of a high-profile murder trial where the public attention may very well have made an impact on the decision to wrongfully convict the titular subject.
Knox was an American exchange student in Italy who, alongside her boyfriend, Raffaele Sollecito, called the police after returning home and discovering the body of her roommate, British exchange student Meredith Kercher. What followed was a ferocious media firestorm, some controversial policing techniques, two trials, and four years of prison time before Italy's highest court exonerated both Knox and her former boyfriend. And this film patches together the most winding details of the case, and with new testimonials from Knox, Sollecito, a prosecutor, and a reporter, it also makes some scathing critiques about the power of tabloid journalism.
Memories of a Murderer: The Nilsen Tapes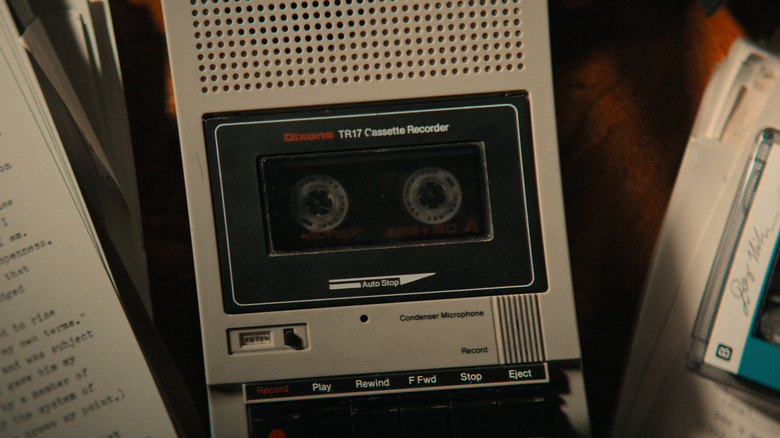 Netflix
It's rare to get any firsthand insight into the mind of a serial killer, let alone a full treasure trove of audio recordings on the subject. However, in "Memories of a Murderer: The Nilsen Tapes," from director Michael Harte, the film features some truly harrowing narration from Dennis Nilsen himself. Nilsen was one of Britain's most notorious killers, who confessed to killing 15 people and was known to target vulnerable young men in the '70s and '80s and then store his victims' bodies in his floorboards.
Nilsen isn't the only one who gets a say in the story, of course. The film also brings in interviews with survivors, victims' families, and investigators to tell the full story of how, for five years, this man was able to prowl the streets of London unchecked. Nilsen's tapes are not easy to hear, but they offer a truly unique understanding of the depths of depravity of this ruthlessly violent individual.
Lost Girls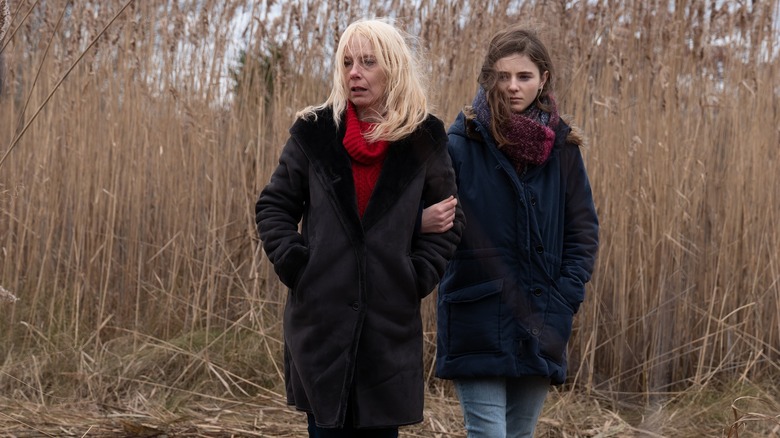 Michele K Short/Netflix
Last but certainly not least, if you want to see some powerhouse performances bringing a true story to life on-screen, look no further than Liz Garbus' 2020 mystery-drama "Lost Girls." The film is based upon Robert Kolker's book, "Lost Girls: An Unsolved Mystery," and features the incredible Amy Ryan as the late, real-life victims advocate Mari Gilbert, the mother of 24-year-old Shannan Gilbert, who mysteriously disappeared.
In the film, Gilbert is relentless in her efforts to push law enforcement to search for Shannan, and when she's unsatisfied with their efforts, Gilbert spearheads her own harrowing investigation that leads her to discover the deaths of multiple sex workers and, by extension, the existence of the Long Island serial killer. In addition to Ryan's phenomenal performance as Gilbert, the film also features immense screen talents like Thomasin McKenzie and Gabriel Byrne, resulting in a powerfully complex and heartbreaking true tale.