Mariah Carey Will Return To Apple TV+ For Another Round Of Christmas Magic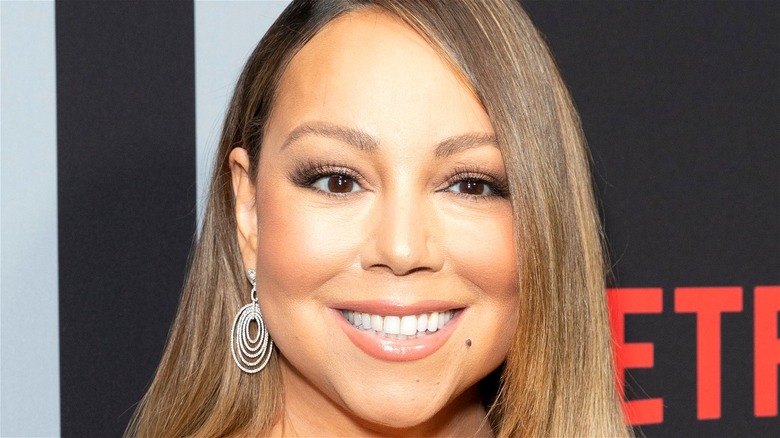 Lev Radin/Shutterstock
Last year, "Mariah Carey's Magical Christmas Special" premiered on Apple TV+. The project, which is still available on the streaming platform, brought together Mariah Carey and a wide variety of talented people, including Snoop Dogg, Ariana Grande, Billy Eichner, and Jennifer Hudson, among others (via IMDb). While the special does not appear to have received much love on IMDb (with more than 1,000 reviews, its current average rating is 5.6/10 stars), it has proven popular elsewhere. On Rotten Tomatoes, for instance, the production was much more warmly received, and currently holds an 86% critics rating and an audience score of 81%.
With all this in mind, now that the Halloween season has finished for the year, Hollywood's television and film studios are already beginning to decorate for Christmas. Following the recent news that Roku will release "Zoey's Extraordinary Christmas" in December, Apple TV+ is jumping headfirst into the holiday season with their own Christmas-themed announcement. Indeed, it looks like Apple and Mariah Carey are, once again, looking to bring some joy to those who are eager to get in the Christmas spirit.
Mariah Carey and Apple TV+ are bringing the holiday cheer again this year
Mariah Carey will appear in a brand new Apple TV+ holiday special titled "Mariah's Christmas: The Magic Continues" (via Collider).
A full cast list has not yet been released, but the special is set to unite Carey with 23-year-old Grammy nominee, Khalid, and 16-time Grammy winner, Kirk Franklin (via Grammy Awards). In the special, the trio will premiere their first performance of their new Christmas single, "Fall in Love at Christmas." According to Carey, the single is set for release on November 5 (via Twitter).
The special will be directed by veteran music video director Joseph Kahn, whose previous credits include the 2019 video for the "Make My Wish Come True" edition of Carey's classic 1994 song, "All I Want For Christmas Is You" (via IMDb). The production will be executive produced by Carey as well as Charleen Manca, Tim Case, and Matthew Turke.
The release date and storyline for the Apple TV+ Christmas special have not yet been announced. However, if the previous special's release date (December 4, 2020) is any indication of the streaming platform's plans, fans can likely expect to see it premiere on their devices sometime in early December.