What's The Song In The New Morbius Trailer?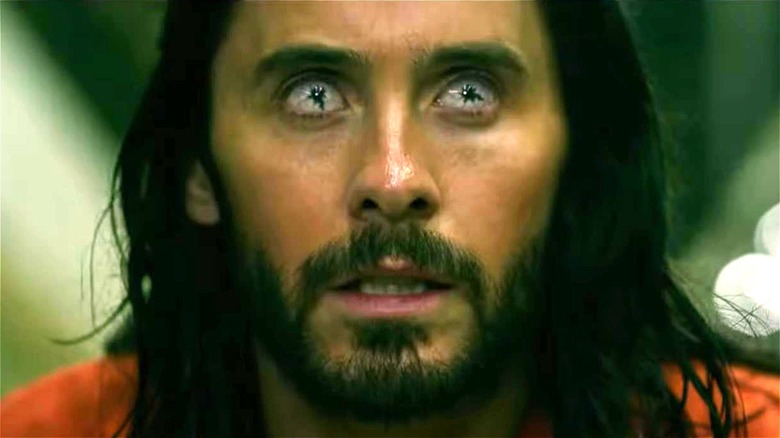 Sony Pictures Entertainment/Marvel
The final trailer for Sony Pictures' long-delayed, MCU adjacent horror-superhero hybrid, "Morbius," is here, and oh boy is there a lot to unpack in its three-minute runtime. There's a lot of Jared Leto to unpack as well, with the always adventurous actor bringing some serious vibes to the action, as he well should. After all, Marvel's antihero tale — of a good doctor named Michael Morbius accidentally transforming himself into a vampiric beast – all but demands a certain flare for the dramatic, of the sort which Leto typically revels in.
There's obviously more to that transformation than your average super origin story, with "Morbius" looking to be one of the more terrifying characters in the Marvel realm. As for beyond eerie vibes emanating from the new trailer, they are certainly enhanced by the inclusion of a hit song that no doubt sounded very familiar to fans of two distinct yet oddly connected pop culture phenomena: the classic rock era of the 1960s, and vampire cinema from the 1980s.
People Are Strange was big hit for The Doors in the late 1960s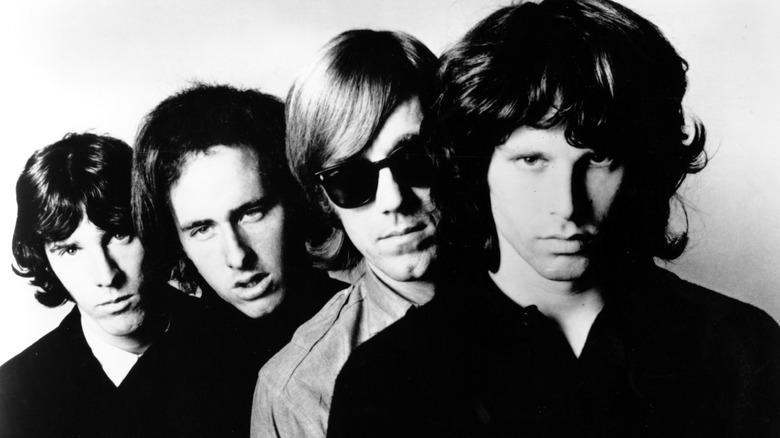 Michael Ochs Archives/Getty Images
That was, in fact, the voice of Jim Morrison you heard in the "Morbius" trailer, which means the song featured so prominently was indeed from his legendary rock outfit The Doors. Released in the fall of 1967, said track is titled "People Are Strange." It was the first single from the band's second studio album "Strange Days" (which was released the same year), and it became one of the album's (and the bands') biggest hits, peaking at #12 on the Billboard Hot 100 chart. If you've ever heard the trippy, vaudevillian treat that is "People Are Strange," you know it's an appropriately moody little tune, which is more or less about outsiders who can't seem to find their place in the world. 
"Morbius" is, of course, not the first vampire tale to use "People Are Strange," with the hit 1987 flick "The Lost Boys" fronting the song on its own soundtrack. That version was not, however, performed by The Doors, with 1980s goth-rock maestros Echo and the Bunnymen covering the song for the film. Fittingly, that cover was actually produced by The Doors' keyboardist Ray Manzerek (per Rhino Insider), who ensured the alt take on the song was its own particular thing, and every bit as moody as the original. 
And it's safe to say The Bunnymen's cut of "People Are Strange" brought as much brood to "The Lost Boys" as The Doors' cut brings to "Morbius," which arrives in theaters on January 28, 2022.