The Real Reason Paul Rudd Was Cut From Bridesmaids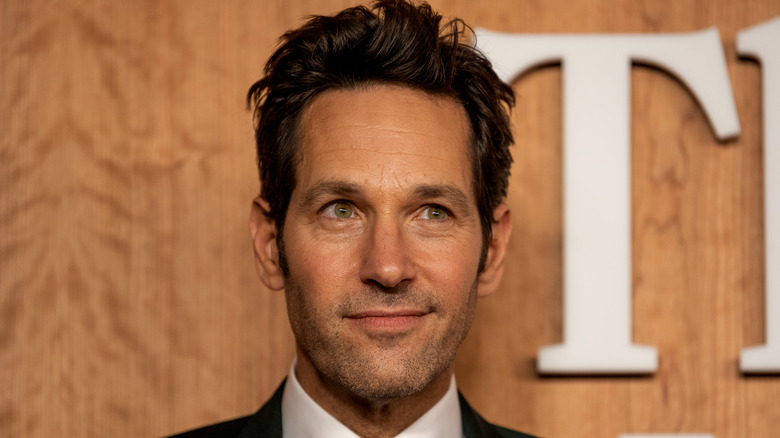 Alexi J. Rosenfeld/Getty Images
Occasionally, directors have to make the choice of trimming the cinematic fat from projects when they'd rather not. As great as a sequence may be, it can slow the film's pacing or, on some occasions, fail to fit with the rest of what's going on. This was the case for Paul Feig's 2011 comedy, "Bridesmaids," which cut out one great cameo from a talent that's always a welcome addition: the stupidly charming, the age-defying comedic delight Paul Rudd.
As revealed by Kristen Wiig, the film's star and co-writer, in a 2011 Entertainment Weekly interview, the star of that other "Ghostbusters" reboot was cast as date gone wrong for the film's lead. Between getting over John Hamm as a slimy rich guy and Chris O'Dowd as a pure-hearted police officer, Rudd's character was a short-tempered match Annie (Wiig) meets at an ice rink. In the interview, she explained, "We did screenings, and when he popped up on the screen, people just went crazy. You rarely get to see that side of Paul Rudd because he's such a nice person, you know, and in this scene, he's such an a-hole. We had so much fun the days he was there, and it was so incredibly painful. Our first cut was so long. It's the hardest thing to have to cut stuff." 
As it turns out, Wiig wasn't the only one that thought the act of cutting Rudd from the comedy was a painful endeavor. Feig also discussed Rudd's absence from "Bridesmaids" in an interview a few years later, and he finally clarified why the choice was made.
Paul Feig said it was a 'terrible moment' when he cut Rudd's scene
Speaking to Entertainment Weekly in 2017, "Bridesmaids" director Paul Feig also expressed his upset for cutting Paul Rudd from the movie. "There is always that terrible moment when you have to kill your babies," he admitted. "We did so many takes of it. It was one of the funniest things I've ever been a witness to." 
The laughs came from the fact that Rudd as Annie's date has the slight mishap of having another skater run over his finger, causing the nice-guy act to slip away and reveal a raging sociopath underneath — quite the contrast from the Rudd we know and love. As hilarious as it was, though, it felt like another complication in Annie's life that overstuffed what she already had. 
"It just didn't ring true that in addition to Jon [Hamm] and Chris [O'Dowd], she'd be also going out on other dates to try and find more love," said Feig. "It made more sense that she'd be caught between these two guys. Very sadly, we cut all the blind date sequences out of the movie."
In the end, it seemed that time was just not on the side of this particular scene, no matter how many laughs it might've earned from this brief cameo. At least it didn't dampen the film's comedy levels too much, with "Bridesmaids" still a side-splitting blast despite its distinct lack of Rudd.