New House Of Gucci Poster Highlights A Mysterious Salma Hayek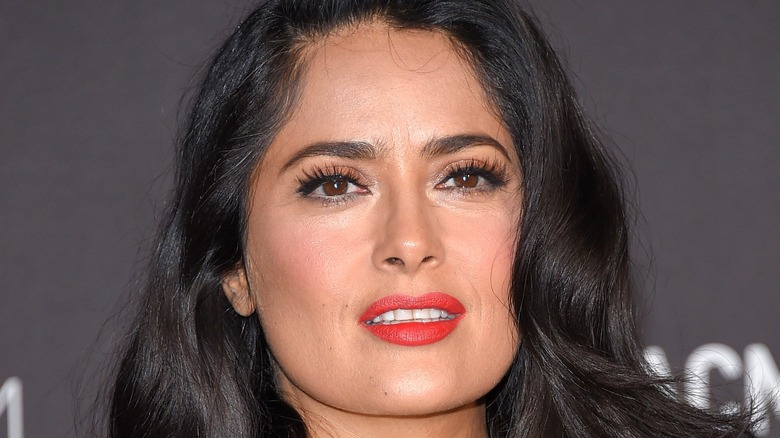 DFree/Shutterstock
"House of Gucci" is the second film released this year by director Ridley Scott following "The Last Duel." The new movie tells the outrageous true story of the 1995 murder of Maurizio Gucci, the head of the iconic fashion brand and grandson of Gucci founder Guccio Gucci, by an assassin hired by his ex-wife Patrizia Reggiani.
Scott's "House of Gucci" was shot all over Italy with full access to the Gucci archives, so you know the costumes will be incredible. It stars Lady Gaga as Reggiani, Adam Driver as Maurizio Gucci, Jeremy Irons as Maurizio's father Rodolfo Gucci, Al Pacino as Maurizio's uncle and nemesis Aldo Gucci, and several other big-name actors. Jared Leto is once again unrecognizable as the old, balding creative director Paolo Gucci, who also happens to be Maurizio's cousin.
But on Tuesday, all eyes were on Salma Hayek, who shared a new poster for the character she plays in "House of Gucci" on social media. The poster focuses on her mysterious character, Pina Auriemma.
Watch out for Pina in House of Gucci
In the caption accompanying the poster on Instagram, Salma Hayek describes her character, Giuseppina "Pina" Auriemma, as a "psychic and friend of Patrizia." Hayek also writes in the photo's caption, " Family secrets never last. Just ask Pina."
According to the Irish Times, the real Pina Auriemma organized the hit on Maurizio Gucci on Patrizia Reggiani's behalf. She was sentenced to 25 years in prison but only ended up serving 13, according to Italy 24 News. She was released in 2010.
Hayek is an Academy Award-nominated actress who's perfect for the part and would have landed it on her own. It surely helps that she also has a personal connection to Gucci: her husband is business magnate François-Henri Pinault, the CEO of Kering, a holding company that owns many luxury brands, including Gucci. When Hayek was cast in the film, producer Giannina Scott told Deadline she was "so happy to have my good buddy Salma join our wonderful cast. I've been talking with her about this Gucci project for 20 years. Now it's happening, and she is a part of it."
"House of Gucci" will premiere on Wednesday, November 24.