The Meredith Scene That Went Too Far On Grey's Anatomy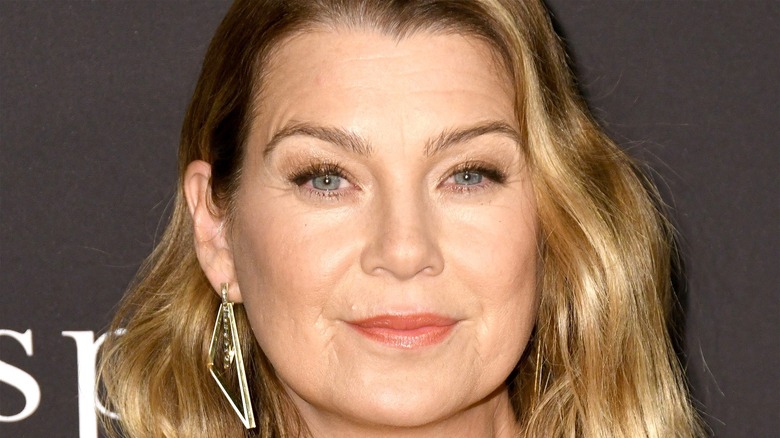 Quinn Jeffrey/Shutterstock
On "Grey's Anatomy," Meredith Grey (played by Ellen Pompeo) is a brilliant surgeon who steals the hearts of Seattle Grace Mercy West Hospital's dreamiest doctors. She's also arguably one of TV's most tragic characters, as ABC's long-running medical drama's central characters are top-notch healers with disastrous personal lives. However, Meredith has endured more loss (and comes closer to death) more often than her coworkers. Let's face it — Meredith's life is something of a dumpster fire, yet she always manages to overcome the latest obstacle put in her path.
"Grey's Anatomy" isn't afraid to titillate viewers with steamy sex scenes, make them queasy with graphic surgical procedures, or break their hearts with unexpected revelations (T.R. Knight's George O'Malley as John Doe, anyone?). Meredith's frequent brushes with death go hand-in-hand with some of the series' most disturbing imagery, including the aftermath of the plane crash that killed her half-sister, Lexie Grey (Chyler Leigh), and Mark Sloan (Eric Dane), her showdown with a mass shooter, her savage beating by a patient, or the demise of a handsome member of the Seattle bomb squad who sacrificed himself not only for Meredith, but also the entire hospital. However, there's one famous Meredith scene that went too far on "Grey's Anatomy."
Meredith Grey's drowning went too far
In Season 3, Episode 15, "Walk on Water," Meredith Grey heads to the scene of a ferry accident to help the survivors. After saving a man, she falls into Puget Sound. Her fate remains up in the air until Episode 16, "Drowning on Dry Land," which opens with Meredith resurfacing briefly before making the conscious decision to let herself drown. "Grey's Anatomy" muddies the water (pun intended) enough that nobody is 100% certain, including Meredith herself, that her actions are self-harming. Meredith is pulled from the water by Derek "McDreamy" Shepherd (Patrick Dempsey), and she lingers in limbo with Jeffrey Dean Morgan's Denny Duquette.
The decision to possibly kill off the beloved Meredith for good raised some eyebrows. CinemaBlend's recap of "Drowning on Dry Land" reads, "[F]ans of the show will be somewhat divided in terms of how they feel about what happened in this episode ... Some will use the over-used 'Jump the shark' phrase and complain that the show has gone too far into 'ER' territory to redeem itself." In hindsight, fans had good reason to question if the show's creator Shonda Rhimes would kill off the titular character, but at the time, it was a transparent sweeps' stunt and a way to bring back fan favorites. Meredith's suicidal risk story arc reached a fever pitch during its three-episode run, only to be quickly abandoned. Oh, and she was miraculously resuscitated with no lingering physical effects.