Donald Glover Teases Atlanta Season 3 With A Creepy Video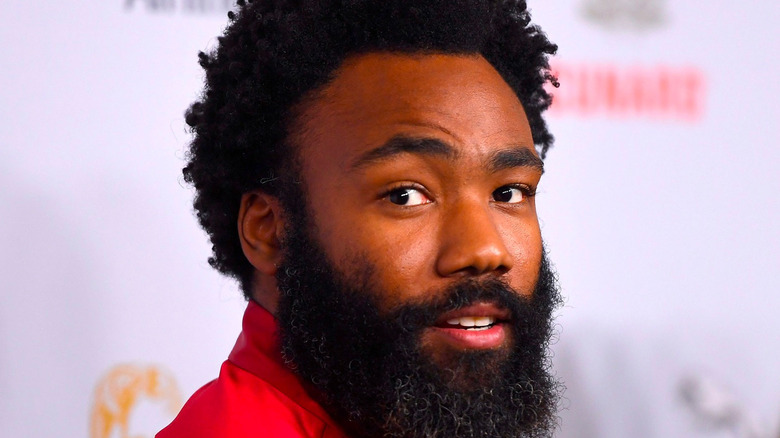 Frazer Harrison/Getty
It's been a long three years since we parted ways for the second season of "Atlanta" in 2018, and since then, fans have been waiting to get any information they can on when we're going to be reunited with Earn (Donald Glover), Paper Boi (Brian Tyree Henry), and Darius (LaKeith Stanfield). The last major update was that filming had been completed in August for Season 3, leaving FX chairman John Landgraf to extend his excitement of what's in store. When it came to the third season of "Atlanta," Landgraf said (via Deadline), "It's in post-production, and it's a lengthy post-production process, and part of that is because they're currently in production of Season 4 in Atlanta. All the scripts for that season have been written, and I absolutely adore the scripts for both seasons."
So given there's not one but two seasons of the award-winning show in the pipeline, there's undoubtedly some footage, some tasty morsel of what's in store to show us? Well, thankfully, following a recent tweet from shows creator Glover himself, we've finally got a look — it's just you need to get into Gilga to see it.
Paper Boi looks intense in the new Atlanta footage
Dropped on Halloween as a tantalizing treat, Donald Glover took to Twitter with a link to Gilga.com, a simple webpage that showed 60-seconds of footage (via YouTube) that felt all kinds of eerie. Beginning on what looked like an exterior shot in Europe (Amsterdam, maybe?), a flurry of interior locations was on display before Paper Boi himself is revealed at the head of a table in a grand hall, and "Atlanta 2022" appears across the screen.
The clip has now been removed from the site and replaced with the message, "While under construction, Gilda is a Nite-Site. Operational hours are 8pm-3am." Could there be more footage on the way in that time slot in the next few days? Fans are hoping for a more exact premiere date, which could come with the next batch of news from Glover. As for Bryan Tyree Henry, you'll be able to see him have his first jab at superhero action when he joins the "Eternals," which arrive in cinemas this week.