What Yellowstone Fans Really Want To See In Season 4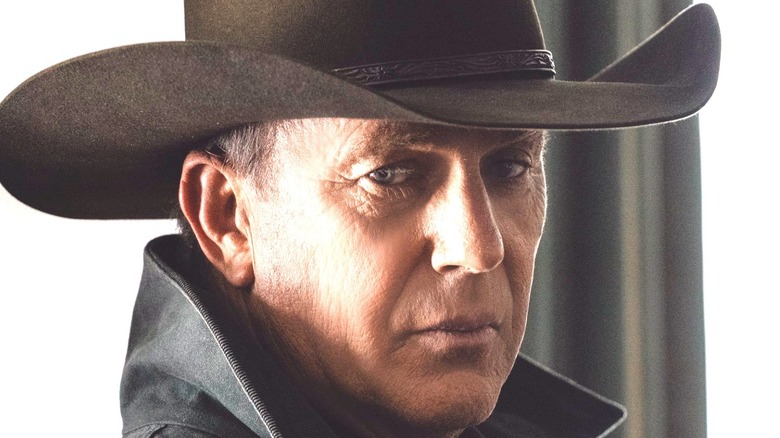 Paramount
Fans of "Yellowstone," Paramount's contemporary Western starring Kevin Costner, have been awaiting the premiere of Season 4 following the Season 3 finale, which aired in August 2020. While the series has plenty of unanswered questions to contend with (Who actually survived? What's next for the Dutton family?) when it hits Paramount Network on November 7, there is one particular question on the minds of many fans. 
Oddly enough, the lingering question has less to do with who survived the previous season's massacre and everything to do with audiences' favorite beacon of hope in an otherwise dark and often devastating narrative. That proverbial beacon is the tension-filled romance between dynamo Beth Dutton (Kelly Reilly) and loyal antihero Rip Wheeler (Cole Hauser). Despite all evidence to the contrary, fans on Reddit are still holding out hope for a happy ending for the couple — and in the form of a wedding, at that.
Yellowstone fans want Beth and Rip to tie the knot
"Will there be a wedding?" user u/AnnaNonna asked recently on the "Yellowstone" subreddit r/YellowstonePN, also sharing an image of Rip and Beth embracing dramatically. "Has to be, must be, [needs] to be," answered u/Fearless-Ad-9621, while Redditor u/darkbaymare wrote that they "refuse to acknowledge the possibility that there won't be a wedding."
The fan affinity for the doomed lovers isn't surprising. There's a reason Shakespeare's Romeo and Juliet has been told and retold repeatedly, after all. But, with Beth and Rip, series writer Taylor Sheridan has created a dynamic so raw and real thanks, in large part, to Kelly Reilly and Cole Hauser's chemistry. As such, audiences seem willing to believe that a series as violent and cynical as "Yellowstone" might nonetheless allow the characters to live happily ever after.
Some fans on the "Yellowstone" subreddit felt the couple deserved to have something good happen to them after what they'd been through in Season 3. "Rip has earned his happy ending," wrote u/WilliamMcGinnis, while a few others felt that they, as the fans, were equally as deserving. As user u/Jalynt13 wrote, "I have not waited for over a year for Season 4 for there not to be a wedding. I better get a Beth and Rip wedding." The sentiment was echoed by others, including original poster u/AnnaNonna, who added, "We've been waiting a very long time. I hope they go to extremes to make us happy." Similarly, u/emerzsile remarked, "I swear to God if there isn't a wedding I'm gonna quit this show." A few fans even went so far as to imagine the couple's ceremony, which would involve, they hoped, Johnny Cash's version of "You Are My Sunshine" and Beth barefoot with flowers in her hair.
Will this Yellowstone couple make it to the altar?
So, what are the odds "Yellowstone" couple Rip and Beth making their way to the altar? Given the couple's refusal to put their own needs above those of the Dutton family and ranch — and given the fact that Season 4 will undoubtedly call for quite a bit of vengeance-seeking on both their parts — it seems unlikely they'd put a pin in the action and take a break long enough to skip down the aisle. 
That said, several fans pointed to Cole Hauser dropping hints as a source of some hope for the couple. Redditor u/makkiegurl said the actor has "suggested in interviews that people will be pleased with Season 4 and how it ends." They went on to say they "can't imagine many people being happy if there isn't a wedding in there somewhere."
Of course, Hauser also put it plainly that "everybody's gonna get f***** up" in Paramount's official Season 4 promo (via YouTube). So it's equally possible he's referring to some good 'ol fashioned revenge, as opposed to some good 'ol fashioned romance. For now, we'll have to wait and see (and speculate, and wish, and cross our fingers).