Rick Harrison From Pawn Stars Has A Surprising Net Worth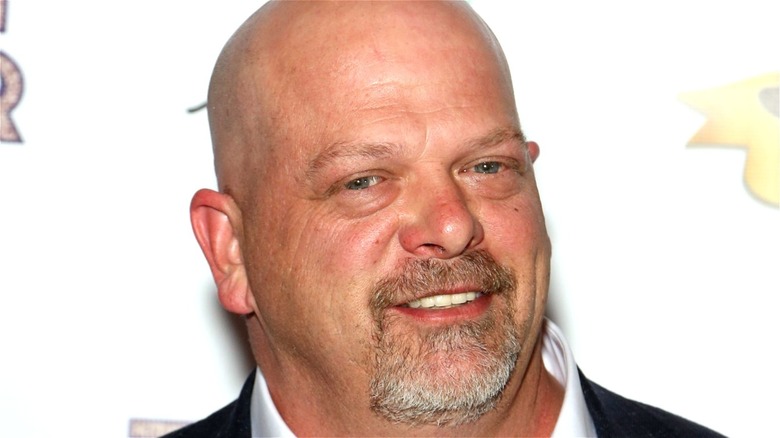 Gabe Ginsberg/Getty Images
Though one would imagine such a program as fairly niche, "Pawn Stars" has managed to become a worldwide phenomenon. Set against the backdrop of the now-world famous Gold & Silver Pawn Shop in Las Vegas, Nevada, the popular reality series is all about showcasing incredible artifacts and, more often than not, their purchase. Since 2009, folks have walked through the shop's doors with everything from pieces of Disney history to fully-functioning fighter jets — eager to sell their stuff and go home with a nice wad of cash. Of course, should a deal actually be struck.
Making a few bucks on "Pawn Stars" isn't as simple as walking through the door, declaring your desired price, and dropping off your item. Rather, one has to negotiate with the Gold & Silver staff, including a few names that longtime viewers are undoubtedly familiar with. First and foremost is Rick Harrison: son of the late Richard "Old Man" Harrison and the pawn shop's current owner. Alongside him are his son Corey and his friend, Austin "Chumlee" Russell — both of which have worked closely with Rick and honed their craft for years.
For the most part, they all know what they're buying and what constitutes a reasonable price, hence why they and their business are so successful. Rick Harrison especially has done incredibly well for himself, and his net worth reflects that.
Harrison has seven-figures to his name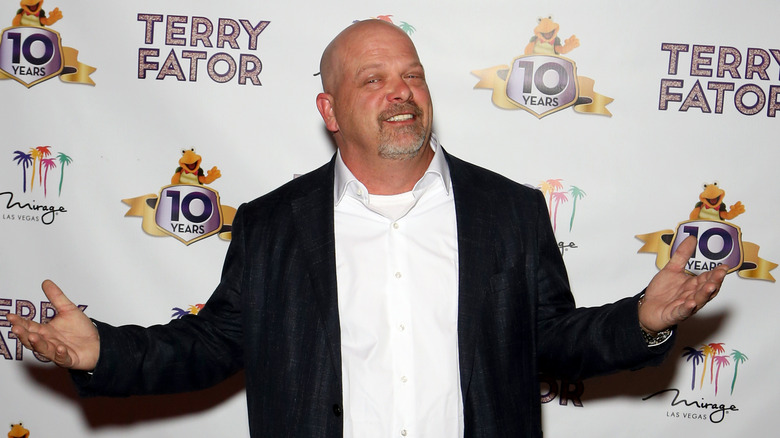 Gabe Ginsberg/Getty Images
Suffice to say, the business-savvy lead of "Pawn Stars" doesn't appear to be hurting for money in the least. According to Celebrity Net Worth, Rick Harrison is currently sitting at $9 million, which is a remarkable number given his somewhat humble beginnings. The Gold & Silver opened its doors as a pawn shop in the late 1980s, with Rick working there during the day and repossessing cars at night. However, everything changed when TV executives Brent Montgomery and Colby Gaines stumbled upon the Harrisons family's local operation — turning it into a small screen staple.
As one could imagine, Rick Harrison isn't the only one on the Gold & Silver payroll who's reaping the rewards that "Pawn Stars" brought with it. For instance, before his death in 2018, Richard Harrison had accumulated approximately $5 million to his name. Corey Harrison and Chumlee, on the other hand, are resting at around $4 million and $5 million, respectively. Reportedly, the latter earns somewhere close to $25,000 per episode, and considering the fan-favorite he has grown to be over the years, History is smart to pay to keep him around.
There's certainly money in the pawn business, but it doesn't compare to a mammoth TV salary. Luckily for Rick Harrison and his employees, so long as "Pawn Stars" remains a force to be reckoned with on History's programming lineup, they'll continue to enjoy the pay that comes with both.