Spider-Man: Homecoming Expected To Have A Massive Box Office Debut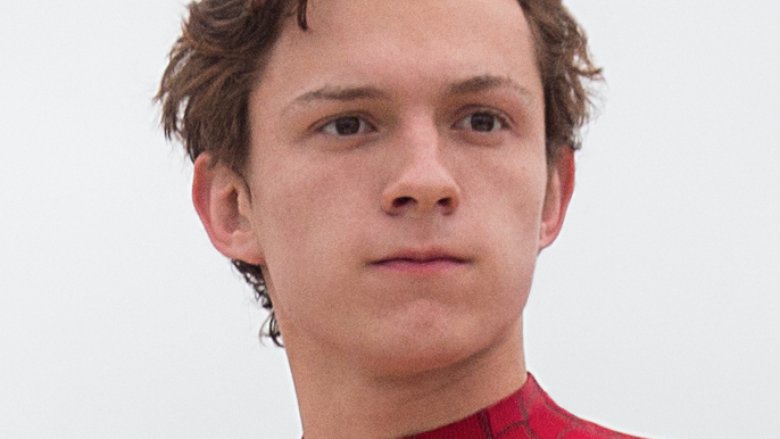 Your friendly neighborhood Spider-Man is slated to rake in some serious dough this summer.
Box Office Pro recently predicted that Marvel's Guardians of the Galaxy Vol. 2 would take home roughly $150 million in the North American box office in its opening weekend, and the guess was pretty spot-on, as the film actually earned $145 million upon its debut. Now, Box Office Pro has released a film forecast for Spider-Man: Homecoming. According to the site's calculations, the Tom Holland-led superhero movie is expected to earn $135 million during its first weekend at the box office.
If the Box Office Pro prediction proves true, Spider-Man: Homecoming would become the second highest-opening film in the Spider-Man franchise, which kicked off with the original trilogy in 2002. Depending upon just how many eager fans head to the theater when Homecoming is release, the Jon Watts-directed flick could even best Spider-Man 3, which is the best-debuting installment in the web-slinging series. The 2007 film pulled in an impressive $151 million at open, despite negative critical response and that unexplainable dance sequence. (You know the one.)
Spider-Man: Homecoming is anticipated to effortlessly outperform The Amazing Spider-Man series led by Andrew Garfield. Directed by Marc Webb, the second set of Spidey films fell a bit stale in their opening weekends, with the 2012 refresh earning just $62 million and the follow-up performing considerably better with a $91 million pull.
Below is a full breakdown of Spider-Man film openings (via ComicBook.com).
Spider-Man 3: $151,116,516
Spider-Man: $114,844,116
The Amazing Spider-Man 2: $91,608,337
Spider-Man 2: $88,156,227
The Amazing Spider-Man: $62,004,688
Box Office Pro also believes that Homecoming will land a domestic total of $325 million, which would stamp it as the fourth-best amongst the entire Spider-Man film canon. The original Sam Raimi-backed Spider-Man reigns supreme at $403.7 million, with Spider-Man 2 ($373.5 million) and Spider-Man 3 ($336.5 million) fillng out the top three.
The site lists "Holland's age-appropriate casting," strong and positive "initial buzz following the film's trailers," and Marvel's return to a "more light-hearted, coming-of-age superhero drama" as factors that may secure the overall success of Homecoming.
Check out the full summary of Spider-Man: Homecoming below:
"A young Peter Parker/Spider-Man (Tom Holland), who made his sensational debut in Captain America: Civil War, begins to navigate his newfound identity as the web-slinging super hero in Spider-Man: Homecoming. Thrilled by his experience with the Avengers, Peter returns home, where he lives with his Aunt May (Marisa Tomei), under the watchful eye of his new mentor Tony Stark (Robert Downey, Jr.). Peter tries to fall back into his normal daily routine–distracted by thoughts of proving himself to be more than just your friendly neighborhood Spider-Man–but when the Vulture (Michael Keaton) emerges as a new villain, everything that Peter holds most important will be threatened."
The upcoming film also stars Zendaya, Donald Glover, Jacob Batalon, Laura Harrier, Tony Revolori, Tyne Daly, Bokeem Woodbine, and Logan Marshall-Green.
Spider-Man: Homecoming is set to swing into theaters on July 7. Until then, check out the other films you won't want to miss this summer.