Jenna Dewan Will Bring Back One Of Her Former Roles In Superman & Lois
Frazer Harrison/Getty Images
When it comes to the Arrowverse shows on The CW, crossover events are a given. Characters from the DC Universe jump between shows at a bewildering pace. This allows the show's creators to flesh out the worlds of their shows, as well as to explore characters from multiple angles. Lucy Lane (Jenna Dewan), the younger sister of Lois Lane, is a perfect example of just such a character.
Lucy is an important character on "Supergirl," the show about Superman's less-famous cousin, Supergirl, aka Kara Zor-El (Melissa Benoist). With her military background, Lucy played a big role in the events of the later seasons of the show. She joined the D.E.O., or the Department of Extra-normal Operations, the DC Universe's agency that protects Earth from alien threats. She was also a rival to Kara for the affections of Daily Planet photographer James Olsen (Mehcad Brooks).
All of these developments made Lucy a much richer character than she was in the comic books. But with "Supergirl" set to end after six seasons on November 9, 2021, that would have been it for Lois Lane's younger sister.
However, in the grand traditions of Arrowverse crossovers, "Supergirl" won't be the last time we see Lucy Lane on the CW.
Lucy Lane is officially making the jump to Superman & Lois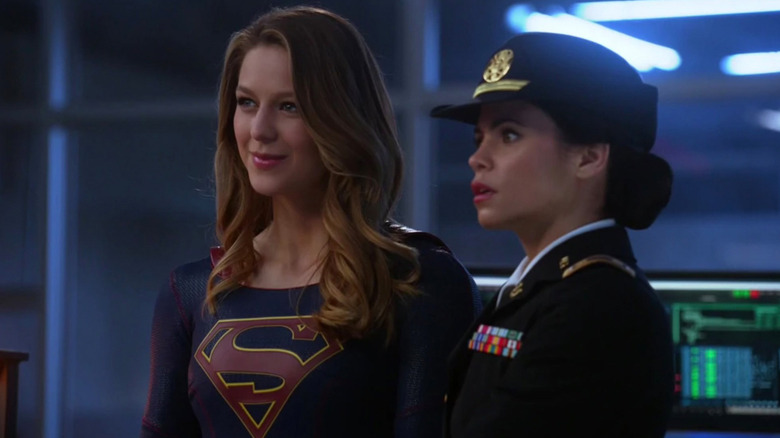 The CW
As reported by The Hollywood Reporter, Jenna Dewan will be reprising the role of Lucy Lane on the upcoming second season of "Superman & Lois."
The CW and "Superman & Lois" creators Greg Berlanti and Todd Helbing haven't specified what role Lucy Lane might play on their series. When Lucy last appeared on "Supergirl," she was a high-ranking member of the D.E.O. It's located in National City, while "Superman & Lois" takes place in Smallville, Kansas. So, if Lucy comes to Smallville in an official capacity, it probably means Smallville is set to face a new alien threat. Maybe she'll be tasked with dealing with Tal-Rho (Adam Rayner), Kal-El's half brother who revealed himself at the end of Season 1 and announced his plans to resurrect Krypton on Earth? 
However, it's just as likely that Lucy Lane could be making a visit for personal reasons. Traditionally, Lucy and her older sister Lois (Elizabeth Tulloch) haven't gotten along, and "Supergirl" never explained the reason why. A visit to her sister, brother-in-law, and nephews could be a chance for "Superman & Lois" to dredge up some Lane family baggage. Either way, there's a lot for the writers to play with. 
Luckily, fans won't have to wait too much longer to find out what role she'll play. "Superman & Lois" Season 2 doesn't yet have a confirmed release date, but it will premiere in January or February 2022.