The Iconic Horror Franchise Jamie Lee Curtis Wants To Join Next
Tinseltown/Shutterstock
Scream Queen and returning "Halloween" star Jamie Lee Curtis isn't scared of much. How can she be when she's faced down Michael Myers this many times? Taking on The Shape yet again this year in David Gordon Green's "Halloween Kills," you'd think she'd be tired of screaming in terror at the amount of blood and lifeless bodies that have fallen at her feet, but as it turns out, there's one iconic evil she'd happily get to know better.
In an interview with Entertainment Weekly, the actor behind Laurie Strode admitted that there was one other pillar of the horror genre that rattled her the moment she saw it. She wasn't the only one, either. For many fans of the genre, it's considered one of, if not the greatest horror movie ever made. What's even more surprising is just how compelled she is to star in the reboot that's currently in the works.
Jamie Lee Curtis is interested in The Exorcist reboot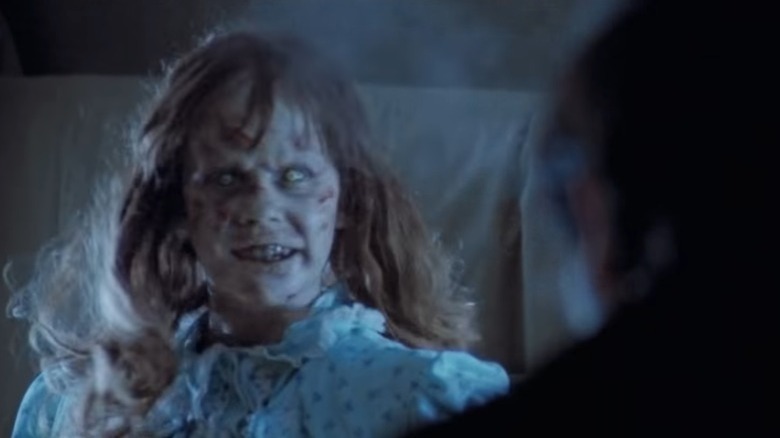 Warner Bros.
After being on the receiving end of some nightmarish threats for so long, Jamie-Lee Curtis proposed that she finally turn the tables and be the voice of Pazuzu in the upcoming reboot of "The Exorcist." Planned as a trilogy and being directed by her current "Halloween" helmer, David Gordon Green, Curtis figured, "Maybe I should be the voice of the devil, like Mercedes McCambridge." Pushing for the part, she also explained just how much of a kick audiences would get if it happened. "You see, if David gives me a part in the new 'Exorcist' trilogy as the voice of the devil, then it is a full-circle return for me, in a meta way," she said. "That would blow people's minds."
There's undeniably some big competition to tackle the terror originally unleashed by McCambridge in the original 1973 classic. Her skin-freezing rasp is as frighteningly familiar as Tony Todd's Candyman or Anthony Hopkins' hissing Hannibal Lecter. Currently, no talent has been named publicly for the role, but whoever it is, they'll be joining Leslie Odom Jr. and Ellen Burstyn when "The Exorcist" reboot arrives on October 13, 2023.