The Exorcist: Believer Release Date, Cast, Trailer, Plot And More Details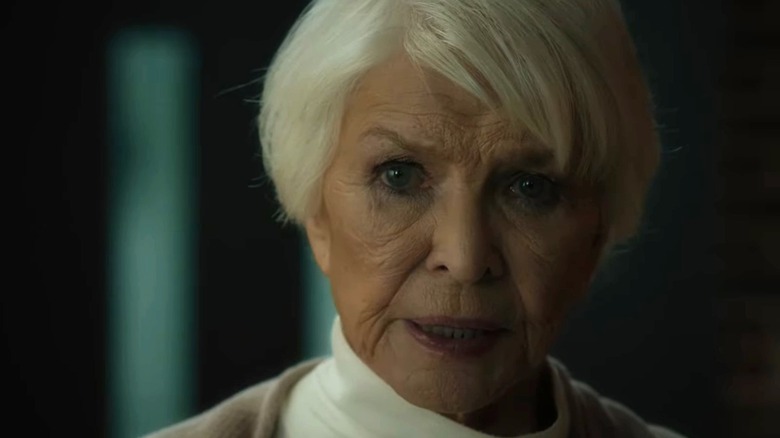 Universal
We may receive a commission on purchases made from links.
Long hailed as the scariest movie ever made, "The Exorcist" terrified audiences in 1973, and it's still scaring people to this day. While the film has been copied by every possession flick released in its wake, there's still something truly special about William Friedkin's film, largely thanks to the human drama at play as a desperate mother and a guilt-ridden priest try to save a young girl's soul. Plus, even though we've seen them parroted and parodied a million times, the horror effects still stand up — from the sick green vomit to a possessed Regan MacNeil silently floating above her bed.
It should come as no surprise that "The Exorcist" — based on William Peter Blatty's novel of the same name — was the highest-grossing film of 1973 and that it became one of the few horror movies ever nominated for a best picture Oscar. Since then, it's spawned four additional films and a short-lived TV show. It's a permanent piece of the pop culture landscape, and now, it looks like we're heading back to the wicked world of Pazuzu. A new "Exorcist" sequel is on the way, and we're all wondering, who is going to star? Who's directing? And how is it connected to the original film?
Well, the power of Christ compels us to talk about the upcoming sequel, so here's everything we know about "The Exorcist: Believer."
When will The Exorcist: Believer be released?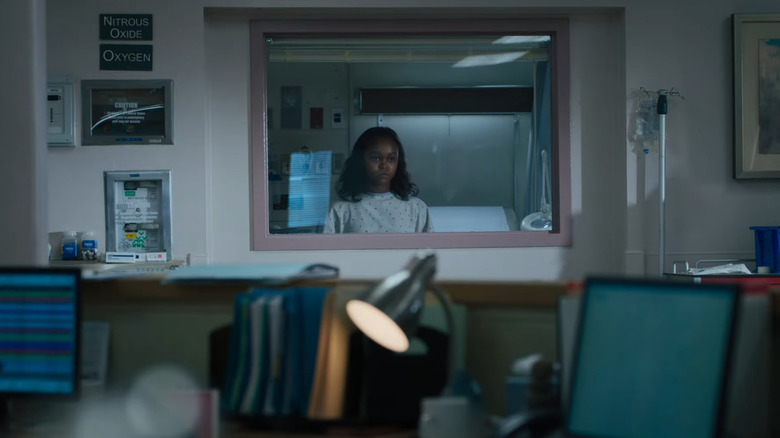 Universal
We never understand when Hollywood studios release horror movies in early winter or during summer blockbuster season. Your film can really benefit from creepy seasonal vibes, so release your horror movies in the fall — specifically in October, the eeriest month of all. That's something Universal and Blumhouse (two of the companies involved with "The Exorcist" sequel, along with  Morgan Creek and Rough House Pictures) understand really well. Each installment of their recent "Halloween" trilogy debuted during spooky season, and it looks like they're following the same strategy with the upcoming "Exorcist" movie.
News of "The Exorcist" sequel was first announced in August 2020, and filming finally got started in late 2022. However, due to lead star Leslie Odom Jr. suffering from unknown health issues, shooting was halted during December. (When it comes to "Exorcist" movies, cursed productions are par for the course.) Thankfully, Odom seems to have regained his health, as filming was completed, and the horror film is now headed to theaters just in time for Halloween – specifically, October 6, 2023.  
What is the plot of The Exorcist: Believer?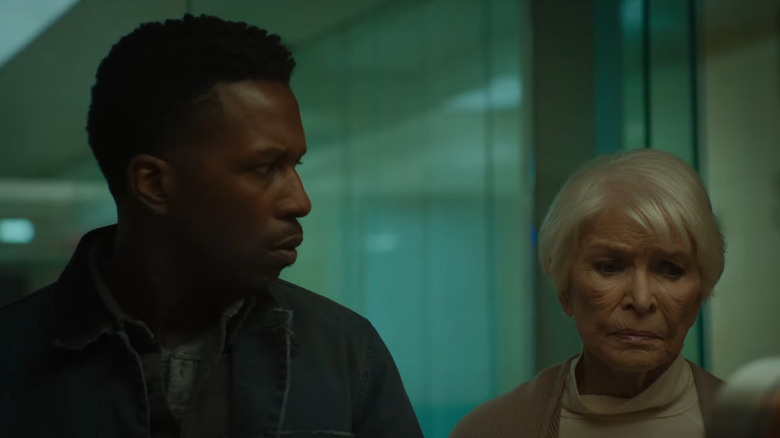 Universal
Directed by William Friedkin, the original "Exorcist" is truly horrific yet surprisingly simple. It follows single mom Chris MacNeil, who slowly but surely realizes her young daughter, Regan, has been possessed by a demon intent on destroying her body, mind, and soul. When doctors and psychologists fail to help, she turns to Father Karras, a priest on the verge of losing his faith. As Karras investigates, he comes to the conclusion that Regan is indeed possessed by a foul-mouthed, head-spinning, pea soup-loving demon, so he brings in the titular exorcist, Father Merrin, for some serious spiritual warfare.
Spoiler alert: The original film has a bittersweet ending, as Merrin is killed and Karras sacrifices his life to save Regan. The movie ends with the MacNeils moving away from the site of all this tragedy, but once you've been snared by the devil, it's hard to escape. That's something Chris MacNeil will discover in "The Exorcist: Believer," as all these years later, the character is returning as the resident demon expert. 
Per the official logline for the movie, "Since the death of his pregnant wife in a Haitian earthquake 12 years ago, Victor Fielding has raised their daughter, Angela, on his own. But when Angela and her friend Katherine, disappear in the woods, only to return three days later with no memory of what happened to them, it unleashes a chain of events that will force Victor to confront the nadir of evil and, in his terror and desperation, seek out the only person alive who has witnessed anything like it before: Chris MacNeil."
Who is starring in The Exorcist: Believer?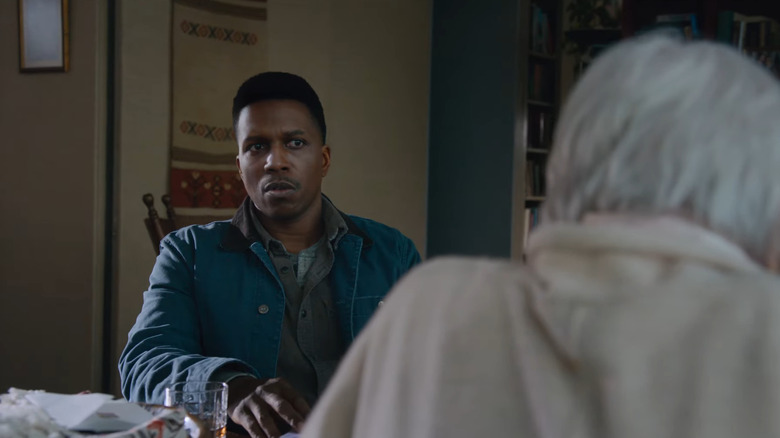 Universal
What an excellent day for an exorcism — and what an excellent cast for an "Exorcist" sequel. Similar to Jamie Lee Curtis returning to the "Halloween" series, Ellen Burstyn will return to the "Exorcist" franchise as Chris MacNeil. In addition to her Oscar-nominated turn in the 1973 horror classic, she also starred in the equally devastating "Requiem for a Dream" and won an Academy Award for Martin Scorsese's "Alice Doesn't Live Here Anymore."
She'll be joined by Leslie Odom Jr. as a father who's having a devil of a time helping his daughter. Odom Jr. burst into the limelight as Aaron Burr in Lin-Manuel Miranda's "Hamilton," and he's also made a name for himself in films like "Glass Onion," "One Night in Miami...," and "Murder on the Orient Express." As for the possessed girls, they'll be played Lidya Jewett and Olivia Marcum. Jewett gave a powerhouse performance in Netflix's frightening and fantastical "Nightbooks," and Marcum left a big impression by playing the title character in the theatrical version of "Matilda the Musical."
We can also expect to see Ann Dowd of "The Handmaid's Tale," Jennifer Nettles of "The Righteous Gemstones," two-time Tony winner Norbert Leo Butz, Raphael Sbarge of "Once Upon a Time," and artist Okwui Okpokwasili. Be warned, possible spoilers follow: Now, will Linda Blair return as Regan MacNeil? The answer is ... possibly. According to Above the Line, Blair will appear in the film as she was seen on the set of the movie. However, no one official has confirmed this. Having said that, Blumhouse did contact Above the Line to say Blair was working on the movie as a consultant, so it definitely seems she's involved somehow.
Who is writing and directing The Exorcist: Believer?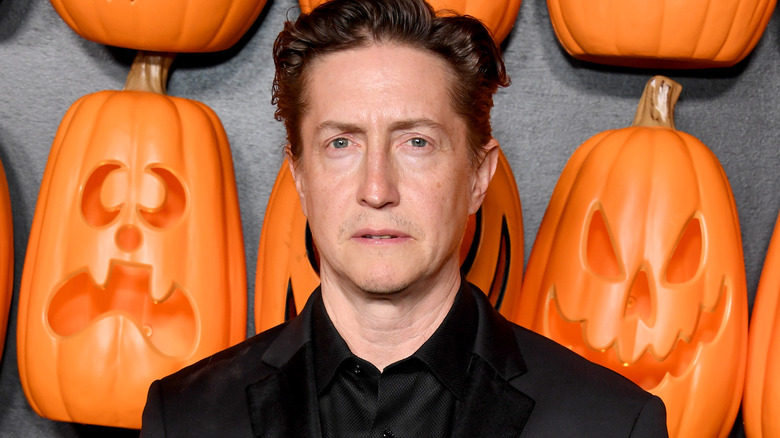 Jon Kopaloff/Getty Images
David Gordon Green has had a really unique career. He started off with quiet, touching indie dramas, a la "George Washington" and "All the Real Girls." He then moved into loud, crass comedies, such as "The Sitter," "Your Highness," and "Pineapple Express." And while he occasionally dips his toe back into the indie drama pool — e.g. "Joe" with Nicolas Cage — he's now become the reboot horror king.
Modern-day audiences probably know Green best for his controversial take on the "Halloween" series, having written and directed 2018's "Halloween," "Halloween Kills," and "Halloween Ends." Now, he plans on giving the "Exorcist" movies the same treatment as Michael Myers, creating a three-film franchise revolving around outmatched humans banding together and clinging to faith and hope in order to defeat demonic enemies.
"[I'm] honored to step into something that's so valuable within cinema history," Green told Variety. "And knowing that there is a fanbase that is curious, aware, alert, potentially concerned to see what we're up to. ... With these, I've got stories to tell, I've got an imagination to express, and the way I can do that within these movies is an incredible opportunity."
After developing the screenplay with "Halloween Kills" screenwriter Scott Teems and long-time collaborator Danny McBride , Gordon co-wrote "Believer" with Peter Sattler. If you're unfamiliar with that name, Sattler doesn't seem to have any horror experience, but he has created some really quality films. He helped Kristen Stewart deliver one of her all-time performances by writing and directing "Camp X-Ray," a tale of a Guantanamo Bay guard. He also directed the dysfunctional family drama "Broken Diamonds," starring Broadway's Ben Platt.
Who is producing The Exorcist: Believer?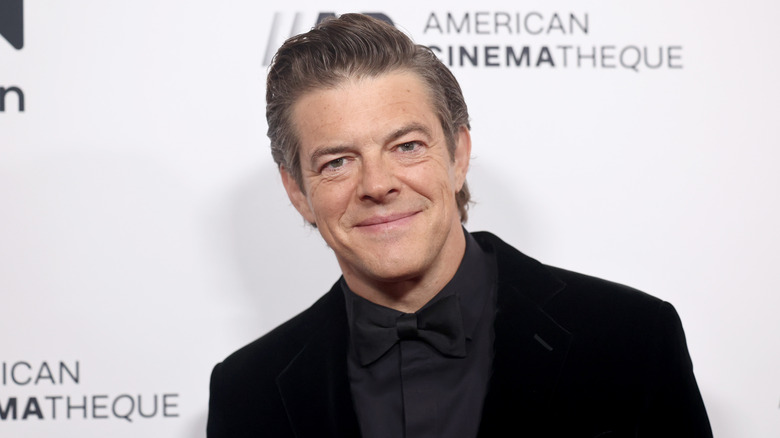 Emma Mcintyre/Getty Images
In addition to directing, David Gordon Green is executive producing "The Exorcist: Believer," but he isn't the only powerhouse behind the camera. He'll be joined here by Danny McBride, who starred in Green's "Pineapple Express" and was instrumental in creating Green's recent "Halloween" series.
In addition to names like Couper Samuelson, Ryan Turek, David Robinson, Stephanie Allain, and James Robinson, perhaps the most famous producer alive is working behind the scenes. That's right — it's Jason Blum. His banner, Blumhouse, is a Hollywood institution when it comes to the eerie and unsettling, and Blum has been involved with some of the most popular fright flicks of recent memory, including "M3GAN," "Get Out," and "The Invisible Man," not to mention franchises like "Insidious," "The Purge," and Green's aforementioned Michael Myers series.
Speaking about "The Exorcist" sequel, Blum has very high hopes for this hellish new picture. "I think it's going to pleasantly surprise all the skeptics out there," he told Den of Geek. "We had a lot of skeptics about 'Halloween,' and David turned them around, and I think he's going to turn it around with 'The Exorcist.'" Blum also spoke about how he hopes to produce a movie that will make everyone happy — from diehard "Exorcist" fans to people who've never gotten around to the 1973 classic.
While "The Exorcist" franchise has been pretty hit or miss since the first film, if there's anyone who can deliver a quality sequel, it's these powerhouse producers.
Is there a trailer for The Exorcist: Believer?
The trailer for "The Exorcist: Believer" starts off with two young girls suddenly vanishing. When they're found three days later in the woods, they don't have any memory of what happened — in fact, they think they've only been gone for a few hours.
Needless to say, there are demonic shenanigans afoot. At one point, one of the girls starts violently convulsing on the floor, and the other walks into a church, covered in communion wine and screaming, "The body and the blood!" Desperate for help, Leslie Odom Jr.'s character reaches out to Ellen Burstyn's Chris MacNeil. When the demon expert shows up on the scene, Chris tells the demon pulling the strings, "We've met before," and that's when the possessed girl starts calling her "mother" — which is no doubt a reference to Chris' daughter, Regan, and also just really, really creepy. 
The trailer features a ton of other eerie moments, like a scene where the heartbeats of the two girls somehow sync up and a moment where one of the possessed victims begins shoving pages of scripture down her throat. Perhaps the most upsetting sequence is the last few terrifying seconds, where we're subjected to a series of black-and-white freeze frames, highlighting the horror to come.
On September 5, Universal released a second official trailer. It provides a tease of a bit more (and very creepy) footage of the possession scenes, along with some more exposition on how possession works, and how the protagonists of "Exorcist" movies present and past can come together and defeat the demonic menace.
How will the Exorcist sequel connect to the previous films?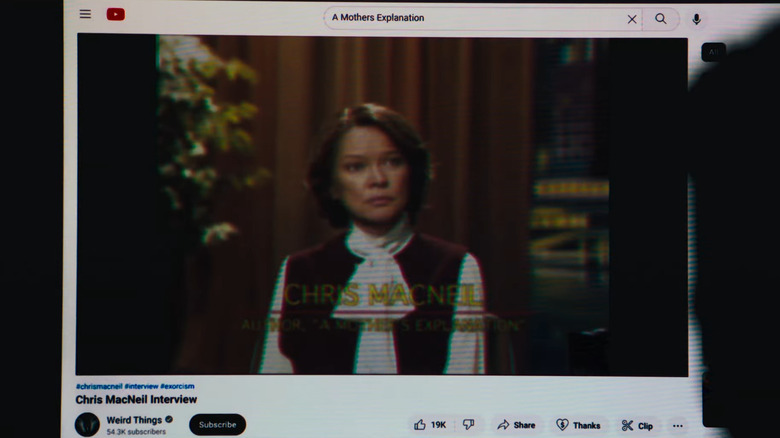 Universal
In David Gordon Green's "Halloween" trilogy, the filmmakers decided to ignore the franchise's majorly messed-up continuity and focus only on the first movie, with 2018's "Halloween" acting as a direct sequel to the 1978 original. So, is that what Green will do here? Well, actually, he's approaching "The Exorcist" franchise from a very different angle. 
Speaking to Total Film, the director explained, "I like all the 'Exorcist' movies. And not only do I like them, I think they can all fall into the acceptable mythology for what I'm doing. It's not like I'm saying, 'Pretend that 'The Exorcist 2' never happened.' That's fine to exist. They're all fine to exist, and I enjoy all of them."
In other words, we'll be visiting a world that includes "Exorcist II's" synchronizing machine and "Exorcist III's" Gemini Killer ... although chances are good "Believer" won't focus on any of that. However, we do know that the events of the original '70s movie will play a significant part in the upcoming film, as Chris MacNeil will be an important character in the possessed proceedings.
Was William Friedkin involved with The Exorcist: Believer?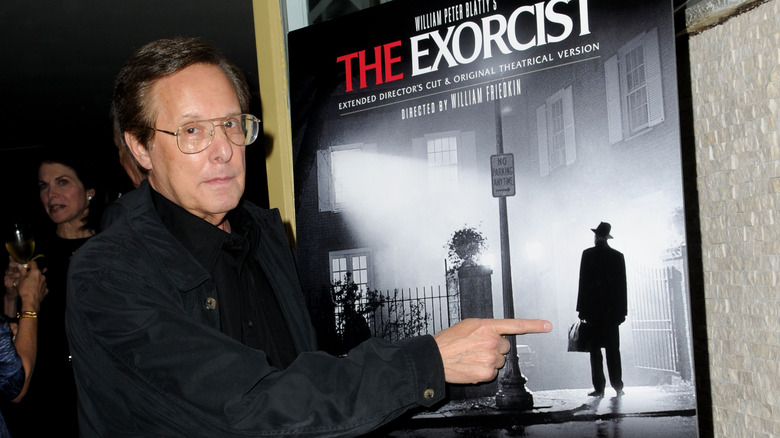 George Napolitano/Getty Images
One of the all-time great filmmakers, William Friedkin was responsible for classics such as "The French Connection," as well as controversial, edgy movies like "Bug," "Cruising," and "Killer Joe." And, of course, he's the directorial mind behind the scariest movie ever made: "The Exorcist." So was he involved with David Gordon Green's upcoming sequel? After all, when Green set out to make his "Halloween" trilogy, original "Halloween" director John Carpenter gave the films his blessing, and he even composed new music to accompany Laurie Strode in her battle against Michael Meyers. So did Friedkin lend a helping hand on "Believer?"
Well, in December 2020, Friedkin tweeted, "There's a rumor on IMDb that I'm involved with a new version of 'The Exorcist.' This isn't a rumor, it's a flat-out lie. There's not enough money or motivation in the world to get me to do this." In fact, Friedkin had never even seen the earlier sequels to his landmark movie, and it seems like Green is more than okay with this. Speaking to MovieMaker, Green explained that while Carpenter was his guide on the "Halloween" movies, actress Ellen Burstyn — who plays Chris MacNeil — was his "spiritual guru" for "Believer." "I'm not leaning into what Friedkin did," Green explained, "but it is going deep into who Chris MacNeil is and what she brought to the table. Without giving away too much, the tools and insights that she's utilized over 50 years find a new application." 
The director then went on to give what feels like a bit of a dig at Friedkin, saying, "Friedkin's not involved in this. If he's as good as John Carpenter at making music, we'll get him to do a song in the movie. He can do a trombone version of 'Tubular Bells.'" However, after Friedkin's passing in August 2023, Green paid respect to the filmmaker, saying, "I am personally indebted to William Friedkin and saddened by his loss. ... William Friedkin was an inspiration to me. I am saddened that our community lost a brilliant artist."
What is The Exorcist: Believer rated?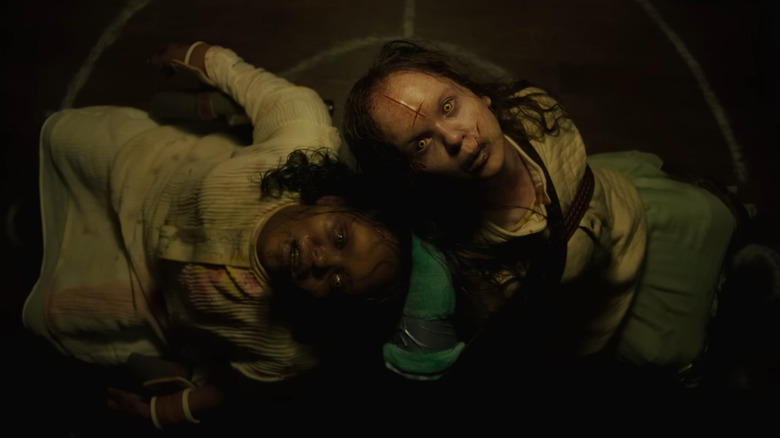 Universal
The original "Exorcist" was an incredibly shocking film for its time. The special effects and makeup design were super unsettling, Regan's colorful vocabulary left audiences rattled, and the film taught us about the many ways you can use a crucifix. No wonder so many people left "The Exorcist" visibly shaken.
As a result, the 1973 film received a well-deserved R rating. But will "The Exorcist: Believer" follow in the original's footsteps? Well, it's certainly going to try. "Believer" will be rated R for "some violent content, disturbing images, language, and sexual references." Based on that description, it appears David Gordon Green will definitely try his best to shock modern-day moviegoers. But will he be as successful as William Friedkin was back in the 1970s? Only time will tell.
Will there be a sequel to The Exorcist: Believer?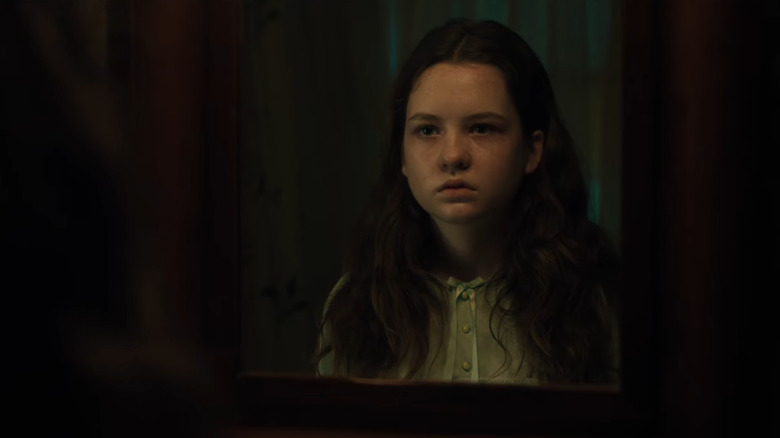 Universal
When David Gordon Green took over the "Halloween" franchise, he had big plans for Laurie Strode, Michael Meyers, and the town of Haddonfield. Instead of just giving us one slasher film, Green unleashed an entire trilogy — one that featured plenty of grisly deaths and controversial moments. Now, he's got the same exact idea for the "Exorcist" series, as he plans on telling his spiritual spine-tingler over the course of three films.
In fact, we already know what the next movie will be called and when it will possess movie theaters around the world. The second installment in the series is titled "The Exorcist: Deceiver," and at the moment, it has a release date of April 18, 2025. However, we don't know any details about the plot or which characters from "Believer" will survive the nightmarish events and return for part two. Still, if you're a fan of the "Exorcist" franchise or possession movies in general, the next few years are going to deliver the demonic goods.
Where to watch the previous Exorcist movies
Warner Bros.
"The Exorcist" is one of the greatest movies ever made. It basically created the possession subgenre, it gave us unshakeable images like Regan's head spinning around, and all these years later, it still works as an effective horror film and a powerful human drama. You can rent "The Exorcist" for $4.79 on Amazon Video or $3.99 on sites like Google Play, Vudu, Apple TV, and YouTube. 
"Exorcist II: The Heretic," on the other hand, is one of the worst movies ever made. Sure, it stars James Earl Jones and Richard Burton. Yeah, it's directed by the same dude who made "Deliverance." None of that matters. Pretty much everyone hates "Heretic," with its weird dream machines, locust swarms, and two Regans running around. If you want to experience one of the worst follow-ups to one of the greatest films, you can rent it for $3.19 on Amazon Video or $2.99 on Google Play, Vudu, Apple TV, and YouTube.
As for "The Exorcist III," it's one of the most underrated movies ever made. Directed by William Peter Blatty (who wrote the novel the original film is based on), this threequel works as both a police drama and an effective thriller. Plus, it features one of the greatest jump scares in Hollywood history. (Even better, you can experience it two different ways, with the theatrical cut and the director's cut — both of which are worth your time.) You can stream "The Exorcist III" almost anywhere, such as Freevee, Hulu, Peacock, Pluto TV, Shudder, and Tubi.
Then there's "Exorcist: The Beginning," which is a movie no one's ever seen. If you'd like to be the first person in history to learn what this movie is about, you can rent it for $3.59 for Amazon Video or $3.99 on Apple TV, Google Play, and YouTube.
Lastly, there's "Dominion: Prequel to the Exorcist," directed by Paul Schrader. Yes, that Paul Schrader — the guy who wrote "Taxi Driver" and "Raging Bull." "Dominion" doesn't exactly hold up to those classics, but in fairness, there was a ton of behind-the-scenes drama on this one, so if you want to see the final result, you can stream this one on places like Peacock, Tubi, Vudu, and Pluto TV.