Swagger Creator Reggie Rock Bythewood Gets Into Working With Kevin Durant - Exclusive Interview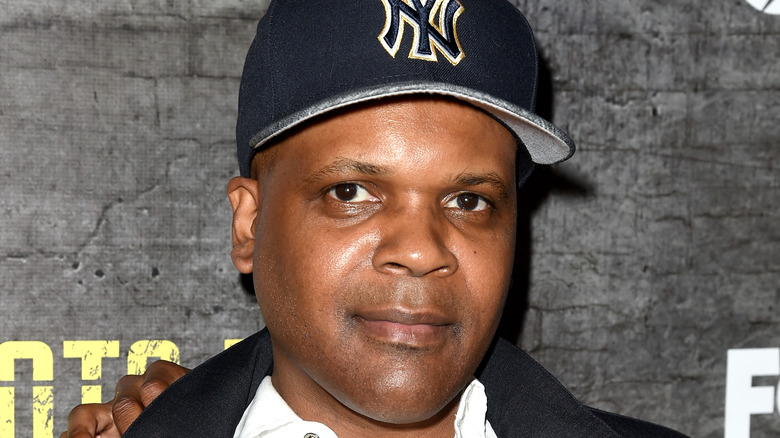 Kevin Winter/Getty Images
If you have swagger, you exude confidence when you walk into a room. And in the case of Apple TV+'s new series "Swagger," that confidence spills over onto the basketball court — and the TV screen.
Created by Reggie Rock Bythewood, co-executive produced by Brian Grazer ("Splash," "A Beautiful Mind"), and loosely based on Kevin Durant's life before the NBA, "Swagger" follows 14-year-old rising star Jace as he navigates adolescence and the competitive world of youth basketball. The first three episodes of the 10-part series — which stars O'Shea Jackson Jr., Isaiah Hill, and Quvenzhané Wallis — premiere October 29 on Apple TV+, followed by one new episode weekly every Friday thereafter.
Previous credits for Bythewood, who wrote and directed some episodes of "Swagger" and co-executive produced the series, include writing the screenplay for Spike Lee's "Get on the Bus" and co-writing the Notorious B.I.G. biopic "Notorious." Now, in an exclusive interview with Looper, the filmmaker explains everything you need to know about "Swagger."
While Kevin Durant inspired Swagger, it isn't his real-life story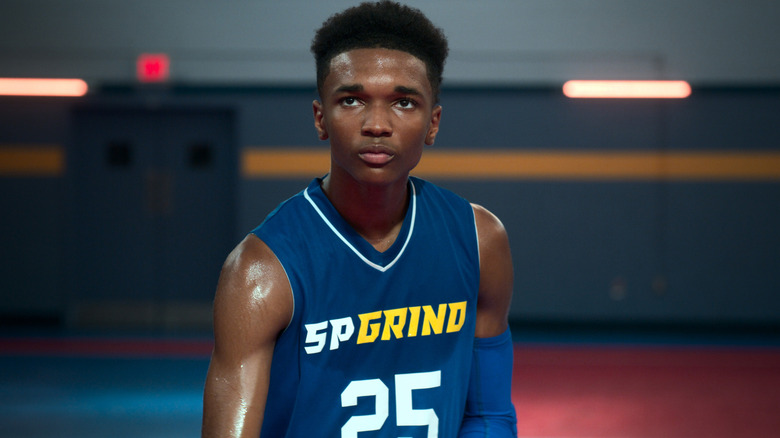 Apple TV+
How did the concept for "Swagger" come to fruition? How did you link up with Kevin Durant?
KD and Brian Grazer had a conversation. They met somewhere and KD shared with him that he had interest in doing a show inspired by his youth club basketball days. Brian, along with a producer named Francie Calfo, reached out and asked me to take a meeting with Kevin. In my meeting with him, I heard a bit of his youth basketball experiences. And those youth basketball experiences really became a launching pad, just a great starter, if you will, for all the stories that I was going to explore on the show. They're able to just bring in so many other elements, things for my personal experience, that tell hopefully a really great narrative.
What's it been like to work so closely with Kevin and Brian? What have you learned from each of them?
This is the second go-around with Brian. We have another project as well that we will be doing together. I think Brian has a high bar, and so do I. But he's been very supportive and a champion in the work that I've done with "Swagger." And KD was really interesting because, while he has strong points of view on things within this world of basketball, he was strong enough to give me the space to execute a vision I had. I think that there was just a great level of support and trust, and that really speaks highly of both of them.
Now, obviously, Kevin's story is a few years in the past, and this is set in the present. Why was it important to portray it in the present rather than 20 years ago?
Because it's not the Kevin Durant biography. That's not what we're doing. While there were elements of his story that we have adopted, it's really a contemporary story about now, about today. Just really looking at where the game is, where youth ball is today. Really just taking KD's story as inspiration, as a launching pad, so that we can tell this contemporary story.
For fun, did you guys play basketball on the set at all?
There was a lot of basketball playing. Both Isaiah Hill and O'Shea played a lot of fun basketball. But there wasn't really anything like that. I mean, I kind of had a free throw contest with Isaiah Hill and all the guys were looking on me that day. But really, more often than that, we were really trying to take the ball out of O'Shea's and other people's hands when we weren't shooting, because we wanted to keep everybody safe.
O'Shea Jackson Jr. was the life of the party on the set of Swagger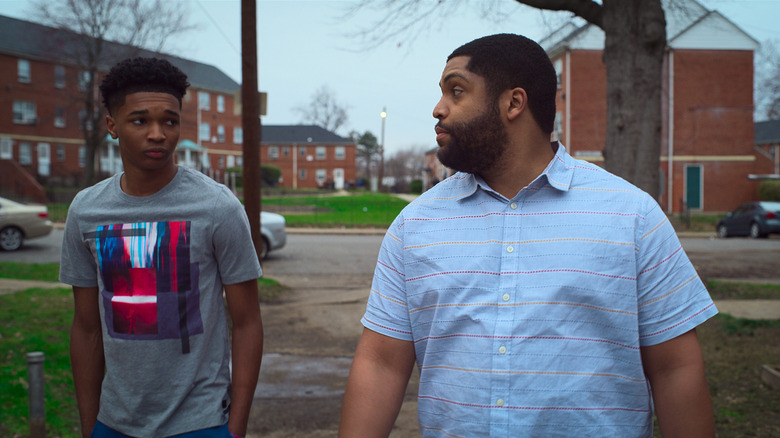 Apple TV+
Your stamp is all over "Swagger." You're the creator and co-executive producer, and also wrote and directed episodes. Of all your past film and TV credits, which one, if any, helped you get the series off the ground and make it what it is?
Well, first of all ... I am the writer of the pilot, but you know, I did have a writer's room and other writers, so it's not like I wrote every one of them. Probably doing [the 2017 Fox TV series] "Shots Fired" with Imagine Entertainment, which I co-created with my wife [Gina Prince-Bythewood] and directed as well. But I've also had a high level of interest in the sports narrative, and I've done sports documentaries, so it just really felt like a perfect fit.
You've been doing this a long time, but is there something that "Swagger" has taught you about yourself or the industry?
I think that the great thing with "Swagger" is I came in as a writer, director, producer, but was really challenged to understand what it means to be a leader. We were shooting and it was when COVID hit, we were in the middle of this pandemic. So my priorities shifted from not just creating a good product but also keeping everyone safe. That's a role that I took very, very seriously. Many folks would tell me that they were a part of the show because they trusted me. When somebody tells you that, you're like, "Okay, wow." It puts a lot of pressure on you. I think that was the biggest takeaway — it wasn't enough to just be a filmmaker, but I really had to be a leader.
What do you hope "Swagger" teaches viewers?
I really hope "Swagger" gives viewers a seat, a view from every seat in the house, and gives them insight into what kids, coaches, and parents all sort of all go through. But ultimately, it's just the meaning of the word "swagger" for us in our narrative. As the story progresses, we'll start to see that swagger is not just about you and your own bravado. Swagger is really about a cause bigger than yourself. Whether it's team, family, community — it's that cause bigger than yourself that can help propel you to reach your dreams.
Any funny stories or memorable moments on the set that stand out that you can share?
It just feels like it starts with O'Shea. I would just have to say O'Shea was a treat to work with because even under the most intense pressure, that guy has something funny to say or do. I feel for the [other] actors because it didn't matter how deep or emotional the scene was, O'Shea was joking around. Then cut. He's one of those people that can just turn serious on a dime. I feel like the other actors finally learned how to do that because he'll catch you sleeping if you're not ready.
"Swagger" will premiere globally on Apple TV+ on Friday, October 29, 2021, with the first three episodes, followed by one new episode weekly every Friday thereafter.