The Internet Is Buzzing About Tom Brady's New Commercial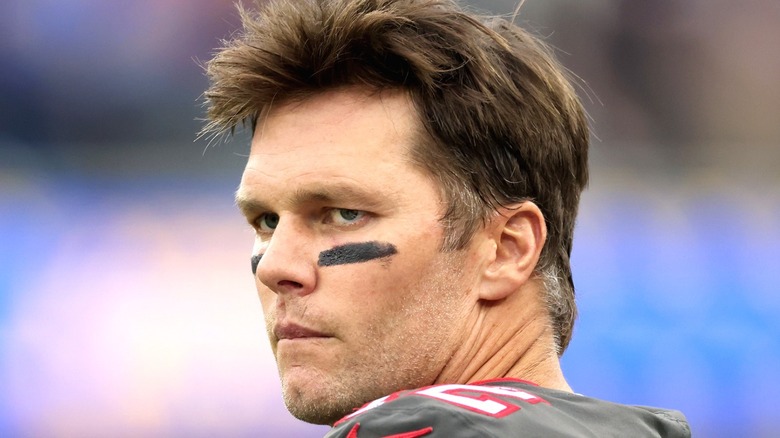 Harry How/Getty Images
Tampa Bay Buccaneers star Tom Brady has been recruited by Hertz to promote its brand new fleet of Teslas, and the internet can't get enough of it. 
"On the real Hertz just made a hell of a move," tweeted @LunchMoneyKen after seeing Brady in his first commercial for the rental car company, which debuted on Monday, October 25. "Buying 100k Tesla's to RENT is market changing. Then you get Tom Brady to shoot a commercial mid season?! I can digg it."
Brady's partnership with Hertz was announced Monday in unison with the company's Tesla deal, which is reportedly worth $4.2 billion (via Bloomberg). Hertz placed an order for 100,000 electric vehicles — specifically the Model 3 sedans — with hopes of rolling them out in early November before "expanding through year end," according to a company press release. In honor of Brady's partnership, the rental campaign for the Model 3s is being referred to as the "Hertz, Let's Go!" campaign, which is a play on the quarterback's signature gameday rallying cry, "Let's Go." Internet users were still eating it up on Wednesday, as were investors.
Hertz's Lets Go campaign drives up Tesla stock, keeps Twitter talking
When Tom Brady's Hertz commercial dropped, people had expected loads of buzz around the new partnership between him, the rental car company, and Tesla. But no one could have predicted this. 
On Monday, Elon Musk's brainchild hit a $1 trillion market cap and a share price of more than $1,045 following the deal's announcement (via CNBC). Tesla is now one of just a handful of trillion-dollar market cap companies, with some of the others being Apple, Amazon, and Microsoft. Its stock jumped again on Wednesday, October 27, after Uber revealed a partnership with Hertz as well, which will offer 50,000 of the Model 3 sedans that it's receiving as rentals for the rideshare company's drivers, Bloomberg reports. 
"Hertz already has their Tesla commercial going and it has Tom Brady. Where are they getting this money from?" wrote Twitter user @SwinginIt on Wednesday. "Am I dreaming?" asked @s_florib. "Hertz will have 100k cars for people to try out a #Tesla ... #Hertz will likely order more every yr ... @TomBrady on every commercial & ad with a Tesla ... Tesla will make billions ... The math will dictate that all other car rental co's do the same." 
On a more serious note, popular stock market account @BlackBoxStocks noted how the Brady factor will prove fruitful for Hertz. "The rental car company orders 100k Teslas and got Tom Brady to star in the commercial showcasing the move that has raised some huge noise in the rental-market," the account wrote.