What's The Song In The New Lightyear Trailer?
Out of Pixar's many franchises, "Toy Story" is undoubtedly one of the most popular. After the first film premiered in 1995, the lovable crew of toys at the heart of the "Toy Story" series went on to have adventures in three sequel films that all earned similar levels of praise (via Rotten Tomatoes). Now, we're in store for a brand new spin-off film featuring one of the most iconic "Toy Story" characters: Buzz Lightyear.
In "Lightyear," which is set to premiere on June 17, 2022, we'll follow the titular space explorer (voiced by Chris Evans) who "inspired" the Buzz Lightyear action figure audiences grew to love in the original "Toy Story" movies. The first teaser for "Lightyear" is finally available to watch on YouTube, and the film promises to be a mind-blowing ride. However, aside from the stunning animation and exciting plot teased throughout, one of the standout components of the trailer is the song that plays in the background of it.
If you're looking to add it to your personal playlist, make sure to keep reading to learn more about the iconic song used in the "Lightyear" trailer.
David Bowie's vocal talents are on display in the Lightyear trailer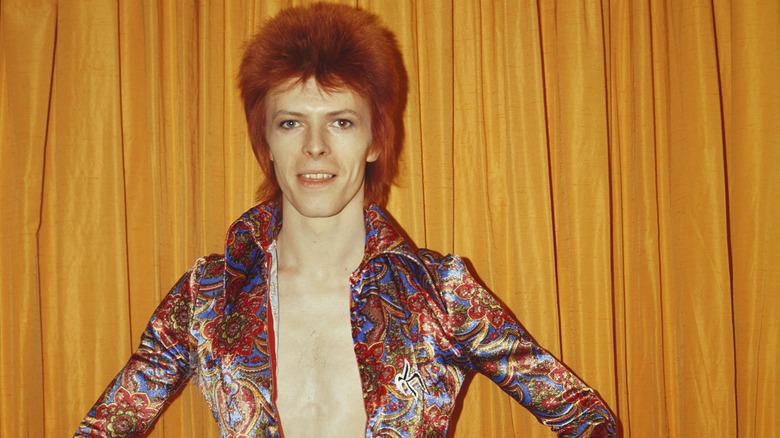 Michael Ochs Archives/Getty Images
The song at the center of the "Lightyear" teaser is sung by David Bowie, the late superstar musician, and is titled "Starman" — which is quite fitting for a film about a Space Ranger. Some of the lyrics heard in the teaser include: "There's a starman waiting in the sky / He'd like to come and meet us / But he thinks he'd blow our minds / There's a starman waiting in the sky / He's told us not to blow it / 'Cause he knows it's all worthwhile."
"Starman" was one of the songs featured on Bowie's album "The Rise and Fall of Ziggy Stardust and the Spiders from Mars," which also introduced listeners to Bowie's on-stage alter ego, Ziggy Stardust. According to Rolling Stone, "Ziggy became an omnisexual alien rock star, sent to Earth as a messenger. Bowie's plot, loosely, was that humanity was in its final five years of existence, and Ziggy was dispatched to deliver a message of hope."
With that in mind, it doesn't seem like there could've been a better spaceman for the first "Lightyear" teaser to reference, and Bowie's powerful vocals definitely help add a sense of wonder to the entire trailer.