The First Full-Length Trailer For West Side Story Is Incredibly Dramatic
The official trailer for Steven Spielberg's anticipated reboot of 1961's Oscar winning musical "West Side Story" is here, and from the looks of it, this new edition promises to be every bit as colorful and high-energy as the original, while still managing to put the director's unique spin on the story. Spielberg teamed up with Pulitzer Prize and Tony Award-winning playwright, author, and screenwriter Tony Kushner ("Angels in America," "Lincoln") to bring Jerome Robbins' Shakespeare-inspired masterpiece to contemporary audiences. 
However, as Kushner made clear in a 2017 interview with The Daily Beast, he had no intention of re-writing or altering the music. "I am not touching in any way the greatest score of a musical ever written," he said, adding "I am not changing the story, the setting, the period. It is still the Upper West Side in the late 1950s, but I'm exploring the story." It became clear in April when the teaser trailer hit the internet that Kushner had been true to his word. 
Spielberg's movie will honor the original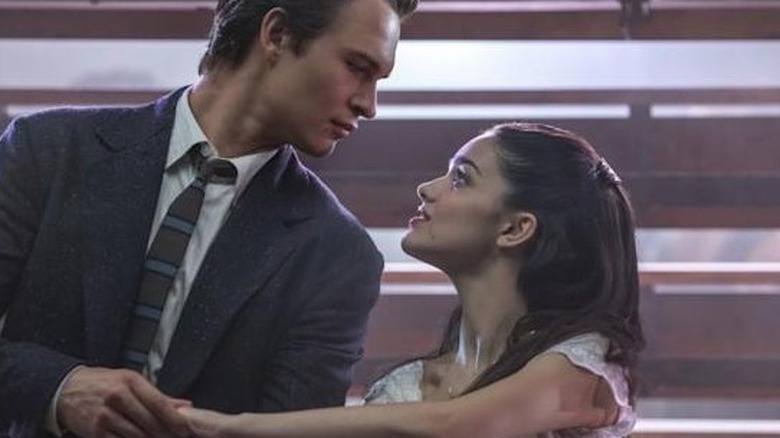 20th Century Studios
The film will star Ansel Elgort and Rachel Zegler as romantic leads Tony and Maria (played in the original film by Richard Beymer and Natalie Wood) and see Ariana DeBose and Mike Faist filling the big shoes of Rita Moreno and Russ Tamblyn in the supporting roles of Anita and Riff, respectively. For those unfamiliar with the premise, or who've never heard of a little 16th century sleeper hit called "Romeo and Juliet," two star-crossed lovers connected to rival gangs (the Sharks and the Jets) meet at a dance and fall in love. As you might imagine, some chaos ensues.
Based on the trailer, Spielberg (like Kushner) didn't make any attempt to reinvent the wheel, keeping the story in its original historical context and imbuing the film with a number of important references to the original. Set to hit theaters on December 10th, the reboot appears to be as much as an homage to the timeless classic as it is a relevant reflection of the racial divides that plague the United States to this day.