Why Ikaris From Marvel's Eternals Looks So Familiar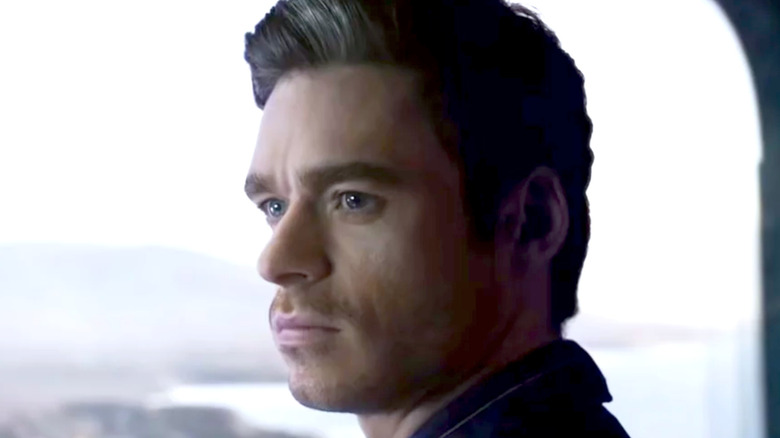 Marvel Studios
The Marvel Cinematic Universe has changed considerably in the decade-plus since Tony Stark (Robert Downey Jr.) first suited up in 2008's "Iron Man." Now in the early stages of Phase Four, the MCU is in a period of transition as older heroes like Tony, Steve Rogers (Chris Evans), and Natasha Romanoff (Scarlett Johansson) give way to new ones. In the film "Eternals," fans meet a race of immortal beings known as Eternals who've been around since before men walked the Earth. When humanity is threatened by dangerous creatures known as Deviants, the Eternals reunite to save humankind once more.
Several well-known actors appear in the film, from Angelina Jolie to Salma Hayek. Several more who no doubt will be familiar to TV fans also have major roles in the movie, including Richard Madden, who portrays Ikaris, an Eternal who can project cosmic energy from his body. If the actor looks familiar to you, there is a good reason for it: He has appeared in multiple award-winning TV shows over the last decade. Here's where you've seen Richard Madden before and why he looks so familiar.
Richard Madden was the King in the North on Game of Thrones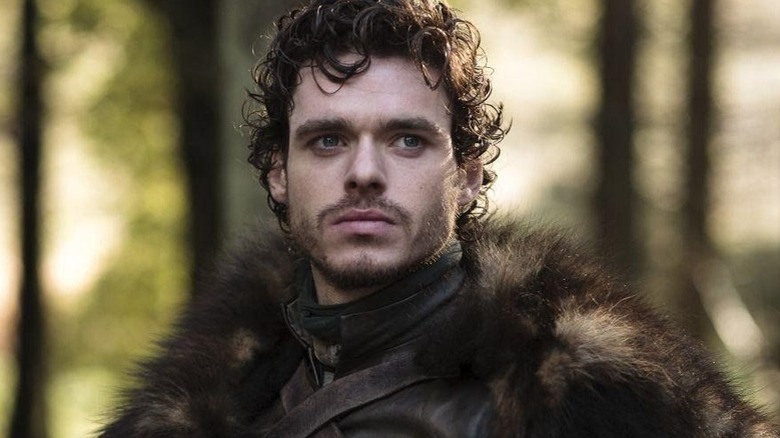 HBO
Following roles on British television in series like "Hope Springs" and "Sirens," Richard Madden landed the role that would launch his career to the next level. Beginning in 2011, he portrayed the noble Robb Stark, the eldest son of Eddard "Ned" Stark (Sean Bean), in HBO's epic fantasy "Game of Thrones." Appearing in the show's first three seasons, Robb is named King in the North following Ned's death at the end of Season 1 and successfully wages multiple battles against the Lannisters afterward. 
Unfortunately, the character, who is a moral center of the series, meets his own demise in the third season in the episode "The Rains of Castamere." During the event known as the Red Wedding, Robb is brutally murdered in a bloodbath that also sees the untimely deaths of his wife, Talisa (Oona Chaplin), their unborn child, and his mother, Catelyn (Michelle Fairley), who attempts to warn Robb of the attack but is unfortunately too late.
The actor was totally charming in Cinderella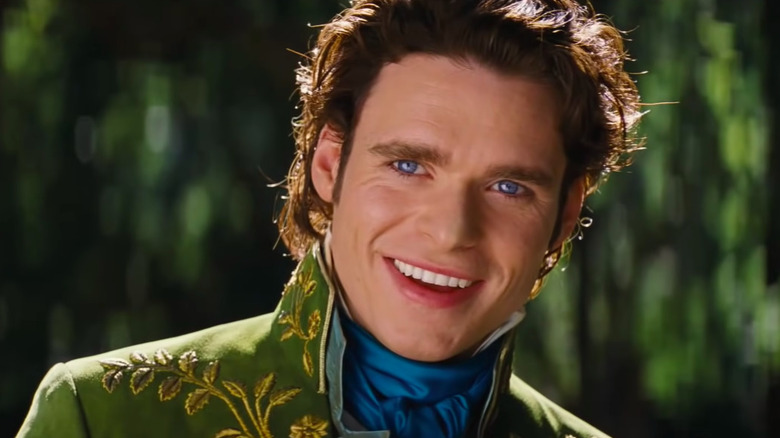 Disney
Marvel's "Eternals" is not Richard Madden's first foray into film, nor is it his first movie tied to The Walt Disney Company. Throughout his career, Madden has enjoyed success on the big screen just like he has on television, and in 2015, he brought to life Prince Kit, aka Prince Charming, in Disney's "Cinderella." The movie, which is directed by Kenneth Branagh, is one of a number of recent live-action adaptations of the company's popular and beloved animated films. 
"Cinderella" stars Lily James as the eponymous heroine and Cate Blanchett as her wicked stepmother, and it received positive reviews from critics around the world for staying true to the traditional romantic beats of the original story. At the time of its release, Madden's performance in the film proved to many that he was more than just Robb Stark and that he was more than capable of being a leading man.
Madden was Golden Globe-worthy in Bodyguard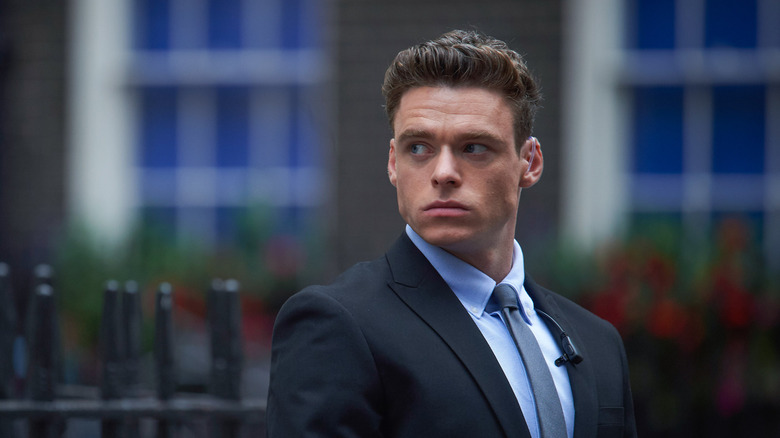 Sophie Mutevelian/World Productions/Netflix
While many people around the world still understandably recognize Richard Madden for his time spent on HBO's "Game of Thrones," his role in the 2018 British series "Bodyguard" has also brought him significant attention — awards attention, that is. In the acclaimed series — which may see a second season — Madden portrays David Budd, a British Army veteran living with PTSD who is working as a police sergeant when he foils a suicide bomber's attempt to blow up a train. 
For his actions, he is reassigned to be the personal protection officer for the controversial home secretary, Julia Montague (Keeley Hawes). This sets off a chain of events that turn "Bodyguard" into a tense, heart-stopping, must-see thriller. For his performance, Madden was awarded the Golden Globe for Best Actor in a TV Drama, while the series was nominated for Best Drama Series at the Globes and the Primetime Emmys.
He was a big hit in Ibiza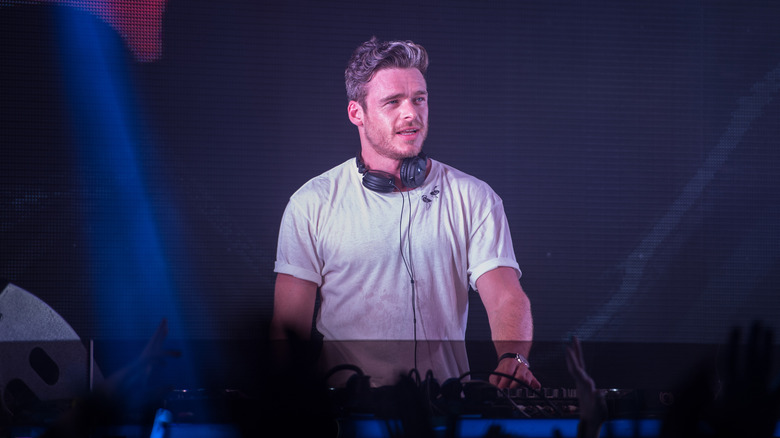 Aleksandar Letic/Netflix
Richard Madden's ability to play a romantic leading man was once again on display in "Ibiza," a romantic comedy film that is a far cry from the wholesome world of "Cinderella." Written by Lauryn Kahn, the movie was released on Netflix in May 2018. In it, Gillian Jacobs portrays Harper, a woman working in public relations who is assigned to travel overseas to land a potential new client. Madden portrays her character's love interest, Leo West, a popular and famous DJ. 
The two meet and fall for each other instantly while they're both in Barcelona, and although Harper is supposed to meet with the client for work, she makes a spur-of-the-moment decision to follow Leo instead when he travels to Ibiza for his next gig. As Leo, Madden is once again effortlessly charming and sexy, and the role is just more proof that the actor has the range to pull off a variety of character types.
Madden was a villain in Rocketman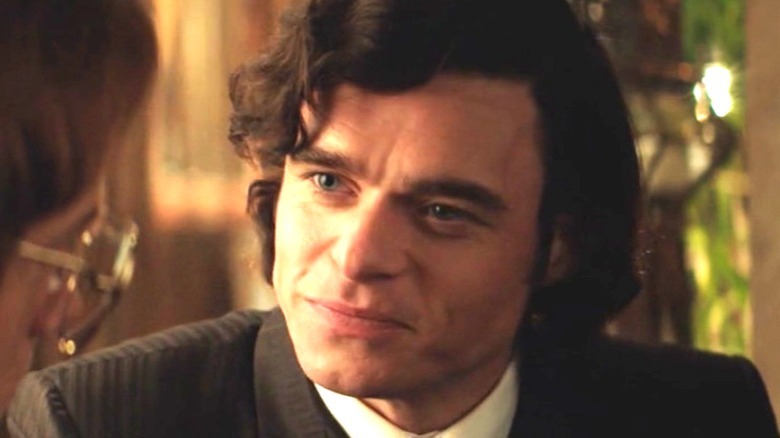 Paramount Pictures
In 2019, Richard Madden again took on a different kind of role in the Academy Award-nominated film "Rocketman," a biographical musical based on the life and iconic music of Sir Elton John, who is played by Taron Egerton on screen. In the movie, Madden has a small but pretty vital role — he portrays a version of the real-life John Reid, who was not just the singer's manager for a time but also his boyfriend. 
In "Rocketman," the couple's relationship is portrayed as increasingly toxic and manipulative, with John's treatment of Elton eventually playing a role in the addiction spiral that upends the latter man's life. The role put Madden squarely in "movie villain" territory and also required him to sing, which only contributed more proof to the argument that Madden's career is thriving and would be even without a turn in a major Marvel movie.