The Real Reason Chuck Norris Hasn't Been In A Movie Since 2012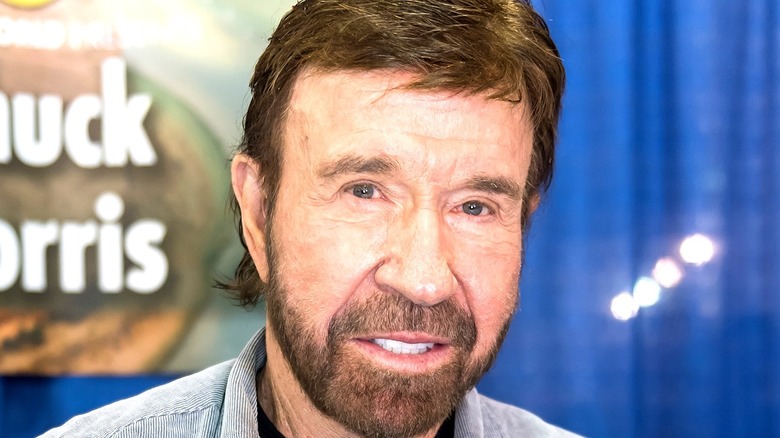 Gilbert Carrasquillo/Getty
For over 50 years, action star Chuck Norris has enjoyed a presence across pop culture unlike any other. For starters, he is one of the most recognizable martial arts figures in recent memory, holding a black belt in several combat styles and winning many competitions (per Mixed Martial Arts and Martial Tribes). His accomplishments in the martial arts arena led him to become a film and television legend. His IMDb page reminds us that his first major on-screen role was playing a villain in Bruce Lee's "The Way of the Dragon" in 1972.
From there, Norris' profile grew extensively in the 1980s. Per IMDb, he appeared in 1983's "Lone Wolf McQuade" (which earned him his praise from film critic Roger Ebert). His star continued to rise when he portrayed Vietnam War veteran James Braddock in 1984's "Missing in Action," Matt Hunter in 1985's "Invasion U.S.A.," and Scott in 1985's "The Delta Force." These roles led to near-universal recognition as an action star, with Norris hitting the level of fame enjoyed by fellow A-listers Sylvester Stallone and Arnold Schwarzenegger. In the '90s, he played the titular role in the hit television series "Walker, Texas Ranger," and, later, his fame soared even further in the internet age with the popular "Chuck Norris facts" meme (via Know Your Meme).
However, following his appearance in the 2012 blockbuster all-star ensemble "The Expendables 2," Norris has been surprisingly absent from the big screen. One would be forgiven for not noticing or chalking it up to his age, given he's is now in his 80s. But there is a very personal, sympathetic explanation for why the martial arts legend has walked away from acting.
Chuck Norris left the spotlight to care for his wife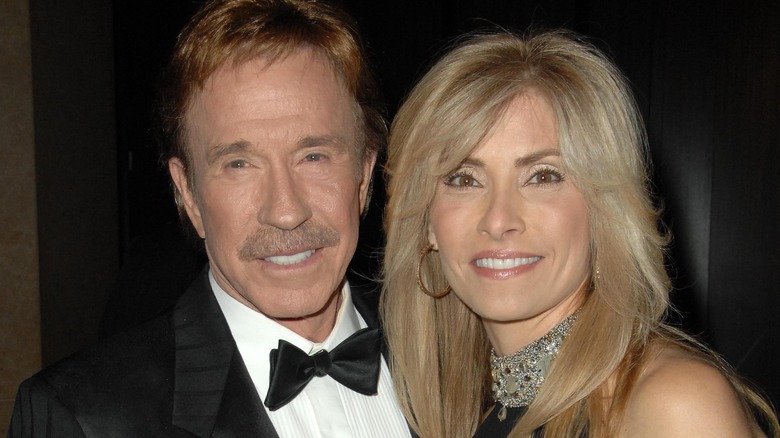 s_bukley/Shutterstock
In 2017, Chuck Norris made clear that the reason he stepped out of the spotlight was to focus on caring for his wife, Gena, who suffers from chronic pain. 'The Expendables 2" star and his spouse sat down with a CBS affiliate in 2017 and opened up about their journey with Gena's medical diagnosis (via YouTube). The couple explained she took a turn for the worse in 2013 when, after receiving an unsafe injection for an MRI scan for her rheumatoid arthritis, she began experiencing chronic pain. After several more scans, she began to feel "extreme burning," leading to multiple trips to the hospital. 
"It's like somebody's poured acid on your tissues," she told CBS. Gena's condition continued to worsen with new symptoms, including articulation and memory problems, as well as constant tremoring. The action star went all-out to provide for her, having her flown to a specialist in Nevada and spending many nights sleeping on the couch while she was hooked up to IVs.
Due to her worsening condition, Norris decided to make taking care of her his main focus. "I've given up my film career to concentrate on Gena," he told Good Health in 2017 (via The Mirror). "My whole life right now is about keeping her alive. I believe this issue is so important." He and his wife also sued 11 pharmaceutical and medical companies, alleging they had poisoned her with gadolinium, a metal used in MRI scans (via Courthouse News Service). 
Four years after Norris revealed the reason for his retirement, he's only taken a handful of minor TV roles on popular shows like "Hawaii Five-O." As much as many viewers would relish seeing him renew his fistic prowess for their entertainment, his decision is a commendable one.