Black Adam Producer Dishes On The Possibility Of A Spectre Movie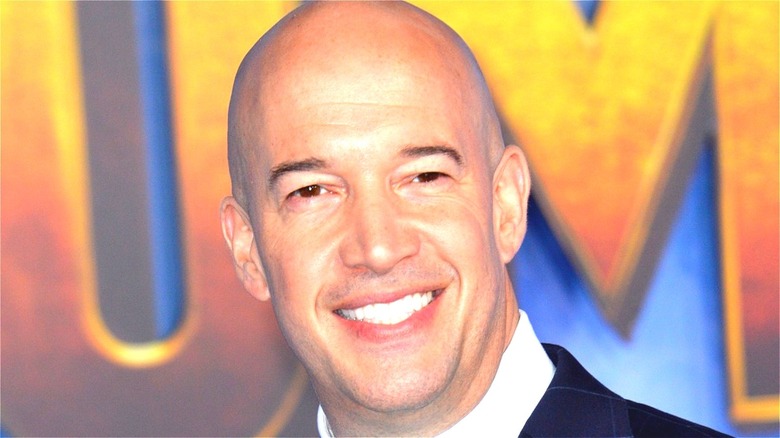 Featureflash Photo Agency/Shutterstock
For decades, Warner Bros. — despite owning the entire catalog of DC superheroes — never branched far outside of the familiar terrain of Superman and Batman sequels and reboots. In the past few years, though, that's started to change, with movies like "Wonder Woman" and "Aquaman" becoming smash hits. Even more recently, the launch of the HBO Max streaming service has allowed Warner Bros. and DC Entertainment to experiment with movies about the less famous members of the DC Comics catalog. Going forward, it seems that HBO Max will serve as something of a proving ground for creatively risky projects — with the upcoming slate of HBO Max movies including the Leslie Grace-starring "Batgirl," a "Blue Beetle" film, and a continuation of Jurnee Smollett's Black Canary (first introduced in "Birds of Prey").
Naturally, all these projects have encouraged fans to speculate about which other offbeat or obscure characters from the DC catalog might be getting their moment in the spotlight. One of the characters who often comes up is the Spectre, a vengeful spirit who directly serves under the DC Universe's equivalent of God, and who has inhabited a number of human hosts over the years, including James Corrigan, Hal Jordan, and Crispus Allen. Debuting all the way back in 1940's "More Fun Comics" #52, the early Spectre comics fused dark pulp sensibilities with a larger-than-life supernatural element.
And recently, Seven Bucks Productions President of Production Hiram Garcia, who's producing the upcoming "Black Adam" movie — a movie which also introduces a number of classic old-school DC characters to the big screen, such as Hawkman — spoke about the possibility of whether the Spectre might be coming next.
Hiram Garcia is one person who believes in a Spectre movie
In an interview with The llluminerdi, Hiram Garcia couldn't confirm that Seven Bucks is working on a Spectre movie, but he did say that he has a lot of passion for the character. 
"All I can say is, I can't tell you the chances, but I can tell you that at Seven Bucks we do not stop. Like Hawkman and Black Adam, we do not stop fighting for opportunities to tell these stories. And look, he comes from two sides. We want to tell the stories, but secondly, we just want to see that the stories are told as best as they can be. There's a lot of characters out there that we love, that we are continuing to campaign for, to be able to tell their stories and get them into the universe we're crafting here with Black Adam and the [Justice Society of America] and so forth."
Despite his enthusiasm, Garcia acknowledged that a Spectre project depends on how well Seven Bucks' other ventures perform. 
"I think a lot of it will also be dictated by how 'Black Adam' comes out," Garcia continued. "If the fans love it, if the fans love Super-Pets, which I'm confident in both those projects. But as storytellers, we're always going to fight to try and get our hands on some of those beloved characters and bring them to life because it's the best kind of storytelling there is, right? This is what it's all about, my friend."
Dwayne Johnson's "Black Adam" is, admittedly, a somewhat easier sell than a potential Spectre movie, but if it performs well on July 29, 2022, it could help open some doors. If so, which version of the Spectre might we see?
The Jim Corrigan incarnation of the Spectre seems most likely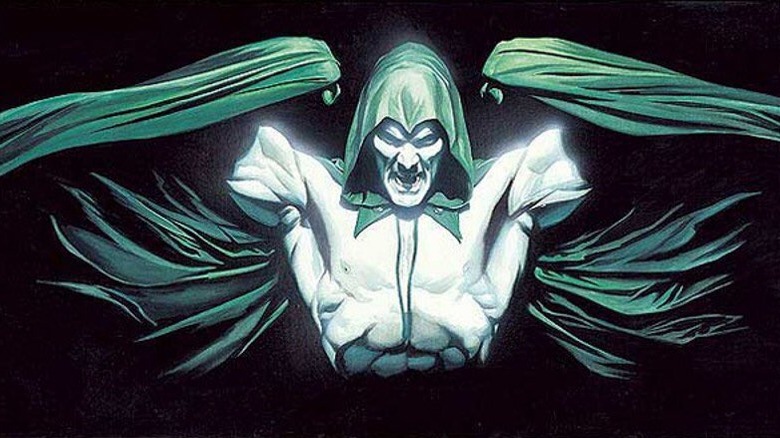 DC Comics/Alex Ross
Since there are so many different incarnations of the Spectre, a possible movie could go in many different directions. However, based on what Garcia told The Illuminerdi, it seems likely that a movie would focus on the first incarnation.
"I'm always intrigued by characters like the Spectre that is so unbelievably powered and kind of the second half of them is rooted in this gritty grounded space," Garcia said.
That certainly sounds like Garcia is referring to Spectre's first human host, as portrayed in DC Comics, Jim Corrigan. Traditionally, the Spectre inhabits someone who was unjustly killed, revives them, and through that person accomplishes its mission of exacting vengeance upon evildoers. In the comics, Jim Corrigan is a 1940s NYPD detective who is murdered by the mobster Gat Benson: The Spectre resurrects Corrigan, and grants him superpowers, whereupon Corrigan proceeds to brutally murder Benson and his henchman, before resurrecting them and having them arrested. He went on to become a member of the Justice Society of America, a precursor to the more popular Justice League.
As reported by Movie Web, the "Black Adam" movie will introduce several original members of the JSA to contemporary audiences, like Dr. Fate, Hawkman, and Cyclone. That's another reason why the Jim Corrigan version of the Spectre would be a logical choice.