The DCEU Has Finally Found Its Batgirl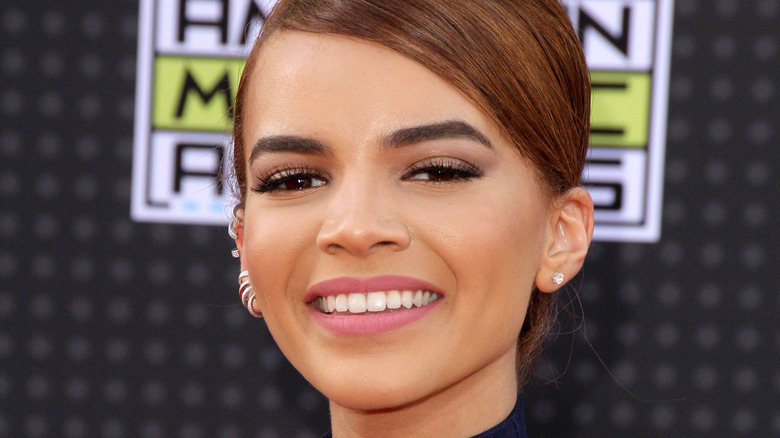 Shutterstock
It seems that the search for an actress to take over the lead role in the upcoming "Batgirl" film from Warner Bros. and DC Films has come to an end as Deadline reported that "In the Heights" star Leslie Grace has secured the role.
The news that Grace had been cast in the role follows reports from earlier this week that a variety of actresses had been brought in to test for Warner Bros. executives, including Zoey Deutch, Isabela Merced, and Leslie Grace, per Deadline. While those meetings showed that there was a ton of talent lined up to play the role, sources told Deadline that the studio had been following Grace since her breakout role in "In the Heights," and her successful audition effectively locked her in as the choice to play Batgirl.
The "Batman" wing of the DC Universe is approaching another major reboot as Robert Pattinson prepares to assume the masked crusader's iconic cowl, but "Batgirl" will have its own unique debut on HBO Max. Here's what fans should know about the Batgirl that Leslie Grace will play in the upcoming film.
Batgirl's HBO Max debut will be a first for the DC Universe
In the upcoming "Batgirl" film, Leslie Grace will portray the Barbara Gordon version of Batgirl. As noted by Deadline, when Batgirl debuted in 1961, she was known as Betty Kane, but the character has been much further developed as the daughter of one of Batman's closest allies, Commissioner Gordon.
The casting of Grace in "Batgirl" is a significant step forward for the project. DC enthusiasts have been speculating as to who will take on the role ever since a piece of fan art imagined Karen Gillan would look like playing the part in early 2020. While the film is probably still quite a ways out, Variety explained that with the lead role filled, shooting is expected to begin in November 2021.
When the film is finally ready for an audience, fans will have only one place where they can see it — HBO Max. Per Deadline, this project is the first DC Universe film that will be exclusive to the streaming service, which has recently hosted split simultaneous streaming premieres alongside traditional theater debuts for films such as "Wonder Woman 1984."