Dwayne Johnson Celebrates Black Adam Wrap In The Coolest Way Possible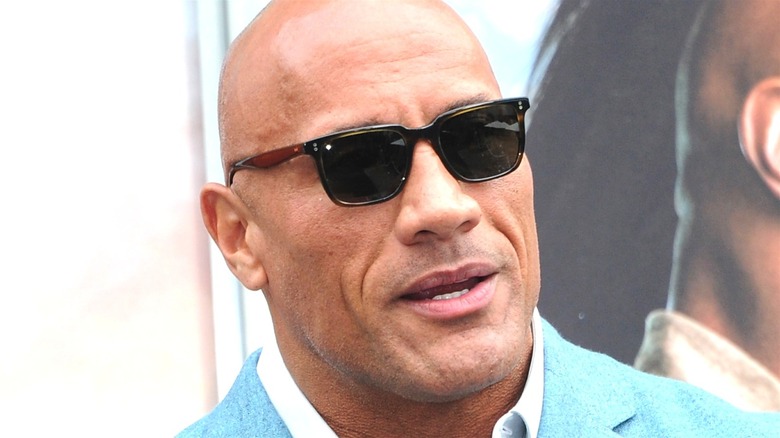 Albert L. Ortega/Getty Images
As Dwayne "The Rock" Johnson keeps explaining on Instagram, "the hierarchy of power in the DC Universe is changing" — and "Black Adam" recently took one step closer to its theatrical release in 2022. The film from "House of Wax" director Jaume Collet-Serra has finally wrapped filming, and so begins the long wait for its first trailer. 
In the DC comics, the character has typically been the enemy of Shazam, aka Captain Marvel, who's currently played by Zachary Levi in the DC Extended Universe. Presumably, the pair will eventually clash in a future movie, but for now, the excitement for "Black Adam" is pretty high.
The retired wrestler won't be alone in his first DCEU outing though. Johnson will be joined by the likes of Pierce Brosnan as Doctor Fate, Noah Centineo as Atom Smasher, Aldis Hodge as Hawkman, and Quintessa Swindell as Cyclone. They'll all make up the Justice Society of America — although because the "Black Adam" plot is being kept under wraps, it's not clear how they'll collide with the antihero also known as Teth-Adam.
When work finished on the upcoming DC film, Dwayne Johnson came up with an awesome way to celebrate all the hard work that the cast and crew have put into the project.
The Rock gave thousands of dollars to the Black Adam crew
Dwayne Johnson took to Instagram to celebrate the end of production on "Black Adam," sharing a touching video from his last day on set. He's seen surrounded by the cast and crew as he gives an emotional speech about the work that's gone into getting "Black Adam" off the ground over the last few years — especially throughout the pandemic. The star said, "I can't thank you enough from the bottom of my heart for this experience. This has been once in a lifetime for me. ... "I've been a lucky, lucky guy to have the career I've been blessed with, but that doesn't happen without teamwork."
After also saying, "I want to say thank you so much guys, I love you truly," Johnson revealed that he was going to announce the winners of the production's "$5 Friday," where the crew all chipped in with the hopes of winning $3,000. However, the Rock dropped a bombshell: He bumped the prize money up to $10,000 and picked three names from a bucket, with the cash being split between them. 
It's a touching gesture, showing that Johnson isn't afraid to put his money where his mouth is. Now, if he could also treat the fans to a full first look at his "Black Adam" costume, that would be just as great.
"Black Adam" is slated for a July 29, 2022 release.