Megan Thee Stallion's New Popeyes Commercial Has The Internet Buzzing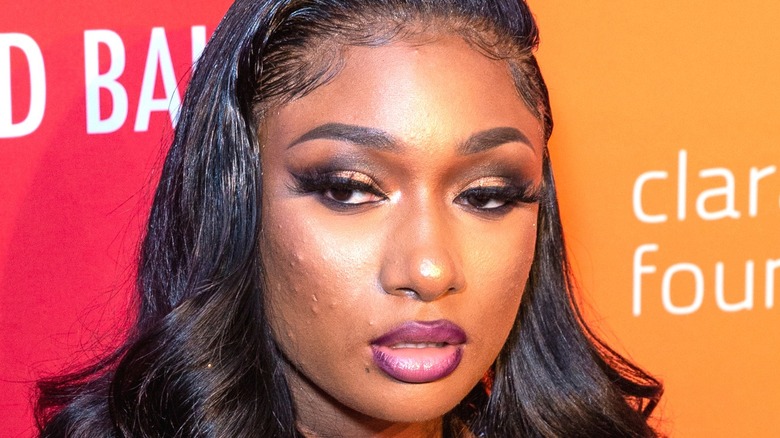 Lev Radin/Shutterstock
Megan Thee Stallion's star has risen meteorically over the past several years. From No. 1 singles in the form of raunchy anthems such as "WAP" to show-stopping awards performances and becoming the first female rapper to grace the cover of the "Sports Illustrated Swimsuit Edition," she is one of the most ubiquitous names in music.
Never afraid to embrace her pleasures, Megan Thee Stallion is now linking up with fast-food chicken joint Popeyes to promote their chicken bites with her signature Hottie Sauce, and the fried chicken chain just released a new viral promo spot for the collaboration. Though fewer than 15 seconds long, the advertisement manages to pack in some outlandish details. From Megan in cowgirl attire and riding a bucking bronco to the bass-heavy beat of her hit single, "Thot S***," the commercial is provocative in the best of ways. The internet has lit up in response, reacting to the spectacle as only the internet can.
Twitter is hot for Hottie Sauce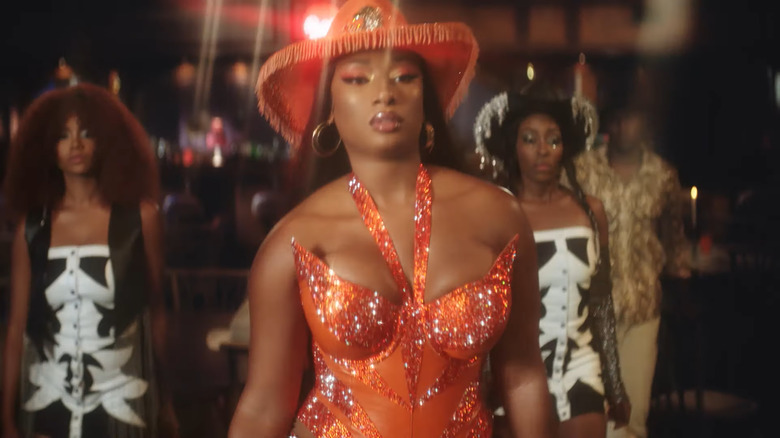 Popeyes
Shortly after the release of the new Popeyes advertisement, Twitter users began reacting to the spectacle. Something about Megan Thee Stallion atop a stallion selling chicken dips struck the right chord — halfway between shameless and bold — that makes for instant virality. "Tell me I didn't just watch a Popeye's commercial with Megan Thee Stallion advertising Hottie Sauce and Thot S*** playing in the background. I'm dead," wrote Twitter user @beingkarmin, adding a skull and crying emoji for emphasis.
Others were amused that the commercial had picked a song that prominently features words that must be censored for broadcast. User @notthelivestock mused, "They just ran a commercial for the megan thee stallion popeye's meal that used thot s*** but censored 'a**' and 's***.'" Ironically, Looper must censor similarly to print this tweet here.
Megan Thee Stallion has built a reputation on being her uncensored self and caused massive controversies with her music over the years, most notably with the chart-dominating single "WAP" that she made with fellow emcee Cardi B. The song, which saw the pair of women unabashedly claiming their sexual appetites, prompted many conversations over the boundaries of good taste and sexuality in popular culture. Clearly, her Hottie Sauce promotional campaign seeks to continue the trend — albeit by more corporate standards.