The Netflix Crime Comedy That Is Heating Up On Netflix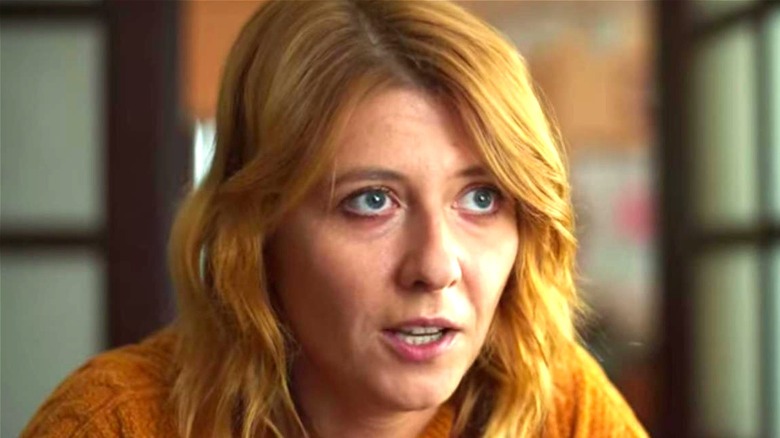 Netflix
If you like a juicy mystery movie that draws inspiration from Agatha Christie novels, the film noir genre, or you're keen to see more movies like Rian Johnson's "Knives Out," more than a few streaming platforms can help you scratch that itch. There has been a rising interest in mystery movies in recent months, as the Coen Brothers-esque "Blow the Man Down" on Amazon Prime and "The Invitation" on Netflix have grabbed hold of subscribers. Heck, the latter streamer is even home to the very literally titled feature "Murder Mystery," a comedic spin the genre starring Adam Sandler and Jennifer Aniston.
This week, a new murder mystery tale with comedy to spare is earning lots of attention from Netflix subscribers: the Polish-language film "In For a Murder." Released onto the streamer on Tuesday, October 19, "In For a Murder" made its way onto the Netflix Top 10 list in less than a week. The movie, originally titled "W jak morderstwo" (via IMDb), stars Anna Smolowik, Przemyslaw Stippa, and Pawel Domagala.
The Netflix logline for the movie reads, "A stay-at-home mom and avid reader of crime stories discovers the deepest secrets of a small town's residents while investigating a woman's murder." Per the trailer (via YouTube), the story follows Magda (Smolowik), a suburban mom whose husband (Stippa) ignores her in favor of an extramarital affair. One night, she discovers a dead body while taking her dog for a walk. The murder investigation brings a local detective and Magda's old friend, Jacek (Domagala), into her orbit. Naturally, she decides to help out and draws on her knowledge of Agatha Christie's stories. The ensuing investigation links the murder to the disappearance of her best friend while bringing business, politics, and sensational plot twists into the mix.
In For a Murder has an intriguing story but mixed reviews
Recent Netflix release "In For a Murder" is the kind of crime comedy you'll want to stream. The Polish feature contains light drama, lots of humor, and lead actor Anna Smolowik's understated performance has been praised even by those who found the movie to be not-so-exciting. According to Decider, "Smolowik conveys the truth of her character with more nuance than the movie probably deserves." Ready Steady Cut's review calls her "a comforting presence, doing her utmost to give a simple character some layers and nuance."
"In For a Murder" is a bit of a sleeper hit in that it barely has any reviews. Over on Rotten Tomatoes, viewers haven't even logged in enough comments to give it a Tomatometer or Audience Score at the moment. Metacritic also appears to be waiting for more information before it can give the new Netflix flick a score. The few professional reviews that exist can best be described as mixed. Decider's review calls it "a dud" and advises fans to skip it, while Ready Steady Cut proclaims it only "intermittently watchable" and also describes it as "silly" and "well-intentioned." However, Leisure Byte says in its review that "In for a Murder" is "a good watch for boring days."
So, if you like the genre and have some spare time, you might want to give "In for a Murder" a try. At under two hours, it's not a huge investment of your time, even if turns out to be something you don't love.