Timothee Chalamet's Best Movie And TV Roles To Date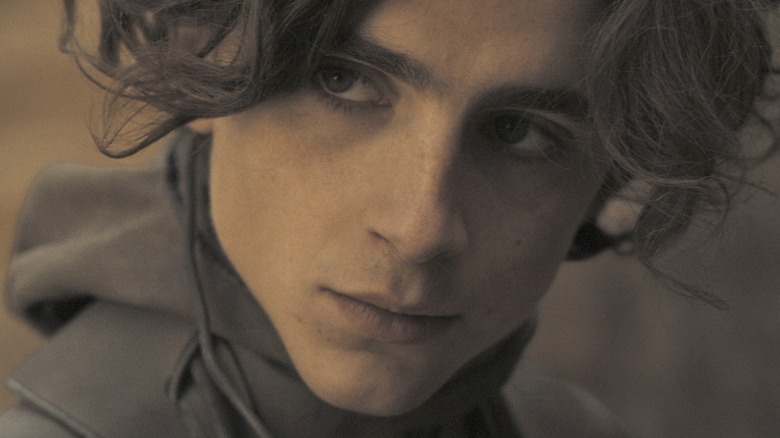 Warner Bros. Pictures and Legendary Pictures
A few years ago, you may have been forgiven if you'd never heard of Timothee Chalamet. However, these days, he's everywhere and is undoubtedly one of the hottest properties in Hollywood. His career began at around tender age of 13 when he appeared in a 2009 episode of "Law & Order," and for Chalamet — like many other actors who got their big break on the long-running show — the sky was the limit after this.
The real turning point came in 2012 when he appeared in eight episodes from the second season of the drama series "Homeland" and subsequently made the leap from the small screen to the big screen. Since then, Chalamet has worked with big-name directors such as Christopher Nolan, Greta Gerwig, Luca Guadagnino, Wes Anderson, and Denis Villeneuve.
At just 23 years old, Chalamet also picked up an Oscar nomination for his performance in "Call Me By Your Name." While he lost out to Gary Oldman's transformative performance in "Darkest Hour," his career has certainly been on an upward trajectory since, and it seems only a matter of time before he will be recognized once again for his talents. And we're here to celebrate his on-screen abilities by looking at his all-time performances. From TV shows to indies to epic big-screen blockbusters, these are Timothee Chalamet's best acting roles to date.
Homeland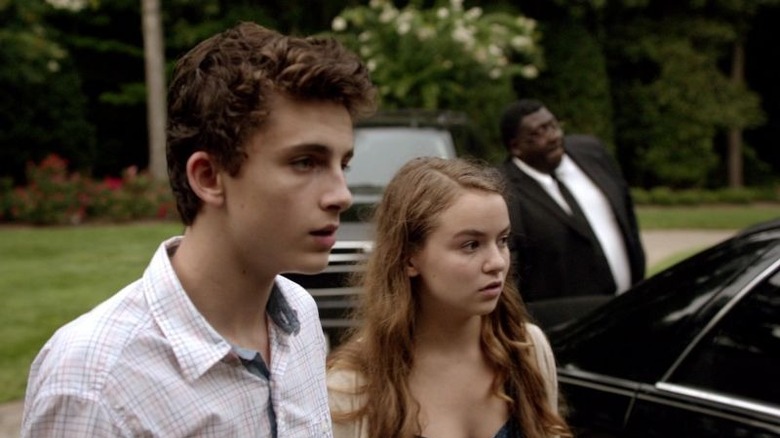 Showtime/20th Television
Starring alongside well-known actors such as Claire Danes, Mandy Patinkin, and Damian Lewis, Timothee Chalamet got his first big acting role in Season 2 of "Homeland," playing the part of Finn Walden. Finn was the spoiled and privileged son of the vice president and the love interest of Brody's (Lewis) daughter, Dana (Morgan Saylor). Aged 17 at the time, Chalamet nails the awkwardness and teen angst needed for the character and is the perfect choice to play a young heartthrob.
While a relatively inconsequential role compared to others in the show, it's nonetheless refreshing to see the character — and Chalamet — given a complete arc. More than just "the boyfriend," there are complexities to this character as he deals with the cover-up of a dramatic hit-and-run incident and the implications of this with his high-profile parents. Despite being a small role, Finn allowed Chalamet to show what he could do, and it was only a matter of time before Hollywood beckoned.
Men, Women & Children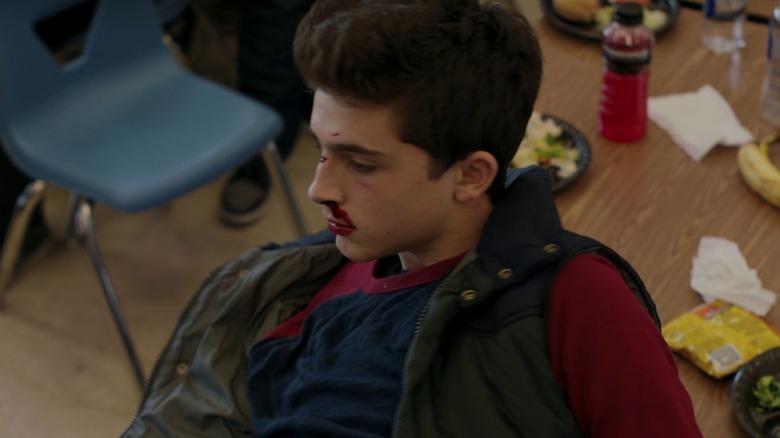 Paramount Pictures
The cast of this film almost reads like a who's who of romantic comedies, starring stalwarts of the genre such as Jennifer Garner, Judy Greer, Adam Sandler, and Emma Thompson. Alongside the veterans, it also features young up-and-comers at the time, including Ansel Elgort, Kaitlyn Dever, and of course, Timothee Chalamet.
"Men, Women & Children" pitched itself as a timely exploration of love, communication, and self-worth in the age of the internet as the interlinked stories of kids and their parents attempted to show the complexities of modern relationships. On paper, this sounds like an interesting concept. However, director Jason Reitman wasn't able to repeat the success of "Juno" or "Up in the Air," and the film was both a critical and commercial flop.
But while the film was seen as a disappointment, it was a pretty big deal for Chalamet. Even though his part in the film is small, it's notable for being his first major feature film role, having previously only appeared on TV and in short films. For a young actor, being able to hold your own in such a strong cast is no easy feat. However, the star power of Chalamet is palpable, even with the limited screen time.
Interstellar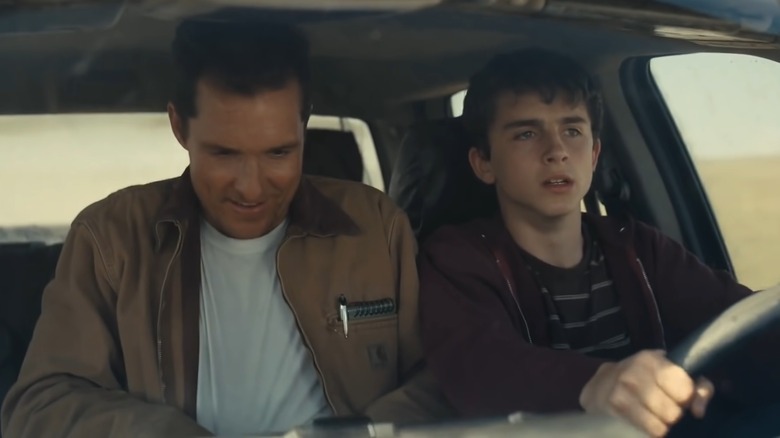 Warner Bros. Pictures
Not many young actors make the leap from small indie films to huge blockbusters this quickly, but Timothee Chalamet became one of the exceptions when he worked with acclaimed director Christopher Nolan. The two teamed up for the 2014 sci-fi flick "Interstellar," which found Chalamet playing Tom, the teenage son of protagonist Cooper (Matthew McConaughey). With an astronomical budget of $165 million, "Interstellar" was easily Chalamet's biggest film at the time and prepared the way for the stratospheric heights his career would reach just three years later when "Call Me By Your Name" made him a household name. 
And while his role in "Interstellar" was a small one, it's incredibly significant in the wider film. It's Chalamet's voice that we hear at the beginning of the scene that sparked a well-known meme, as Cooper reacts to the messages he's received from home while on his mission to save the world. Sadly, in an interview with Variety, Chalamet recalls how he wept after seeing the film as he thought he would have a much bigger part! However, he appreciates this scene wasn't about him and the film was better as a result.
It shows great maturity on Chalamet's part that he was able to appreciate that the creative decisions being made by Nolan would be for the benefit of the final product, and while he wasn't the star of this film, it wouldn't be long until he got his moment in the spotlight.
Miss Stevens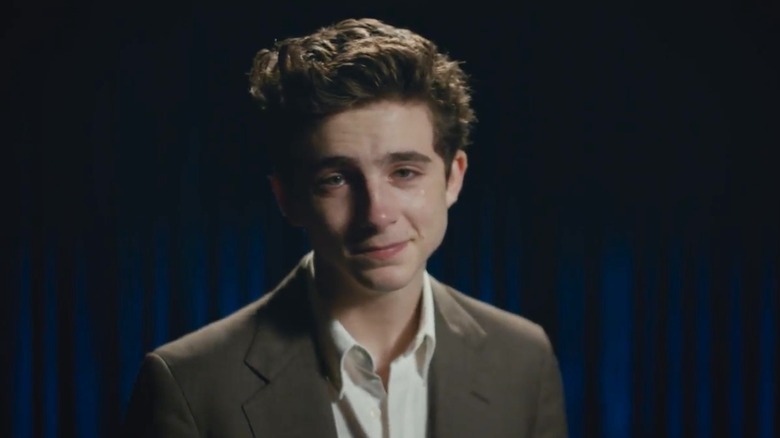 The Orchard
A criminally underseen indie flick, "Miss Stevens" stars Lily Rabe as the titular teacher who's tasked with chaperoning a group of students to a drama competition. One of these students is Billy, played by Timothee Chalamet, a troubled teen with undeniable talent. While he may have had supporting roles in the bigger films around this period, it was in the small independent films such as "Miss Stevens" that Chalamet was able to shine, and following his performance as Billy, it's clear to see how he would've ended up being cast in similar coming-of-age films such as "Lady Bird."
Playing the arty teen with a bit of an edge or rebellious streak is something that Chalamet excelled at during this time in his career, and the film was generally praised by critics for its sensitivity, warmth, and layered performances from its young stars. The film tackles the emotional complexity of Chalamet's character particularly well and approaches the difficult topic of a student who has the hots for his teacher in a way that feels mature and never veers into inappropriate territory. While this may not have been the film that made him a household name, it's easy to see from this performance that there were huge things on the horizon for him.
Call Me by Your Name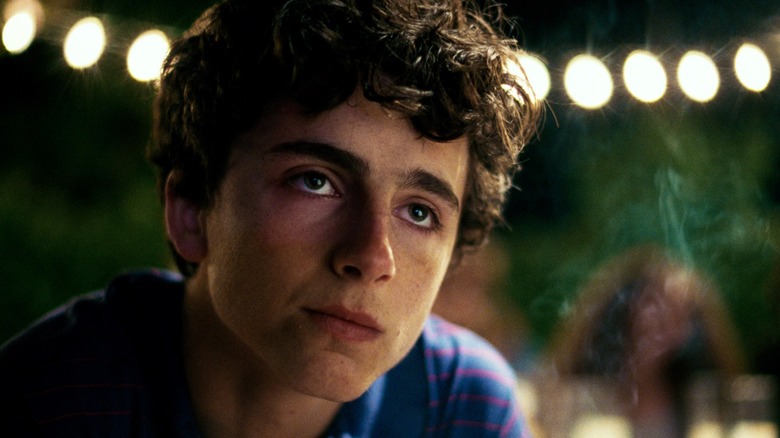 Sony Pictures Classics
If you had to put a pin in Chalamet's career and say "this was the moment he made it," it's likely that it would be around 2017 when "Call Me by Your Name" came out. Based on the novel by André Aciman, "Call Me By Your Name" tells the story of the blossoming romance between 17-year-old Elio (Chalamet) and a 24-year-old research assistant named Oliver (Armie Hammer).
Set during a gorgeous, sun-soaked Italian summer in the 1980s, the bittersweet love story allowed Chalamet to show that he could handle being the leading man, and it paid off as it earned him his first Oscar nomination. The character of Elio is precocious, highly intellectual, and multi-lingual, and he feels like a role that Chalamet was born to play. This was also a very emotionally challenging role for the young actor as he was tasked with making this infatuation and relationship feel authentic. It was fortunate that he felt an instant connection with his co-star, Armie Hammer — something that translates to their relationship on-screen.
While there have been many other high points in his career, it's "Call Me By Your Name" that's considered the moment that the world truly fell in love with Timothee Chalamet.
Lady Bird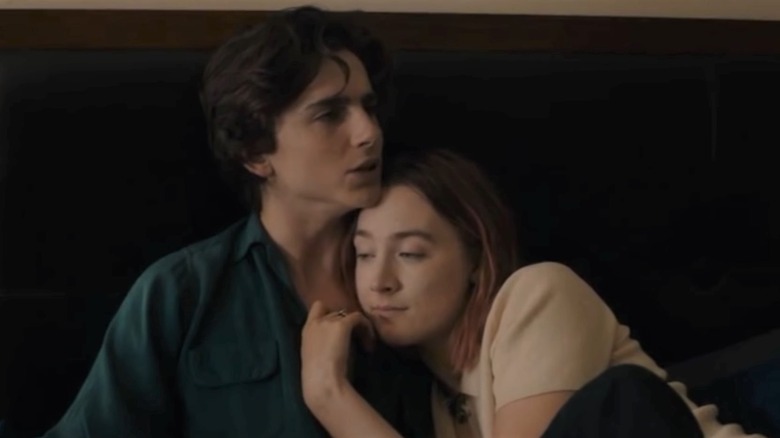 A24
Not content with starring in one Best Picture nominee in 2017, Chalamet also had a supporting role in Greta Gerwig's coming-of-age dramedy, "Lady Bird," marking the first time that Chalamet would work with both Gerwig and the film's star, Saoirse Ronan.
A far cry from the sensitive and introverted Elio in "Call Me By Your Name", in "Lady Bird," Chalamet plays Kyle, the occasional love interest of the main character played by Ronan. Kyle is the archetypal character you shouldn't fall for — playing in a band, smoking, and boasting an over-inflated sense of confidence. But Chalamet still manages to make this character likable somehow and is also very naturally funny in the role. The over-the-top pretentiousness of Kyle creates some of the biggest laughs of the film, and any teenager would instantly be able to recognize this type of character from their own experiences.
Not only did Chalamet forge a friendship with Saoirse Ronan while making this film, but he also made an impression on director Greta Gerwig as it would only be a few years later that he worked with her again in "Little Women."
Hostiles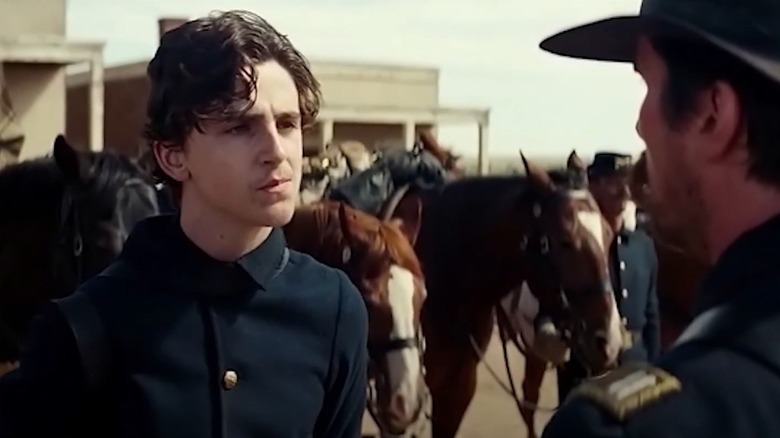 Entertainment Studios Motion Pictures/YouTube
Released in early 2018, the Western movie "Hostiles" arrived just in time for the "Chalamania" that was beginning to surround the star. With Oscar buzz building for two of his films — "Call Me by Your Name" and "Lady Bird" — Chalamet was set to be the hottest property any moment now.
While his role in "Hostiles" is significantly smaller than the aforementioned Oscar nominees, it was one that he had to work particularly hard to get. Director Scott Cooper revealed in an interview with Backstage that Chalamet was the only actor in the film who had to audition for their part, and fortuitously, Cooper remarked that Chalamet had "a really bright future."
"Call Me by Your Name" may have allowed Chalamet to flex his proficiency with languages, but "Hostiles" also allowed him to speak with a French accent — something that felt very natural to him as he's fluent in English and French. Sometimes a performance doesn't need to be showy to make an impact, but in this small role in "Hostiles," Chalamet once again proved you can say a lot by doing very little.
Beautiful Boy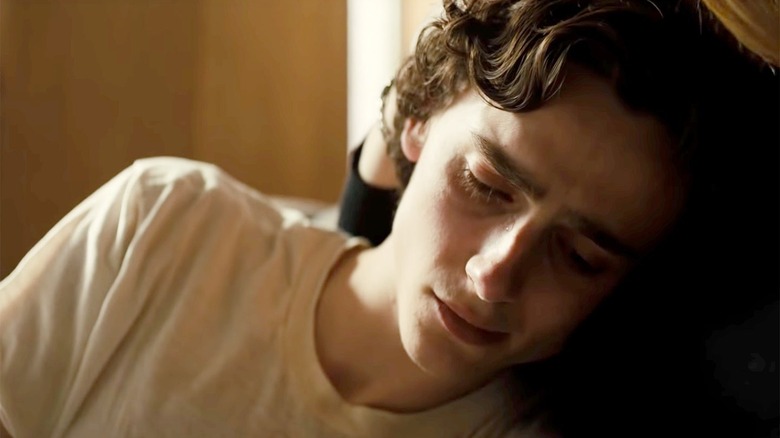 Amazon Studios
With proven experience at playing the troubled or rebellious teen, this role in the emotional drama "Beautiful Boy" was the perfect fit for Timothee Chalamet. Here, he plays the real-life Nic Sheff, a struggling young addict. 
Based on the memoirs written by Sheff's father, David (played in the film by Steve Carell), there's the added pressure of doing justice to someone's actual story, as well as grappling with some very difficult subject matters. And in the same way he approaches all of his roles, Chalamet was determined to bring a sense of authenticity to the performance, and the already slender actor dropped 18 pounds before filming began. He remarked how this gave him a sense of disorientation that was necessary for playing the struggling Nic.
While the film received a mixed critical reaction, there was fairly universal praise for Chalamet's performance, with Los Angeles Times critic Kenneth Turan calling it "extraordinary" and stating, "Chalamet is so good it's worth seeing 'Beautiful Boy' for his work alone."
If you or anyone you know is struggling with addiction issues, help is available. Visit the Substance Abuse and Mental Health Services Administration website or contact SAMHSA's National Helpline at 1-800-662-HELP (4357).
The King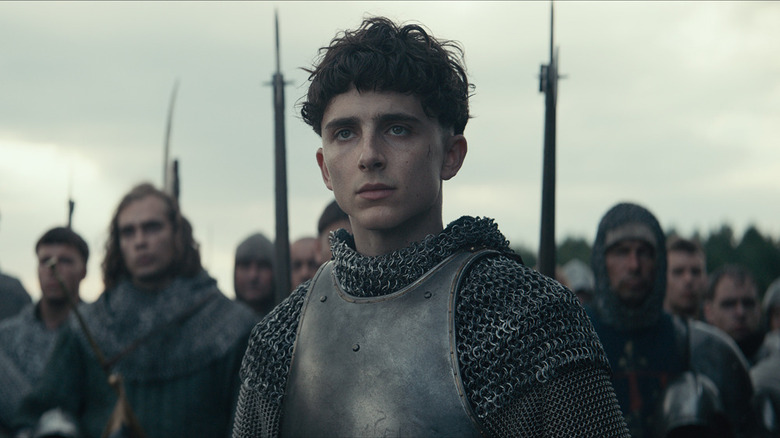 Netflix
Seemingly able to step into any genre with admirable ease, in 2019, Chalamet turned his hand to the historical epic with his performance as the titular royal in "The King." With a severe bowl cut, English accent, and a ludicrously French Robert Pattinson to contend with, this film was a true test of Chalamet's acting ability, far outside of the coming-of-age dramas he made his name in.
Premiering on Netflix, "The King" seemed to come and go with little fanfare and remains underseen and underrated. Historical epics such as "The King" tend to perform a lot better on the big screen, but with gritty and dirty battle scenes to rival "Game of Thrones," it's nonetheless a solid entry for the genre.
So how did Chalamet end up playing Henry V? Well, following his lauded performances in "Call Me by Your Name," "Lady Bird," and "Beautiful Boy," Chalamet was in the fortunate position of being able to carefully select his next role, and in an interview with Entertainment Weekly, he stated that he was looking for "anything that would've been not evident." Despite his illustrious career up to this point, Chalamet's success had still happened quite quickly, therefore it was a smart decision on his part to test the boundaries of what he could do and to step outside of his comfort zone into a genre he didn't have much experience in.
Little Women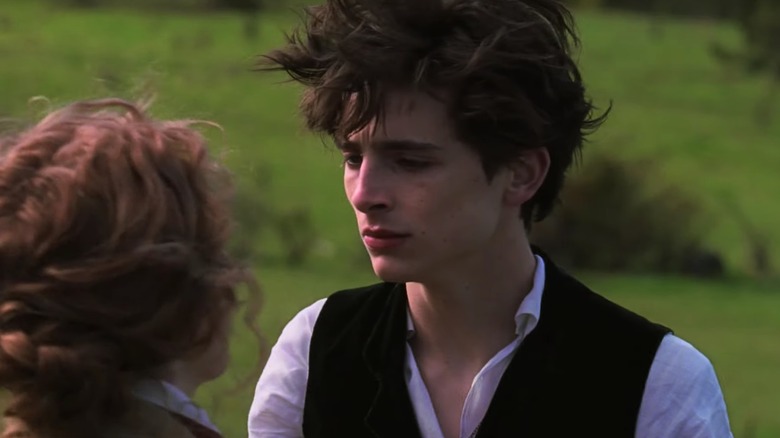 Sony Pictures Releasing
If there's anyone who can be relied upon to bring to life the beloved literary heartthrob of Theodore "Laurie" Laurence, it has to be Timothee Chalamet. As one of the few significant male characters in the cast of 2019's "Little Women," there's a lot on his shoulders, but the ever-talented Chalamet approaches the challenge effortlessly.
As fans of Louisa May Alcott's original novel will know, there's no neat or happy ending for Laurie and Jo (Saoirse Ronan), but their chemistry plays an incredibly important part in the film. Fortunately, this was something that came easily to Chalamet and Ronan, having previously appeared in "Lady Bird" together. In an interview with People, director Greta Gerwig said, "They have an energy between them that is like they become a bonfire when they're together."
The subversive nature of the story and its unique commentary on love and marriage is something that sets "Little Women" apart from other period films, and Chalamet brings a unique vulnerability to the role — as well as a sense of assuredness — that is mesmerizing to watch.
The French Dispatch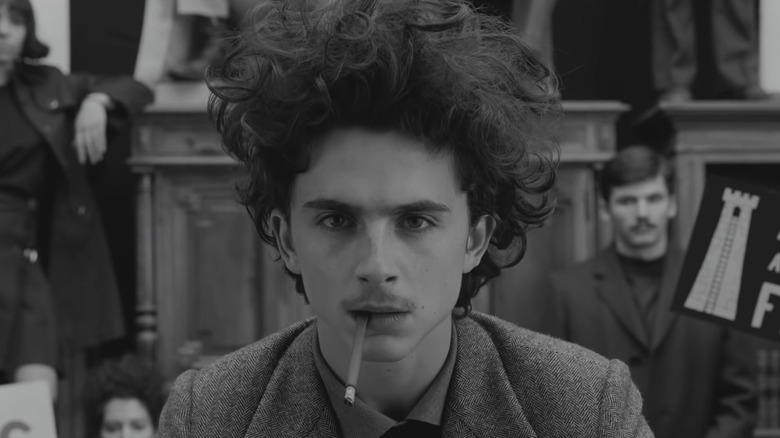 Searchlight Pictures
Proving that he had the comedic chops in "Lady Bird," Chalamet decided to flex those quirky muscles even more by teaming up with visionary director Wes Anderson. 
Known for his meticulous, symmetrical storytelling and a rotating cast of frequent collaborators, Wes Anderson's "The French Dispatch" is a pastiche of the story behind The New Yorker, told in a unique anthology format. In one of these micro-stories, Chalamet plays the wild-haired Zeffirelli, a student whose poorly written manifestos receive a brutal dressing-down from journalist Lucinda Krementz (Frances McDormand). There's an unexpected element to this pairing, and Chalamet plays his part with all the confidence of someone who's been acting for considerably longer.
It's a testament to Chalamet's talent that accomplished directors are seemingly queuing up to work with him. When speaking about casting Chalamet in a cover feature with GQ, Anderson said, "I knew he was exactly right, and plus, he speaks French and looks like he might actually have walked right out of an Éric Rohmer movie."
The film received high praise after its screening at Cannes, and following its wider release, critic Alex Flood praised Chalamet for bringing a "freshness" to the film. Perhaps this won't be the last time we see him working with Wes Anderson, as Chalamet already has a history of teaming up with the same people on multiple projects.
Dune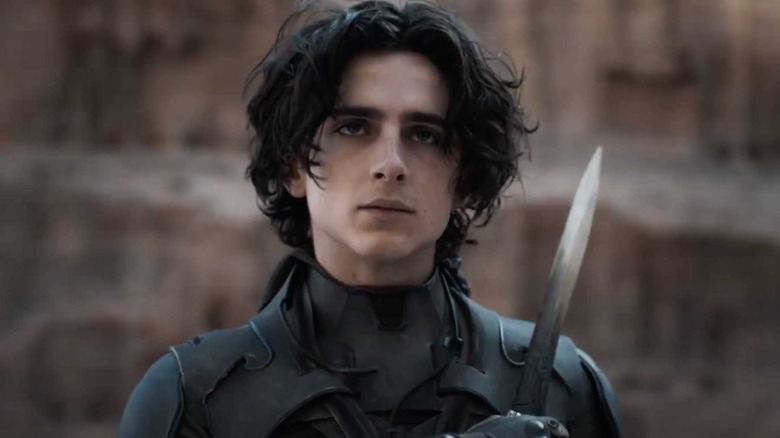 Warner Bros. Pictures
As his star has grown and grown, it's seemed inevitable that Chalamet would eventually land himself a leading role in a major blockbuster. And with Denis Villeneuve's take on "Dune," Chalamet finally conquered the sci-fi big screen. However, despite his incredible success, Chalamet has remained modest, and it's this attitude that made him the perfect choice to play Paul Atreides. 
In an interview with Variety, Chalamet talked about having a feeling of "imposter syndrome" being cast in "Dune" with huge stars such as Jason Momoa and Zendaya, but this was something that helped him with his character. After all, in both the novel and the film, Paul Atreides is hailed as the "chosen one." However, he battles with a feeling of being unworthy of this title and living up to his father's legacy.
Like so many of the other directors Chalamet had previously worked with, Villeneuve was very impressed with Chalamet and felt his performance was perfect for his vision. And after dazzling audiences at Venice and achieving an 8-minute standing ovation from the festival crowd, "Dune" has been praised for its sense of scale, stunning visuals, and confident performance from Chalamet. For example, film critic Kelechi Ehenulo picked up on Chalamet's sense of "conflicted gentleness and restraint" in his performance — a phrase that serves as an accurate description of all his work and what makes him one of the finest actors currently in the business.