Munich: The Edge Of War - What We Know So Far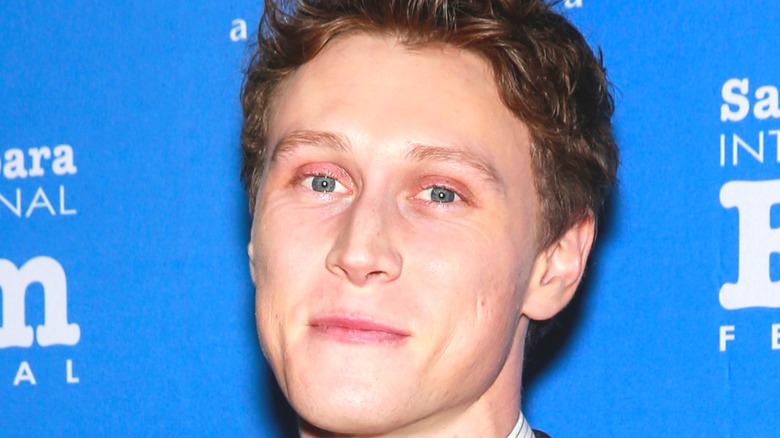 Ovidiu Hrubaru/Shutterstock
If history has taught us anything, it's that moviegoers love a good war movie. More specifically, they love a good World War II flick. In strict accordance with that fact, Hollywood studios have kept audiences occupied with such offerings since before the war even ended, and quite a long number of WWII movies released over the years have come to be regarded among the greatest films ever made.
Not all World War II movies are created equally, of course, with some fronting harrowing front-line action, and others eschewing bombs and bullets in favor of cloak-and-daggery thrills. The latter is just the approach producers took with one of the war genre's more high-profile productions, a World War II thriller by the name of "Munich: The Edge of War." And after the film's well-received premiere at the 2021 London Film Festival (via Deadline), it's safe to say "Munich: The Edge of War" has become one of more hotly-anticipated releases on the horizon. Here's everything we know so far about the film.
When will Munich: The Edge of War be released?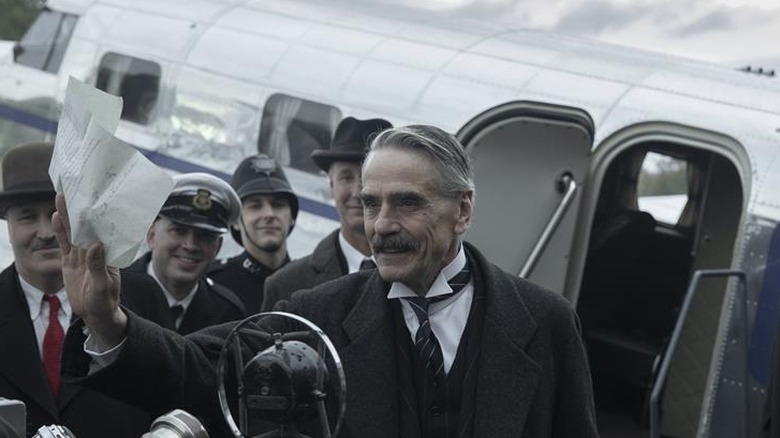 Netflix
As "Munich: The Edge of War" has indeed been making rounds on the festival circuit, there is quite a lot we do know about the film. First and foremost, we can tell you the film is based on a best-selling novel by Robert Harris, who previously penned works that inspired the 2001 film "Enigma," and 2010's "The Ghost Writer." Just as exciting as that news is that "Munich: The Edge of War" was helmed by "The Crown" alum Christian Schwochow, working from a script by playwright Ben Power, best known for his work on "The Hollow Crown," and "National Theater Live: Medea."
Perhaps most important of all, we know where and when you'll be able to see "Munich: The Edge of War" when the time finally comes. The film is actually slated for a limited theatrical release, so some of you will have a chance to see it in theaters. Most of us, though, will be seeking "Munich" The Edge of War" out in the streaming realm, as the film is a Netflix production, and will therefore make its debut on the platform. As for when that debut will come, Netflix has marked January 21, 2022 as the film's official release date, so mark your calendar accordingly. 
Who's starring in Munich: The Edge of War
Netflix
With the where and when of "Munich: The Edge of War" already established, you might be wondering who is actually appearing in the film. You'll be happy to know producers have assembled an exceptional group of actors to bring this espionage thriller to life: Leading the group is star on-the-rise George MacKay, who had a legit breakout moment with 2019's Oscar-winning "1917," but also boasts credits in lauded projects like "Captain Fantastic," the Hulu mini-series "11.22.63," and the egregiously overlooked Western drama "The True History of the Kelly Gang."
Joining MacKay in the new film is screen legend Jeremy Irons, who has been working the superhero circuit of late, with spots in both "Batman v Superman: Dawn of Justice," where he played Alfred Pennyworth, and HBO's "Watchmen." While Irons will be well-known to most viewers for those projects, and his lengthy list of lauded character-driven work, the rest of the "Munich: The Edge of War" cast will not be quite as identifiable. They're no less impressive, though, with the likes of Jessica Brown Findlay ("Black Mirror," "Downton Abbey"), Sandra Hüller ("Toni Erdmann"), Anjli Mohindra ("Bodyguard"), August Diehl ("A Hidden Life"), Jannis Niewöhner ("Mute"), Liv Lisa Fries ("Babylon Berlin") rounding out the principle cast.
What is Munich: The Edge of War about?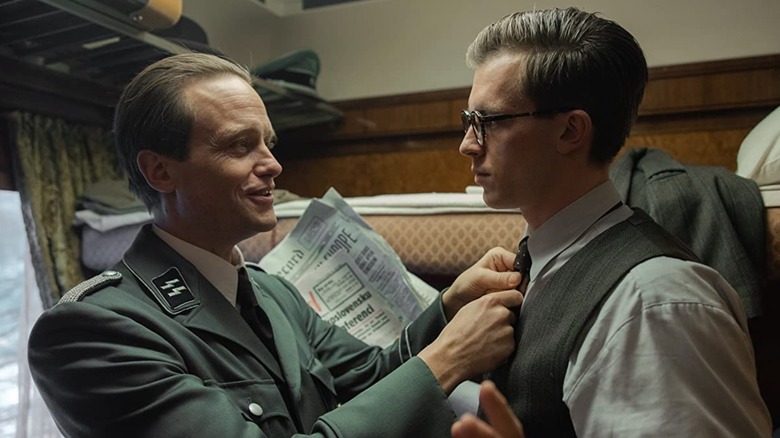 Netflix
As "Munich: The Edge of War" is loosely centered around actual historical events, we do have a fair idea what many of those players will be doing in the film, as well. 
As the title suggests, "Munich: The Edge of War" is set in the pre-war days of 1938 when Adolf Hitler (Ulrich Matthes) was charging towards war with plans to invade Czechoslovakia, and British Prime Minister Neville Chamberlain (Jeremy Irons) was doing everything in his power to prevent the coming conflict. Into that firestorm, MacKay's fictional British envoy Hugh Legat is dispatched to the titular German capital to potentially negotiate a peaceful accord.
There, he encounters his former schoolmate Paul von Hartmann (Jannis Niewöhner), now working as a diplomat for the Nazi regime. As the pair reconnect, they struggle to find common ground, and soon become embroiled in a web of secrets and double-dealings that might turn the tide for either side. We, of course, know how things ultimately go in the end, with Hitler having his way and plunging Europe into war. But this new film will no doubt cast an intriguing edge on the behind-the-scenes dealings that got them there.