Malcolm Merlyn Will Play A Big Role In Final Episodes Of Arrow Season 5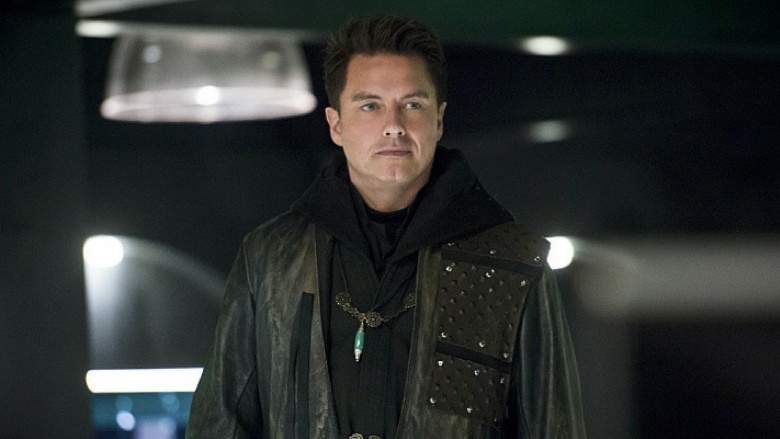 Malcolm Merlyn is finally coming back to Arrow, and this time, it won't be in a flashback. According to executive producer Wendy Mericle, Merlyn's appearance, which was teased in the sizzle reel for the remainder of Arrow's fifth season, will be a "huge factor" in the lead up to the dramatic finale, with the early season villain playing a big role in Oliver's journey.
"This season is all about legacy, and when Malcolm comes into the story, it's really rooted as much by necessity from Oliver's point of view as it is about what Malcolm means to him and what Malcolm means to Thea," Mericle told Comic Book Resource. "It's a great story, because it's going to have a lot of action but it's also going to have this kind of emotional undercurrent that is going to lead to a really big, huge series moment for him. I think it's a great story to tell, and it's great stuff for John [Barrowman] to play."
Barrowman has been a bit busy messing up timelines on Legends of Tomorrow recently to appear on Arrow, with his only two appearances this season coming in the alternate reality episode "Invasion!" and in a flashback in "Kapiushon." He is one of many former characters returning for the later episodes of Arrow's fifth season, including Katie Cassidy's Black Siren (who will be a regular in season six), Katrina Law's Nyssa al Ghul, and Manu Bennett's Deathstroke.
The "huge series moment" that Mericle teased for Merlyn could have ripple effects across all of the CW's series, but particularly Legends of Tomorrow, where Merlyn continues to play a big role. However, Prometheus' intense plot to end Oliver Queen as we know it means that the show will be pulling out all the stops (and potentially even killing off some characters), so nothing is off limits as far as what to expect from the shocking episode.
No matter what happens, fans will definitely be happy to welcome the Dark Archer back into the Arrow fold and should be excited to see his storyline get a little bit more closure. The Arrow season five finale, titled "Lian Yu," will air on May 24 at 8 p.m. on The CW. While we wait to see how this season's epic storyline will conclude, see how the show's characters should really look based on the comics.