Why Jacob From Reprisal Looks So Familiar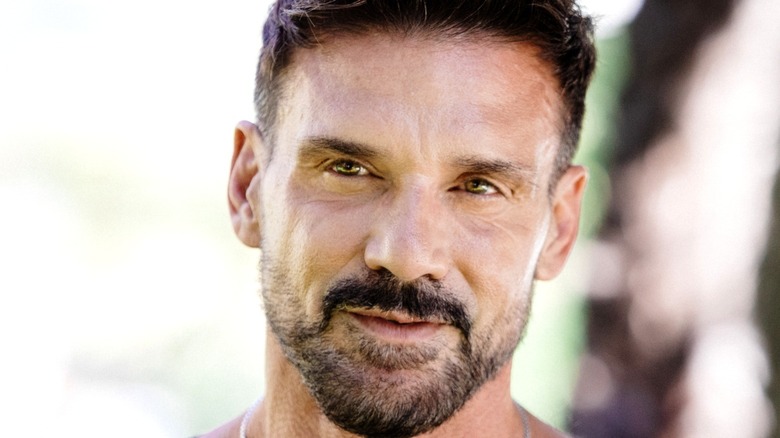 Rosdiana Ciaravolo/Getty
There's no shorthand in movies quite like casting. Sometimes a director's casting choice for a certain role can tell you everything you need to know about the character. Sure, comedians can turn serious or Tom Cruise can start dancing to Ludacris, but generally, Dwayne Johnson doesn't come on board to play a struggling artist looking for his big break.
In the Bruce Willis thriller "Reprisal," Jacob is a Cincinnati bank manager out for revenge on a robber that killed a co-worker. To help on this mission, he teams up with his ex-cop neighbor (Willis), but it hardly seems like he needs the help. Despite his mild-mannered occupation, Jacob proves plenty capable of shooting, driving, and fighting in the vein of your standard action hero. But what else would audiences expect, with Frank Grillo playing Jacob? He's not there to process checks and cope with his PTSD.
But it wasn't until later that Grillo developed his blue-collar action hero persona such that his casting would let you know that Jacob was going to be a tough guy. Though Grillo told Men's Journal that he started boxing at the age of 18 and started training in Brazilian jiu-jitsu in the 1990s, his early acting career largely steered away from action fare. He had roles on a soap opera and in horror films and crime dramas before finally finding his niche. Here are some places you might recognize him from.
Frank Grillo played a two-timing lawyer on Prison Break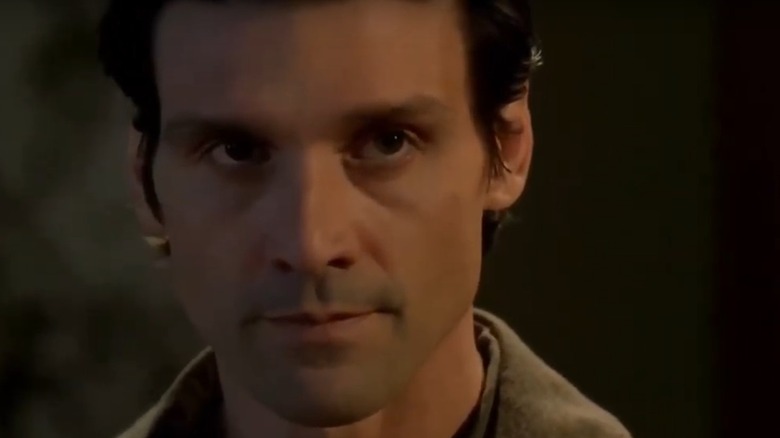 Fox
As befits many of the characters he's played, Frank Grillo had to grind his way up to leading man status over the course of years as an actor. He had his first major role on the CBS soap opera "Guiding Light," playing Hart Jessup for 74 episodes from 1996 to 1999. Then he bounced around several other TV shows, playing small parts on shows such as "Battery Park" and "The Shield" before landing a major recurring role on the first season of Fox's 2005 drama "Prison Break."
Grillo played Nick Savrinn, a lawyer who works with Veronica Donovan (Robin Tunney) in her efforts to have Lincoln Burrows (Dominic Purcell) exonerated. The pair work to gather evidence proving his innocence, but all the while, Savrinn has also been in the employ of the mob boss John Abruzzi (Peter Stormare), keeping an eye on her progress and promising to deliver her on his request. His time with Veronica has given him doubts, however, and he winds up helping her escape, at the cost of his own life.
Frank Grillo bucked under pressure in The Grey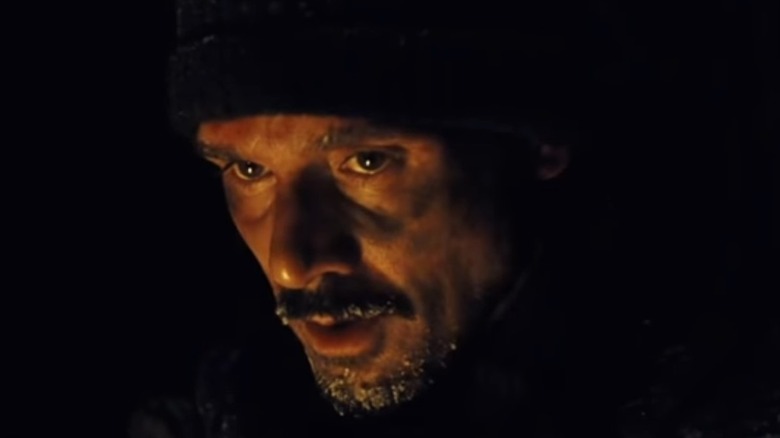 Open Road Films/YouTube
Grillo kept working his way up, and in 2012, he got a chance to put his 20 years of experience as a Hollywood survivor on-screen when he took a part in Joe Carnahan's psychological survival horror film "The Grey."
Grillo played Diaz, an oil worker who survives a plane crash in the Alaskan wilderness but finds himself chafing against the backcountry leadership of Ottway (Liam Neeson), who leads the men away from the crash site after it's attacked by the pack of wolves in the area. The stress of the conditions and the threat of attack push Diaz to the breaking point, and he winds up attacking Ottway but is disarmed. Eventually chastened by their journey, Diaz allows the others to leave him behind after he hurts his knee, accepting his fate.
Appearing in a snow-set survival drama is no picnic for the actors either, but Grillo said the cast eventually came to adapt to the conditions, just as their characters tried to. "It was cold every day," he told Tribute Movies in an interview with co-star James Badge Dale. "It was going to be cold the next day, and so we had kind of got used to that we were going to be cold. We became really tight really quickly. We just kind of pushed each other along."
(Fun coincidence: The year before starring with the wolves in "The Grey," Grillo played an MMA trainer in "Warrior." In 2017, he'd play the chief antagonist Big Daddy in the Chinese blockbuster "Wolf Warrior 2.")
Frank Grillo made it personal in Captain America: The Winter Soldier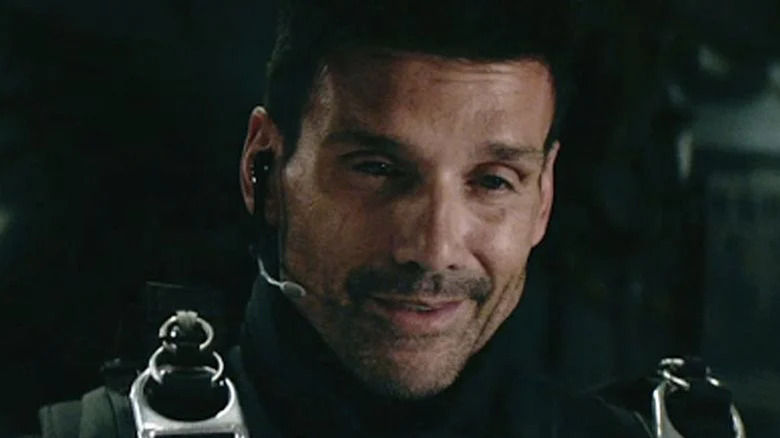 Marvel Studios
In 2014, Frank Grillo jumped into the world of superhero blockbusters when he played S.H.I.E.L.D. S.T.R.I.K.E. team leader-turned-Hydra agent Brock Rumlow in "Captain America: The Winter Soldier." Rumlow and Steve Rogers (Chris Evans) have an easy rapport when working together in the film's opening sequence, but when Rogers learns the truth about S.H.I.E.L.D. and is branded a fugitive by the organization, Rumlow takes the lead in trying to hunt him down, most notably in the film's famous elevator fight sequence.
Grillo would return as Rumlow in "Captain America: Civil War," where his new persona of Crossbones serves as the villain of the film's opening set-piece. Here, he's stopped in Lagos by a small team of Avengers. He also cameoed briefly during the time heist sequence of "Avengers: Endgame," and voiced Rumlow in three episodes of Marvel's "What If..." series.
Though in 2020 Grillo told Uproxx that he might be "outgrowing that whole kind-of Marvel and superhero thing," he seems to recently have had second thoughts about saying no to the MCU. As Grillo told Looper in an interview in September, seeing other people carrying on and getting promoted in the MCU has piqued his interest. "I'm like, 'You know what? I got to get back into this. This is not right. That [Anthony] Mackie is Captain America, and I have to buy his doll,'" he said. "So I want time to come on. Kevin Feige, get me back in the world."
Frank Grillo laid down the law in The Purge: Anarchy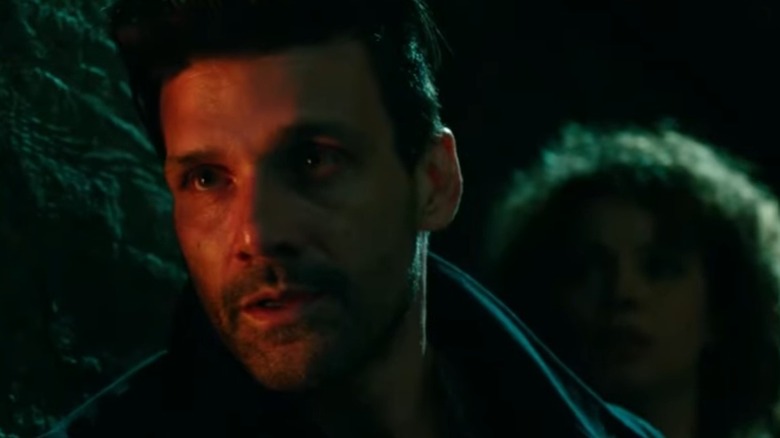 Universal Pictures/YouTube
Grillo also got the chance in 2014 to take on leading man duties in a franchise of his own when he came on board the sequel "The Purge: Anarchy." Grillo's Sgt. Leo Barnes is a Los Angeles cop who hopes to use that year's annual Purge to avenge the death of his son, who was killed by Warren Grass (Brandon Keener) in a drunk driving collision. In the chaos of the Purge, however, he joins up with a small group that includes Eva (Carmen Ejogo) and her daughter Cali (Zoë Soul) after saving them from a Purge gang.
Barnes would survive that night –– and even spare Grass' life –– setting up Grillo to return to the franchise in 2016's "The Purge: Election Year." Set nearly two decades later, Barnes is now serving as the head of security for an anti-Purge presidential candidate Charlie Roan (Elizabeth Mitchell), helping to protect her on a Purge night when she's being specifically targeted by those who would like to keep the status quo.
Grillo didn't appear in the sequels "The First Purge" and "The Forever Purge," but Grillo told The Playlist Podcast in September that he has committed to appear in a sixth "Purge" film in the future.
Frank Grillo found infinite 1-Ups in Boss Level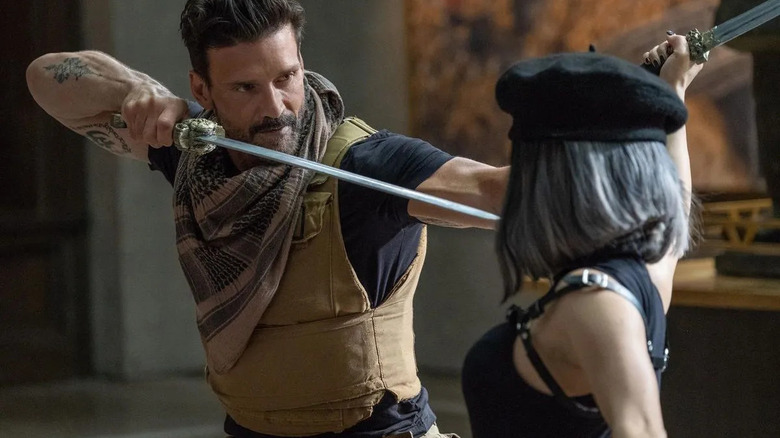 Hulu
In 2021, Frank Grillo leveled up his career once again when he reteamed with Joe Carnahan to star in the sci-fi actioner "Boss Level" for Hulu.
Roy Pulver is a retired Special Forces soldier who finds himself placed in a time loop by his estranged wife (Naomi Watts) to stop her boss (Mel Gibson) from using technology to conquer the world. As tends to happen in these sorts of things, the repeated cycles allow him to learn more and more about the day in question, and he gains the upper hand over the various hired killers who spend the day trying to stop him.
"Boss Fight" was generally well-received by critics, earning a 76% on Rotten Tomatoes, but it was Grillo's performance in particular that many singled out for praise. "Time and again, Grillo surprises and delights, no matter the creative or financial restraints placed upon him," wrote Canada's The Globe and Mail in its review. Meanwhile, the Chicago Sun-Times opined, "Mostly, though, this is Grillo's film to carry, and he pulls it off with a combination of brute force and light charm."