The Hilarious Scene That Was Totally Improvised In Dumb And Dumber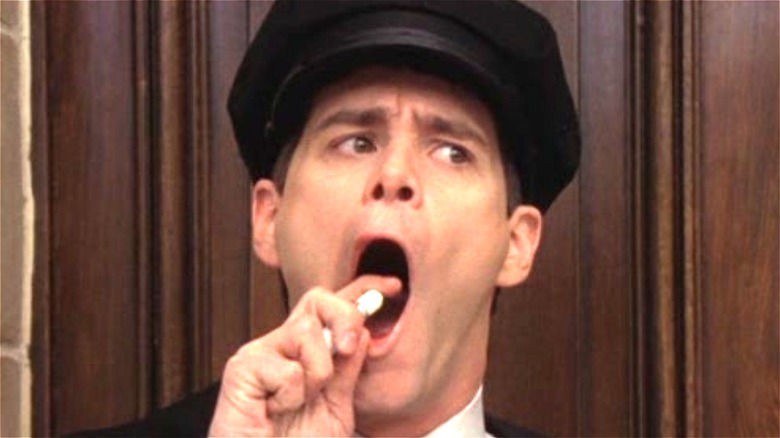 New Line Cinema
It's been more than 25 years since the Farrelly brothers' hit comedy "Dumb and Dumber" rolled into theaters, and people still can't get enough of Harry and Lloyd. Considered one of the best comedies of all time, the 1994 classic is filled with laugh-out-loud moments courtesy of actors Jim Carrey and Jeff Daniels, including one legendary scene that was completely improvised. 
"Dumb and Dumber" marked major moments in the careers of both leading men, especially Daniels as he attempted to prove he could take on bigger and funnier roles. The "Arachnophobia" star did just that, starring in larger projects like 2005's "The Squid and the Whale" and the HBO political drama "The Newsroom." But it was on the set of "Dumb and Dumber" where he got to learn from the force that is Jim Carrey. Speaking in a recent interview, Daniels described how the star of "The Mask" would light up their scenes and improvise certain lines or behaviors. There was one moment in particular, Daniels said — where Carrey went "off" — that movie fans mimic to this day.
The most annoying sound in the world wasn't scripted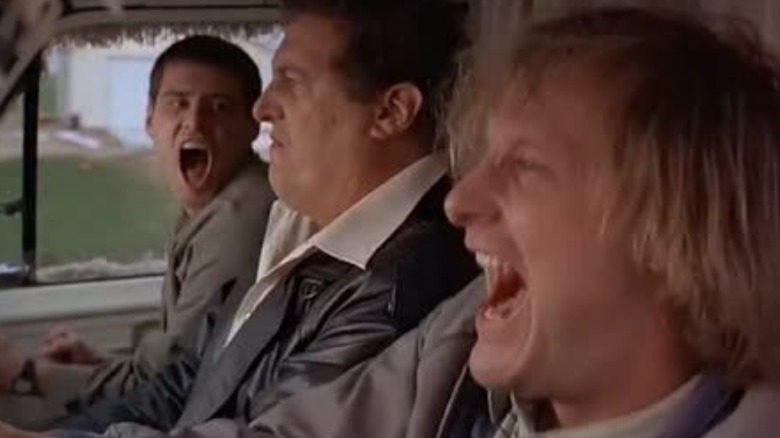 New Line Cinema
Speaking in a video interview with GQ (posted on YouTube), Jeff Daniels recalled how his "Dumb and Dumber" co-star Jim Carrey completely riffed their scene with actor Mike Starr, in which Starr's character, Joe Mentalino, is tortured by Lloyd Christmas' "most annoying sound in the world."
"There were moments, very few, where Jim would go off," Daniels said. "And one of the few was, 'Do you wanna hear the most annoying sound in the world?' That was in the middle of a take." The scene comes as Lloyd and Harry are on their road trip to Aspen after they stop to pick up Mentalino. Daniels remembered asking himself at one point, "What's [Carrey] doing," before just going along with it. "I just repeated what he was doing," Daniels told GQ. "Because when in doubt, repeat Jim."
"Dumb and Dumber" wound up spurring two sequels — "Dumb and Dumberer: When Harry Met Lloyd" (2003), starring Derek Richardson and Eric Christian Olsen, and then "Dumb and Dumber to" (2014), which reunited Carrey and Daniels.