Ayesha Will Return For Guardians Of The Galaxy Vol. 3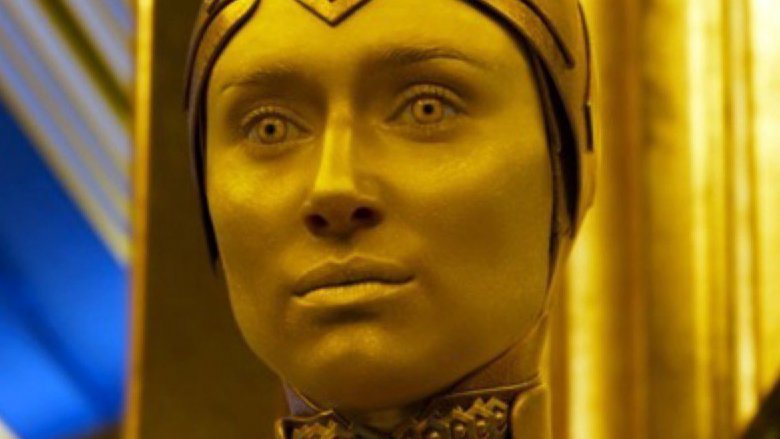 Contains spoilers for Guardians of the Galaxy Vol. 2It ain't easy being gold, as Ayesha found out in Guardians of the Galaxy Vol. 2.
As one of the five post-credits scenes after the movie not-so-subtly hinted, the leader of a race of genetically engineered "perfect" beings will be back in the third installment.
Director James Gunn confirmed to IGN that Elizabeth Debicki will reprise the role in Guardians of the Galaxy Vol. 3. "I absolutely plan on bringing Elizabeth Debicki back," he said. "She's actually one of my favorite actors I've ever worked with. I think on this movie between her, Pom Klementieff who plays Mantis, and Chris Sullivan who plays Taserface, they really were three of the best actors I've ever worked with and were all such a joy on this film to deal with that I would love to deal with them again."
While things didn't turn out the way Ayesha planned in Vol. 2, her post-credits scene revealed that she's created an even more perfect being in Adam Warlock. Gunn said that Warlock will show up at some point "in the future of the cosmic universe," but not until after Avengers: Infinity War and Avengers 4.
In the Marvel comics, Ayesha (also known as Paragon and Kismet) was the second attempt by the Enclave to create super-powerful beings. Adam Warlock was the first. But Gunn apparently changed things around.
There's still plenty of time to speculate about Ayesha's part in the next Guardians flick. It's tentatively expected to arrive sometime in 2020. Until then, check out some of the biggest plot holes in Guardians of the Galaxy Vol. 2 and the ending explained.