Why Corrine From Little Italy Looks So Familiar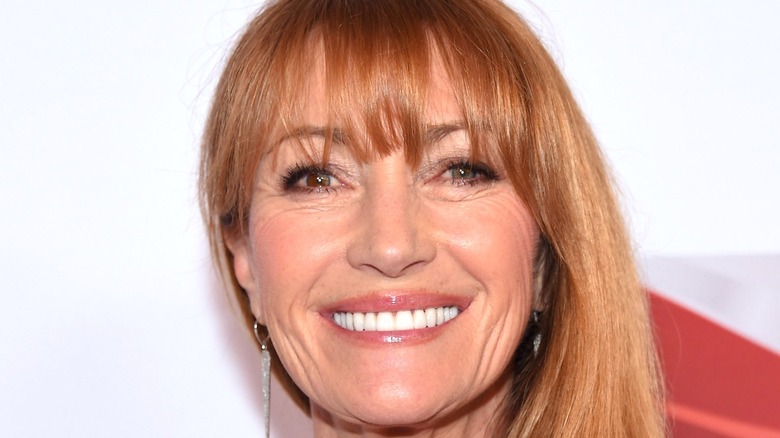 DFree/Shutterstock
There's more than one way to update the story of "Romeo and Juliet," but these days, unless your adaptation is going to be very faithful, then it's a good idea to give your Juliet a little bit more to do than wonder wherefore art her Romeo. 
"Little Italy," a 2018 rom-com update about a pair of warring pizza-making clans in Toronto's neighborhood of that same name, manages this by making pizza scion, Nikki Angioli (Emma Roberts), an aspiring chef. She's on the verge of completing a prestigious program in London under Chef Corrine, who gives her a chance to develop a menu that could land her a spot at the head of one of the chef's own kitchens. But love and pizza get in the way. Nikki turns down the opportunity to stay in Toronto and make pizza with her family, and her new beau.
It'd be a lot harder to say no to Jane Seymour. The actress who plays Corrine is a Hollywood legend, working steadily throughout five decades in the business, while bouncing freely between drama and comedy, film and television. Here are some places you might recognize her from.
Jane Seymour saw the future in Live and Let Die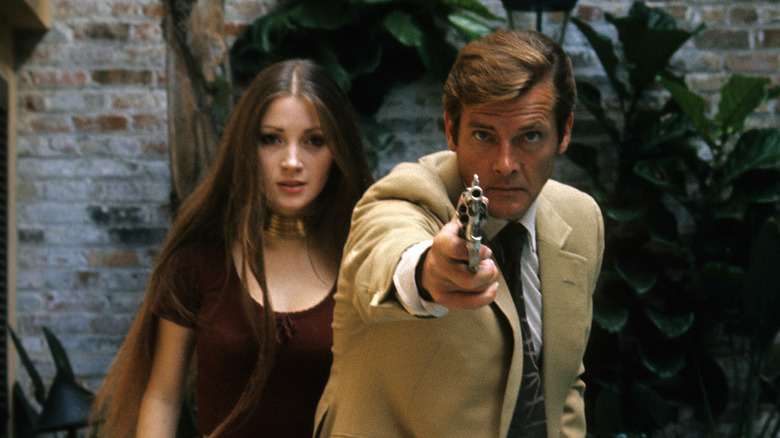 Anwar Hussein/Getty Images
Seymour got her big breakout at the age of just 22, when she was cast as the tarot card reader Solitaire in Roger Moore's first outing as James Bond, 1973's "Live and Let Die."
The movie presents Solitaire as an actual psychic, capable of using the cards in order to divine the future. She uses her power to aid her boss, the villainous Caribbean drug lord and ruler of the island nation of San Monique Kananga (Yaphet Kotto). But Bond rigs her deck of cards to show "The Lovers," convincing her to sleep with him and aid him against Kananga, which she does after realizing that their liaison has robbed her of her future sight.
By modern standards, "Live and Let Die" is so dated it's almost hilarious. Its co-opting of blaxploitation films feels cringeworthy. The dialogue and scenarios have not aged well. It's a Bond film where the villain actually, seriously dangles Bond and Solitaire over a tank full of sharks (no laser beams on their heads though). This happens after Bond is threatened with death by crocodile. Seymour acknowledges this, telling Looper in 2020, "Mine was very 1970s and you could never make that movie again. It would be so politically incorrect we can't even begin [to think about it]."
But she's proud of the part she played in the franchise, even if she's glad it has evolved with the times. "People still stop me in the street and remember or just say, 'Oh, I just saw your movie 'Live and Let Die.' You're a Bond girl,' but mercifully I've done other things since. Some people only got to do that."
Jane Seymour caused a fall in East of Eden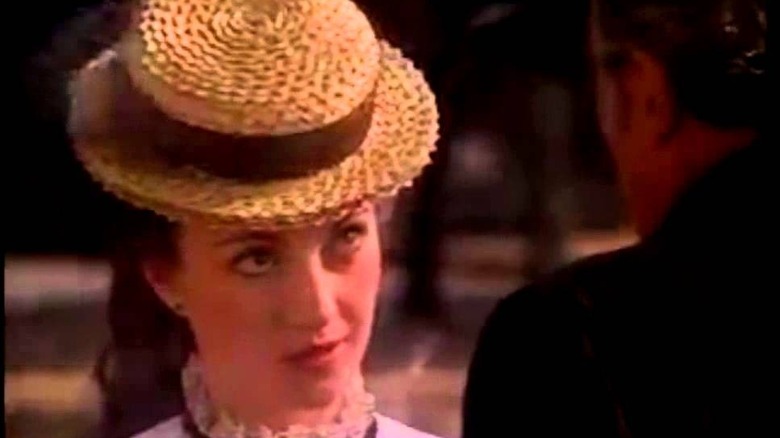 ABC
In 1981, Seymour won acclaim and broke out of her Bond phase with a role in an ABC miniseries adaptation of John Steinbeck's novel "East of Eden."
Seymour had perhaps the most complex role in the three-part series, playing Cathy Ames, a sociopathic seductress who plays the dual role of Eve and Serpent in Steinbeck's generation-spanning retelling of the Cain and Abel story. She leaves a trail of bodies and broken hearts in her wake, killing her parents and multiple benefactors, including her husband Adam (Timothy Bottoms). She goes on to become the madame of a whorehouse, a secret that winds up having a profound impact on the lives of her children.
The part won Seymour her first Golden Globe, for Best Actress – Miniseries or Television Film, and heralded a trend in her career of playing headstrong, morally complex women in literary adaptations. She played Brett Ashley in a television film of "The Sun Also Rises," Marguerite Blakeney in "The Scarlet Pimpernel," and Natalie Henry in "War and Remembrance."
Jane Seymour played doctor on Dr. Quinn, Medicine Woman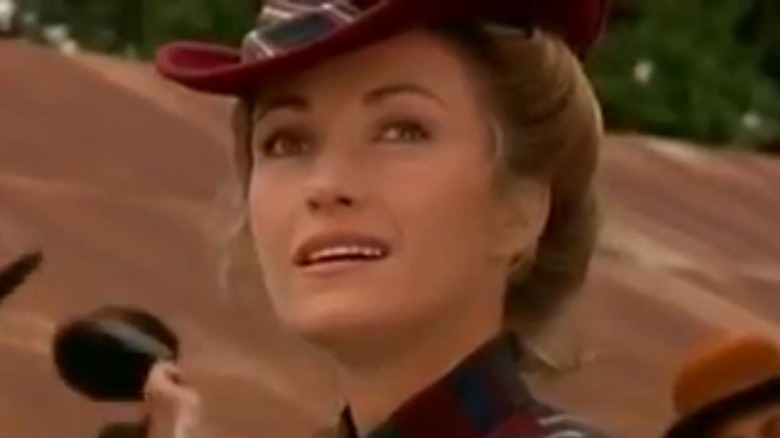 CBS
If you came of age during the 1990s, there's a good chance that the place you remember Seymour best from is her starring role on the CBS Western medical drama "Dr. Quinn, Medicine Woman."
Seymour's Michaela "Mike" Quinn was a well-mannered Boston physician who moves west to Colorado Springs in 1867 to start her own medical practice, where she deals with the dangers of the frontier and the misogyny of 19th century settlers at the same time.
Seymour's start on the show was motivated by her own set of difficulties. As the actress explained it to Entertainment Tonight, her ex-husband had involved her in a disastrous series of investments, one that left her millions of dollars in debt. Signing up for "Dr. Quinn" was an act of desperation. "I called my agent and said I would do anything. He called the networks, and they said, how about a little movie of the week? But she has to sign for five years in case it becomes a series, she has to start tomorrow morning — less than 12 hours from now — and that was it."
But Seymour maintains that despite the difficulties surrounding her start on the show, she's proud of her work on "Dr. Quinn," and how well the show has held up into modern times. "It dealt with everything — racism, bigotry, alternative medicine, immigration," she said to ET.
The series went on to spawn a pair of television movie follow-ups. In recent years, Seymour has discussed her desire to return to the series for a reboot, according to Deadline, but the project doesn't appear to have gone any further than that.
Jane Seymour got frisky in Wedding Crashers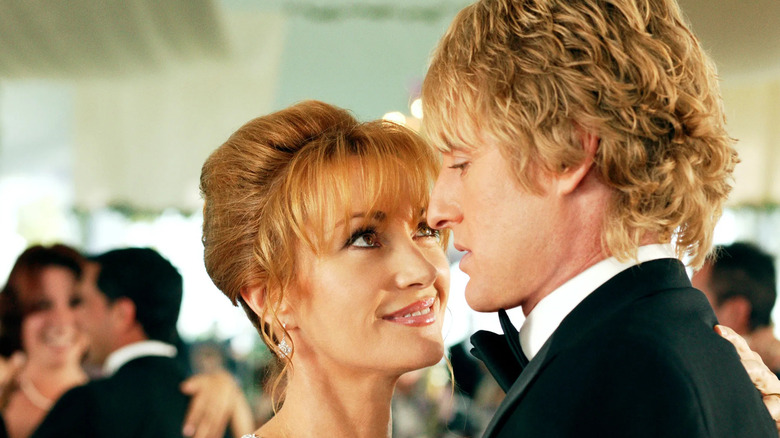 New Line
In 2005, Seymour got to show off her comedic skills with a part in the ensemble cast of "Wedding Crashers."
Seymour plays Kathleen Cleary, wife of the U.S. Treasury Secretary William Clearly (Christopher Walken) and mother of Claire (Rachel McAdams) and Gloria Cleary (Isla Fisher), who are pursued by (and pursue) the film's protagonists John Beckwith (Owen Wilson) and Jeremy Gray (Vince Vaughn). But while John pursues her daughter Claire, Mrs. Cleary pursues John, most famously appearing half-naked before him while he's staying at the family house and forcing him to touch her breasts and call her "Kitty Cat," a moment Seymour recalled was pretty uncomfortable, at least for Wilson.
"For Owen it was a little bit embarrassing," Seymour told Entertainment Weekly. "He did have to put his hands on my breasts, and he looked at me like, 'Oof, how do you feel about this?' And I said, 'Well, Jane Seymour might have a problem [with it], but Kitty Cat doesn't."
Despite studio worries that the film's heroes would seem cruel, for Seymour, the finished product stands up. "I happen to love this movie," she told EW. "I think it has to be one of the funniest movies ever."
Jane Seymour reconnected with an old love on The Kominsky Method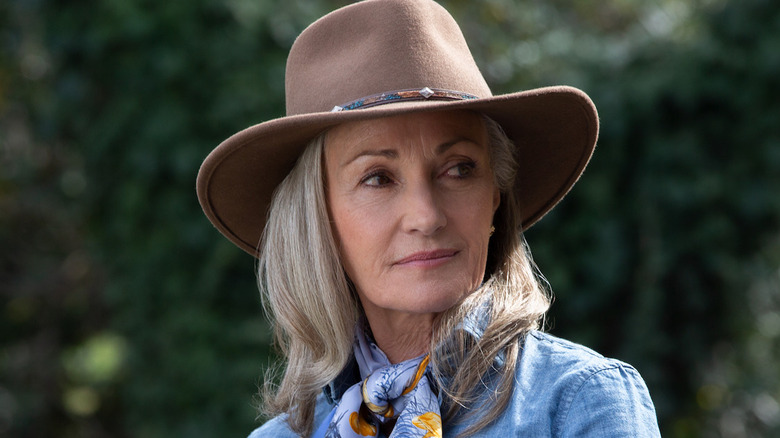 Netflix
That comedic experience would come in handy for Seymour as she progressed in her career, landing her parts in romantic comedies such as "Austenland," "Jane the Virgin," and, yes, "Little Italy." In 2019, Seymour was cast in a recurring role on the Netflix comedy "The Kominsky Method," playing Madelyn, a love interest of Norman's (Alan Arkin) that he reconnects with during the series' second season.
For Seymour, the part represented a valuable chance to play an older character who's given her own agency. "There's always been less for women of a certain age but now with so many different channels and outlets, they are actually addressing the baby boomers who might want to explore the complexity of their current situation — which includes a lot more baggage than any story about someone in their 20s," Seymour told AARP Magazine.
There was some concern during the casting process that she might not be old enough for the role, since she's 17 years younger than Arkin. "Chuck Lorre was worried that I wouldn't look old enough," she told TV Insider. Hence, the character's long gray hair, which the interview revealed was a wig.