Why Sal From Little Italy Looks So Familiar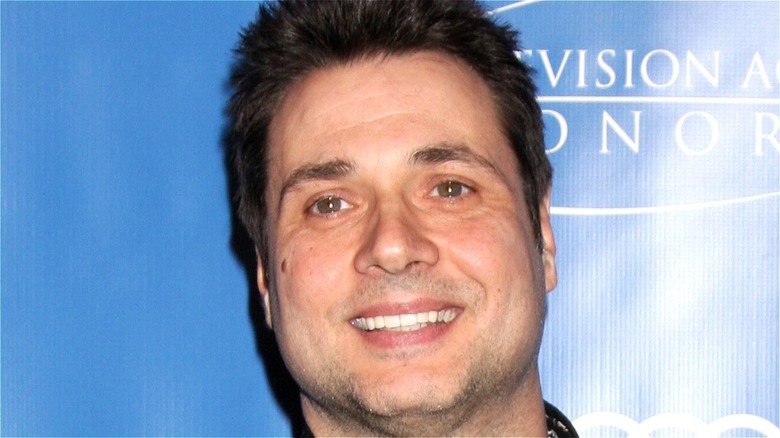 Kathy Hutchins/Shutterstock
Romantic comedy "Little Italy," released in 2018, could broadly be described as a "Romeo & Juliet" style story about warring pizza restaurants. Its two leads, Nikki ("American Horror Story" regular Emma Roberts) and Leo (Hayden Christensen) are the adult children of the Angioli and Campoli families respectively. Their grandparents once owned and operated a pizza restaurant in tandem with one another in Toronto's Little Italy neighborhood, but that partnership dissolved during their parents' generation over a feud between their fathers.
Naturally, given the genre, Nikki and Leo fall for one another relatively early on in the film. Though they're not particularly invested in their fathers' rivalry, a pizza-making contest resultant from their ongoing feud ends up threatening their growing romance. Two of their respective grandparents, meanwhile, plan to marry one another in their old age, further driving home the fact that, though the familial rivalry resulted in competing pizza restaurants, it's only the two dads who feel enmity for one another.
Nikki's father Sal is portrayed by actor Adam Ferrara. If he seems familiar, it's likely from a filmography predominately defined by roles in a range of TV shows beginning in the early 2000s.
Ferrara's was a series regular on The Job
While Adam Ferrara had previously appeared on TV in a few roles that lasted for between one and three episodes in total, "The Job," which premiered in 2001, was his first time making up a part of the main cast of a TV series. "The Job" stars Denis Leary of "Demolition Man" fame as a wisecracking New York City cop named Mike McNeil. As described in an Entertainment Weekly writeup from around the time of its premiere, the release of "The Job" coincided with the popularity of racy cop drama "NYPD Blue." Whereas "NYPD Blue" is gritty, however, "The Job" aims for a comedic tone, largely resultant from its unhinged protagonist.
Ferrara portrays one of the cops in McNeil's unit, named Tommy Manetti. While Leary is the show's star, Ferrara is part of an ensemble cast surrounding him who share many of his uncouth proclivities. In the series' ninth episode, for example, Tommy and fellow detective Frank Harrigan (Lenny Clarke) plant a dead body in the jurisdiction of a rival from another branch of the NYPD. Ferrara was credited in all 19 episodes of the series' two-season run.
Ferrara was a firefighter in Rescue Me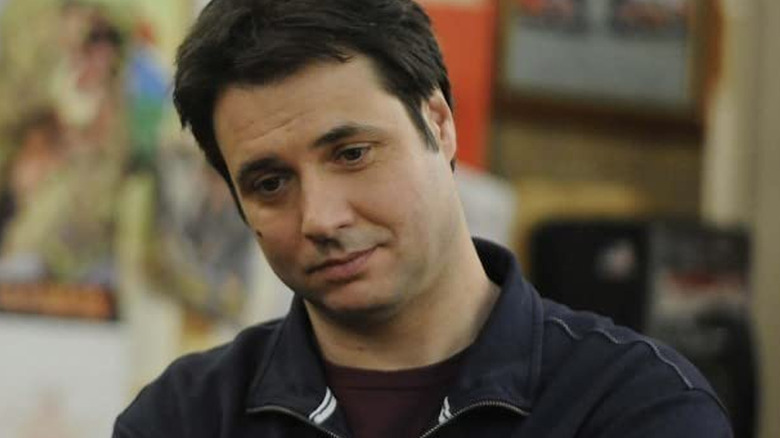 FX
Ferrara's next role as a TV series regular was in the firefighter drama "Rescue Me," once again opposite Denis Leary. However, whereas Ferrara was credited for every single episode of "The Job," he joined "Rescue Me" only midway through the series' run, appearing in Seasons 4 through 7.
Ferrara's character, William "Needles" Nelson, is first introduced as a replacement for Jerry Reilly (Jack McGee), the chief of the 30th Battalion of the New York City Fire Department, following his unexpected death. This makes Needles the boss of series protagonist Tommy Gavin (who is portrayed by Leary), upon his first appearance. Also joining the 30th Battalion at the same time is Chief Sidney Feinberg (Jerry Adler). At one point over the course of their respective runs on the series, Needles ends up challenging Feinberg over what he perceives to be a lack of care for their firefighting team, while settling into his leadership role himself.
Ferrara was one of the hosts of the American version of Top Gear
"Top Gear" is such a hit in its home country of England that the series is still going strong even in the wake of a couple of controversies. It's such a hit, in fact, that it set a Guinness World Record in 2013 for "the world's most widely watched factual TV programme." The series is essentially focused on all things car-related, be it reviews of new car models or enlisting celebrities to attempt to drive through challenging courses.
Naturally, producers in the United States wanted in on the success of "Top Gear," and launched a stateside version of the show led by hosts Tanner Foust, Rutledge Wood, and Adam Ferrara. Foust and Wood are both professionals in the automotive world, making Ferrara the only experienced actor among its core trio. The series aired for six seasons on the History Channel before the network canceled the series for good in 2016 (via MotorTrend).
Ferrara portrayed a cop once again on Nurse Jackie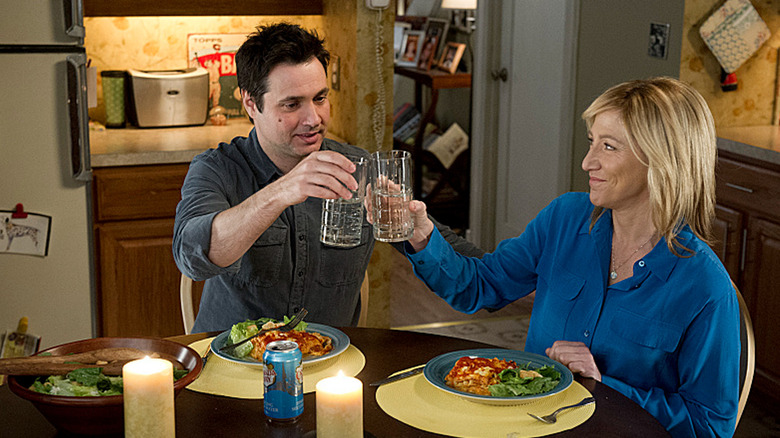 Showtime
Edie Falco followed up her role on "The Sopranos" as Tony Soprano (James Gandolfini)'s wife Carmela with the titular, leading role in Showtime drama "Nurse Jackie." And not only does "Nurse Jackie" share a star with "The Sopranos," but the series continues in the "Sopranos" tradition by centering on a deeply flawed protagonist. 
Falco's Jackie Peyton may not be a psychopathic murderer like Tony Soprano before her, but her high-stress job as a nurse is counterbalanced by a prescription drug addiction that oftentimes infringes on her life outside of work.
Season 5 of "Nurse Jackie" introduces New York City cop Frank Verelli, portrayed by Adam Ferrara. Frank becomes Jackie's romantic partner, and is positioned as something of a counterweight to her self-destructive impulses as a kind and wholesome presence in her life. Season 6 of "Nurse Jackie" saw the promotion of Ferrara to a series regular (via The Hollywood Reporter), though that marked his final season on the series, leaving Ferrara to pursue other projects like "Little Italy" in its wake.