Why Jessica Knight's Relationship Status Has NCIS Fans Scratching Their Heads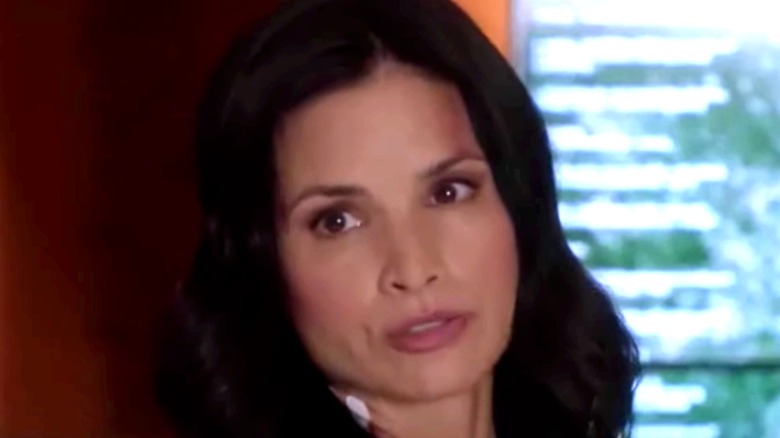 CBS
Most members of the "NCIS" team have had an office romance. Special Agents Anthony DiNozzo (Michael Weatherly) and Ziva David (Cote de Pablo) were the show's resident "will they, won't they" couple before they finally had a child together. Rumors about Special Agent Timothy McGee (Sean Murray) and Chief Forensic Scientist Abby Sciuto (Pauley Perrette) flew around the naval yard before McGee settled down with his wife, Delilah (Margo Harshman). Even Special Agent Leroy Jethro Gibbs famously shared an intimate relationship with Jenny Shepard (Lauren Holly) while undercover in Paris six years before becoming the Director of NCIS. Their prior relationship was only ever glimpsed through flashbacks but was repeatedly gossiped about by co-workers.
When Emily Wickersham joined the cast in 2013 as NSA Analyst Eleanor Bishop, the writers of "NCIS" appeared to be making a change in the routine by introducing a teammate who was already married. Jamie Bamber made a total of five appearances as Bishop's husband, NSA Attorney Jake Malloy (via IMDb). However, after a handful of appearances, Jake and Bishop split up, and it wasn't long before sparks started to fly between Bishop and NCIS Special Agent Nicholas Torres (Wilmer Valderrama).
As one of the two newest additions to the NCIS team (along with Gary Cole), little is known about the private life of NCIS Special Agent Jessica Knight (Katrina Law). She's made a few playful comments about her home and family, but little is known for certain, which often confuses fans.
Knight originally had a family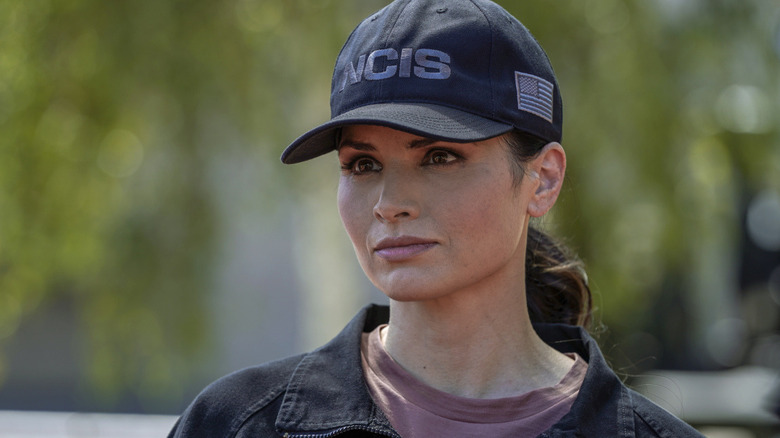 Michael Yarish/CBS
When Katrina Law was first cast in the role of Jessica Knight, the press release said her character was "married to a stay-at-home dad who is raising their infant son" (via Deadline). However, since her introduction into the series, she has not made any direct references to a family. Knight mentioned a "hypothetical husband" in Season 19, Episode 4 (the same episode that served as Mark Harmon's last regularly scheduled onscreen appearance), but Torres also started the conversation by asking a question based on "if she was married," and she didn't correct him.
Speculation online about the discrepancy has ranged from suggestions about why she may be lying to theories that "NCIS" writers have simply chosen to go a different route. On one post to the NCIS subreddit, user song4this said, "She just pretended to be married with a kid so nobody would hit on her." User ohlordwhyisthishere wondered if perhaps Knight just doesn't want "Torres and McGee to know about her personal life." Redditor holalesamigos offered up their own theory on Knight's confusing background. "Probably changed it to have some sort of love story between nick and knight and are just gonna act like she never had a family. There's no way they're gonna show something like knight cheating with torres," they wrote.
So far, the only active series regulars on "NCIS" not known to have (so far) mixed business with pleasure are Director Leon Vance (Rocky Carroll), Historian Dr. Donald "Ducky" Mallard (David McCallum), Chief Forensic Analyst Kasie Hines (Diona Reasonover), and Chief Medical Examiner Dr. Jimmy Palmer (Brian Dietzen). Whether any of them or either of the series' newest additions will ever choose to break Gibbs Rule #12 ("Never date a co-worker") remains to be seen.