The Small Credit Detail In AHS: Hotel That You Probably Didn't Notice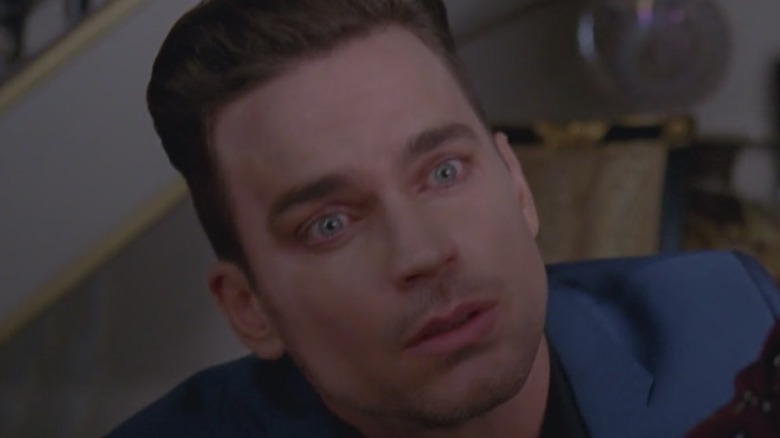 FX
The fifth season of Ryan Murphy and Brad Falchuk's  "American Horror Story," titled "Hotel," contained some of the infamous series' most memorable characters. From Denis O'Hare's beguiling and inspiring Liz Taylor, to Lady Gaga's formidable and fashionable Countess, to one of Sarah Paulson's most revered personas — the early-nineties chic Hypodermic Sally — the Hotel Cortez was littered with unpredictable character arcs and unforgettable character deaths. Although the season was not without its critics (is any season of the show, really, with the exception of "Asylum?"), it's a moment in "AHS" history to which fans of the series' subreddit seem to return again and again. 
Recently, one such fan noticed something particularly hilarious about one of the most heartbreaking narrative focal points of "Hotel" — that of Matt Bomer's love-and-dope-sick Donovan. As you may recall, in episode 11 ("Battle Royale") Donovan is killed by Liz and his own mother, Iris (Kathy Bates), when the latter team-up in an effort to take down the former's lover, the Countess. And there's a key detail that's rather unusual.
Matt Bomer proves characters that matter can neither be created nor destroyed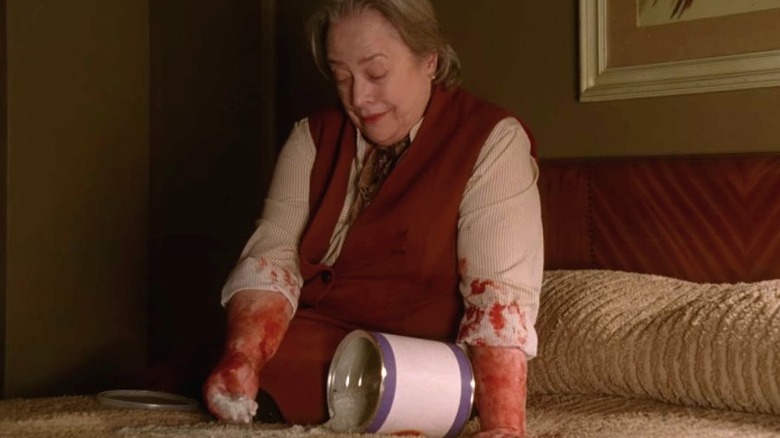 FX
Passionately in love with his vampiric counterpart (despite the fact that she's intent on trading him in) Donovan places himself between the Countess and the flurry of deadly bullets that Iris and Liz reign down on her. Not wanting to be cooped up with the Countess' other lovers for the rest of his afterlife, Donovan asks his mother to take him away from the Hotel Cortez to die. She does so: Donovan dies off hotel grounds, Liz has him cremated, and places his ashes in a coffee can. 
Fortunately, while Donovan may be dead, it turns out his ashes give a compelling performance. As user TVDinnerAndChill pointed out, "Despite not being present in the scene or even the one before it, Matt Bomer is credited as Donovan's ashes in (the) scene where Iris is playing with his remains." 
The user shared a screenshot of the paused moment (and its credit of Bomer) from Amazon Prime, adding that the streaming service "credits actors scene by scenes/what actors are present on screen." The "funny little fact," as the user called it, opened the door for a litany of Dad Joke responses. "Heard that role really burned him," one user wrote, while others commented on the actor's commitment to and talent for "method acting." Apparently, allowing him to embrace the role of Donovan from every angle possible is just one more way Murphy has been, as Bomer told Digital Spy, "the architect of (his) career in many ways."