Shows Like Blood & Water That Crime Drama Fans Need To Watch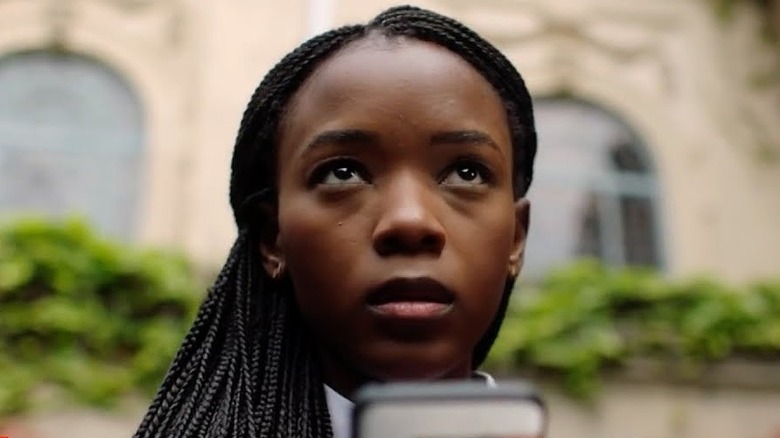 Netflix
Each season of the Netflix teen crime drama series "Blood & Water," which follows a young girl who believes she's found her abducted, long-lost sister at her new school, has only about six or seven episodes. So if you're a big fan, the captivating show probably flew by you far too quickly. Luckily, there's no shortage of excellent crime dramas out there: Almost every streaming service has access to them! But there are so many great ones to choose from that it's difficult to figure out which direction to take.
Not only are there plenty of similar shows to "Blood & Water" tonally — with its edgy content, moody but exquisite cinematography, and deception-riddled subplots — but many of these crime dramas have such a unique feel to them that they defy expectations for the genre itself. They can surprise us, disturb us, make us laugh, and truly convey any range of emotion, buoyed by the human mysteries at their hearts. There is a lot to love about crime dramas in general, but these shows stand out among the rest, especially if you love Netflix's South African teen drama series.
Sharp Objects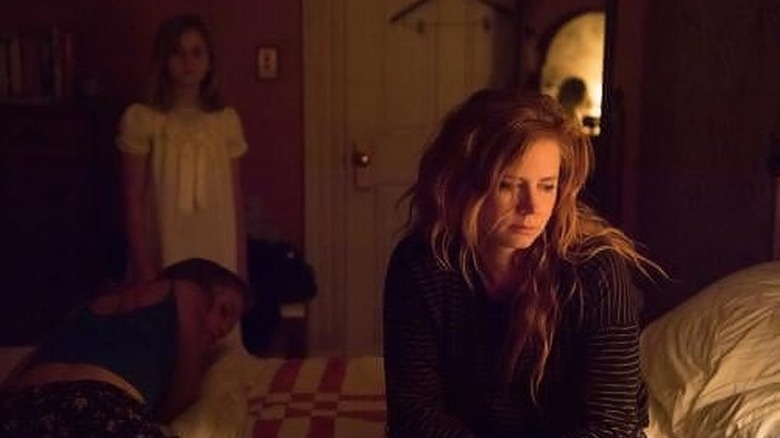 HBO
Fans of "Blood & Water" will be enthralled by the familial drama and the unique mystery that takes place in "Sharp Objects." Based on Gillian Flynn's debut novel, the story follows Camille Preaker (played by Amy Adams), a troubled St. Louis reporter who returns to her small Missouri hometown to investigate the case of two missing girls — while simultaneously confronting unresolved issues with her family as well as herself.
Although "Sharp Objects" has a far darker tone than "Blood & Water," the unique direction of Jean-Marc Vallée and wonderful cinematography from Yves Bélanger perfectly encapsulate the very personal nature of the story, creating a unique atmosphere that is both beautiful and unsettling. Amy Adams' fantastic performance is in turn engaging and emotionally draining. It's no wonder she won the Satellite Award for Best Actress in a Mini-Series & Limited Series or Motion Picture Made for Television. At its core, it is a story about mental health and recovering from trauma, thus setting it apart from the traditional catalog of TV crime dramas — but making it no less thrilling.
Big Little Lies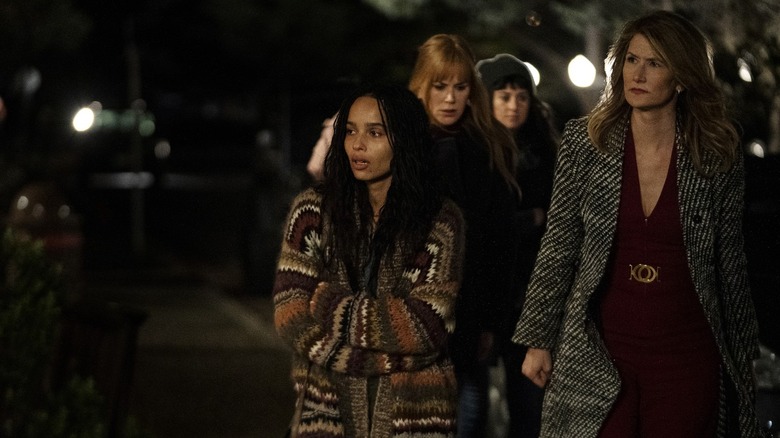 HBO
Jean-Marc Vallée is no stranger to crime drama. The gripping "Big Little Lies" was the director's first HBO series and is a markedly different adventure from "Sharp Objects." The series boasts a stellar cast including Reese Witherspoon as Madeline Mackenzie, Nicole Kidman as Celeste Wright, and Shailene Woodley as Jane Chapman. It focuses on the lives of a group of mothers in an affluent California community as they get sucked into a murder investigation — despite already being embroiled in marital issues, raising their children, and the constant need to keep up appearances of perfection for their community.
Splitting the focus among the protagonists is one of the many interesting tactics of the series that set it apart from other crime dramas. The use of Monterey, California as the setting, with a primary focus on wealthy characters, contrasts a typically safe and exclusive community with the insidious peril that lurks there. This juxtaposition shares similarities to "Blood & Water," but given its size, "Big Little Lies" crafts a far more claustrophobic and eerie environment that exists above its beautiful ocean views.
The Night Of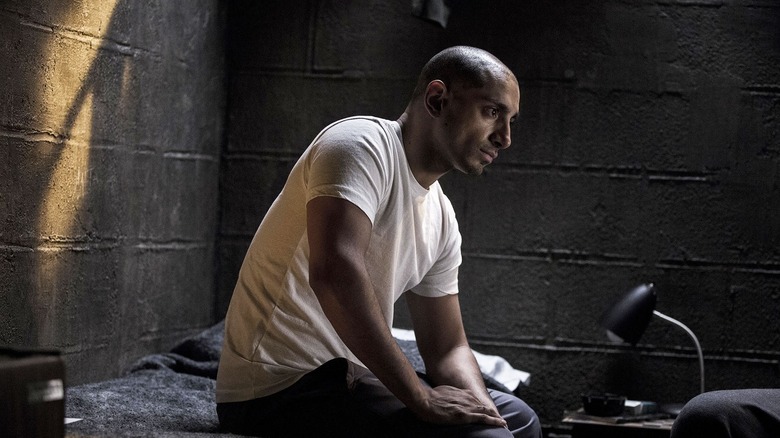 HBO
Probably the darkest crime drama on this list is HBO's now-classic mini-series "The Night Of," which follows Nasir "Naz" Khan, a typical New York college student who goes for a night out on the town in his father's cab. On his way to a party, a young woman mistakes him for a driver and they end up having a great night together ... until Nasir wakes up to find her dead. His only hope at freedom lies with his lawyer John Stone, and his survival depends on Freddy Knight, a fellow inmate at Rikers Island.
Viewers will instantly be enthralled by the fantastic performances all around — notably Riz Ahmed and the late Michael K. Williams as Naz and Knight, respectively. Ahmed's performance especially stands out as a young man who is forever changed by the horrific events surrounding him and the dangerous environment he's been placed in. Williams portrays an aging convict who guides Naz — for better or for worse — and acts as a unique voice of reason in the ongoing chaos of his life. "The Night Of" truly showcases the terror of the prison system and the struggles of being a Pakistani American in that system in post-September 11 New York.
Ozark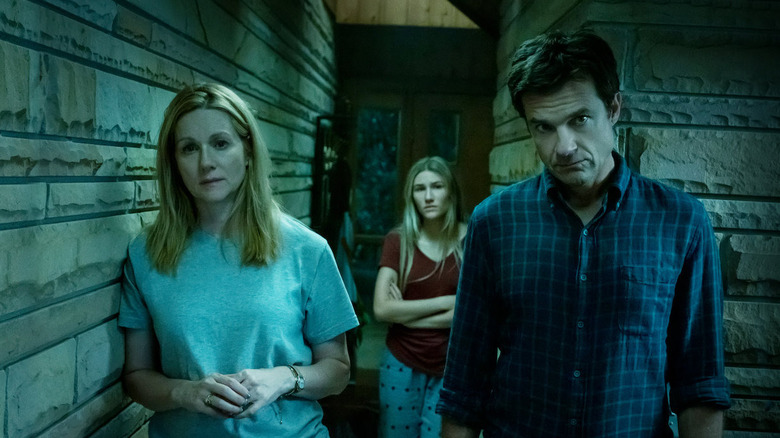 Netflix
The Netflix series "Ozark" has received critical acclaim, and for good reason. Unlike in many other crime dramas, the main protagonist is both the perpetrator of multiple crimes and a victim of said crimes. The story follows Marty Byrde, played by Jason Bateman, a financial advisor who secretly washes money for a Mexican drug cartel. After trusting the wrong people, Marty desperately appeals to the leader of the cartel and convinces him of a plan to move his family from the Chicago suburbs to Osage Beach, Missouri to start a large-scale laundering operation.
As the show goes on, things get far more complicated when criminals in the surrounding areas become increasingly involved in the Byrde family's affairs. Jason Bateman crafts a unique performance that takes impeccable advantage of his well-known strengths as a comedic actor yet also closely resembles his earlier appearance in the 2015 psychological thriller "The Gift." The leading man has an undeniable normalcy to him and a deadpan delivery that grows more and more shaken by the horrible events constantly occurring around him. Similar to "Blood & Water," "Ozark" has a unique setting that is rarely explored in American media: There is a certain dark beauty to this series that instantly captures the viewer's attention. The vast waters are, in a way, a perfect visual representation of the Byrde family's seemingly endless sea of problems.
Fargo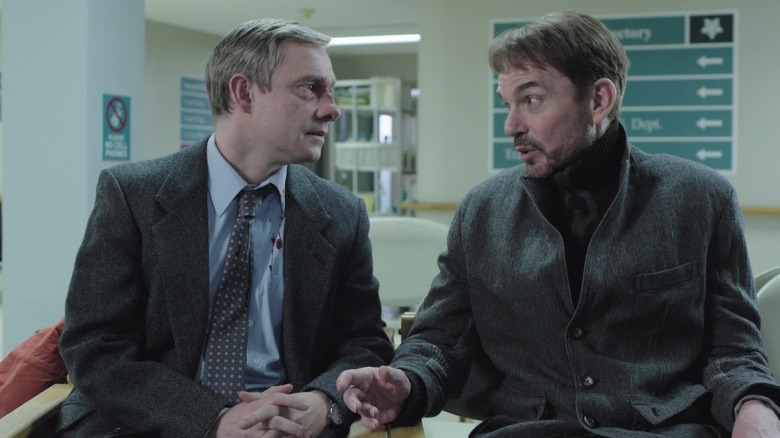 FX
Based on the Coen brothers' 1996 film of the same name, there is a lot to love about the anthology series "Fargo." Each season portrays a different Midwestern crime during different periods of time and centers around a different cast of characters. However, no matter which season it is, viewers can expect a great series with incredible performances throughout. Martin Freeman's particularly compelling portrayal of Lester Nygaard in Season 1, for example, is both disturbing and funny. You can understand the character and his bizarre journey up to a point, empathizing (if incredulously) with Lester and the insane situations he gets involved in.
Billy Bob Thornton makes the sadistic character of Lorne Malvo his own, and his presence is a joy on screen. He is both eerie and terrifying — yet also funny, bringing a comedic element to typically violent scenarios. The characters showcase the core of the show, which is a perfect blend of black comedy and crime that does the original film justice. There's also a certain beauty to the environment throughout the show: The often frigid Midwest seems like a dreamscape at points, even acting as an escape from the hectic events of the plot, taking us from chaos to a serene and still place of beauty. Noah Hawley has created something truly special: "Fargo" is incredibly engaging and worth the time of any crime drama aficionado.
The Flight Attendant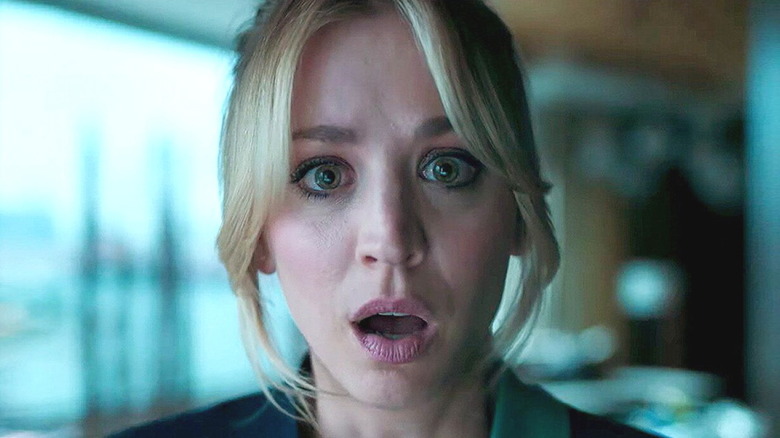 HBO
"The Flight Attendant" is one of HBO Max's first and most critically-acclaimed shows, and for good reason. While the typical crime drama follows the police or an investigative journalist, like some of the shows on our list, we instead follow flight attendant Cassie Bowden, who spends most of her time drinking, partying, and sleeping with passengers. The morning after one particular night of fun has ended in disaster, she is shocked to find that the man she slept with has been brutally murdered.
The show blends comedy and mystery in a unique way through the lens of its at-first bubbly and goofy main character. As "The Flight Attendant" goes on, however, we unearth more of Cassie's layers through Kaley Cuoco's performance — to the point that it would be hard to imagine any other actress playing her. Certain aspects, like the show's creative editing, are very engaging as well: At certain points, particularly regarding movement sequences, the screen splits into comic book-like panels, giving "The Flight Attendant" a classic dime-novel or old-detective-comic quality that sets it apart from your typical crime drama.
Only Murders in the Building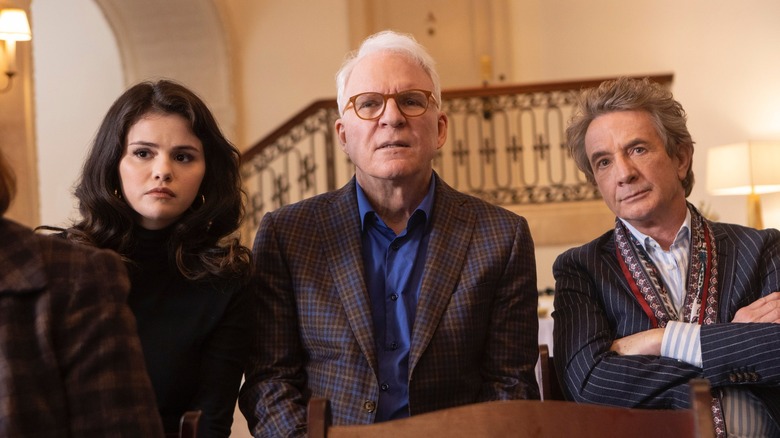 Hulu
"Only Murders in the Building" is about three tenants of the titular apartment building, Charles-Haden Savage (Steve Martin), Oliver Putnam (Martin Short), and Mabel Mora (Selena Gomez), three people who couldn't be more different from each other aside from their love of true crime. The characters at first seemingly dislike each other, but when a mysterious death occurs in their apartment building, they bond over a mutually beloved podcast and start their own around the death of this tenant. Underneath, though, each of our characters has something to hide.
What's special about this series is the comedic performances, especially from the legendary Steve Martin, who also created the show. Each character has an aura of loneliness to them, hidden behind the jokes and ridiculous scenarios they get themselves into. Martin Short and Selena Gomez show great emotional range in addition to Martin. They bring an aspect of personality to each of their characters that makes it hard to imagine anyone else in these roles.
Another interesting aspect certain to hook viewers is the meta nature of the dialogue. For example, in Episode 2, the characters talk about how to make "Episode 2" (of their podcast). At other points, Charles displays some skill or can relate an aspect of their investigation to his time as an actor in a crime drama — even as Steve Martin portrays him in a crime drama. It's a fabulously interesting show you won't be sorry you watched.
Scream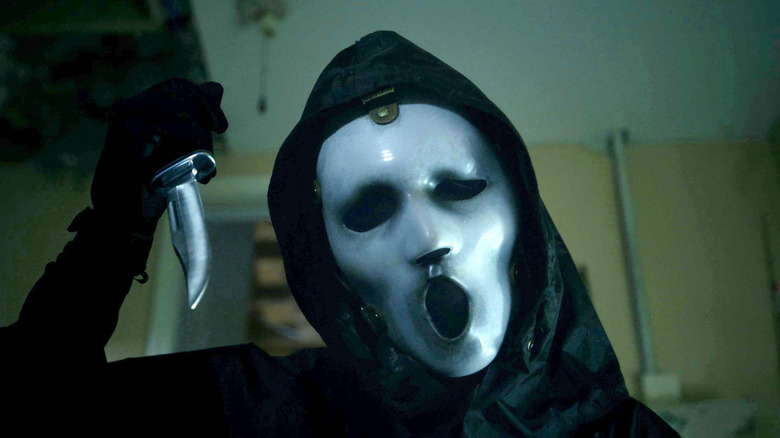 MTV
One could argue that "Scream" never quite reached the popularity of Wes Craven's original films, but that doesn't mean it isn't worth the time of genre buffs. The show based on the film franchise is an anthology, technically, but the first two seasons both revolve around Emma Duval, a high schooler who is somehow related to the murders plaguing the town and who ultimately discovers her family's ties to this dark history.
Similar to the films, the show acts as a traditional whodunnit as everyone around Emma is framed as a potential suspect. The series' strength lies in its length: There are far more opportunities to develop characters and display motivations outside a traditional film's runtime. This is especially true in regard to the supporting cast. Instead of just fulfilling the role of a suspect, side characters like Noah and Audrey get a much more expansive treatment.
"Scream," like its cinematic inspiration, also focuses on the deconstruction of slasher tropes — and it extends this approach to stereotypical teen drama tropes as well. The TV series finds its own footing early, with creative kills for the modern era and multiple compelling mysteries to hook in slasher, crime drama, and teen drama fans alike.
Nancy Drew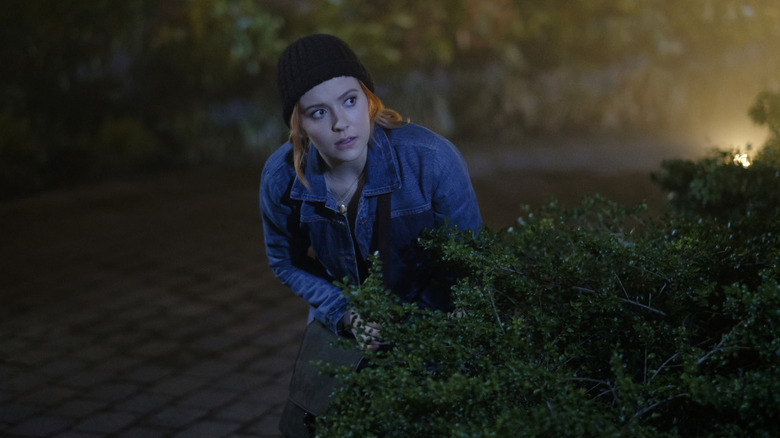 The CW
2019's "Nancy Drew" series is quite the surprise for viewers familiar with the children's novels or the mediocre 2007 film adaptation, as the show takes notes from similar shows like "Riverdale" and adapts its traditionally kid-friendly material into something geared more toward young adults. The series revolves around the title character during a difficult point in her life: After the death of her mother, she halts her college plans and returns to stay in her hometown. Following one of her shifts, she discovers a wealthy socialite has been murdered right outside her place of work — and the police suspect Nancy and her friends.
One of the biggest upsides to Nancy Drew is that it acts as a continuation to the books, which fans of the literary series will certainly love. Multiple times throughout the series, other characters reference Nancy's earlier adventures. It almost feels like Nancy has grown and developed alongside her reader-base, adding a layer of complexity to the narrative. The other great strength of the show is Nancy's relationship with the fictional Horseshoe Bay. The town almost acts as a character itself, perpetuating negativity in Nancy's life and trapping her in a claustrophobic environment. The classic story mixed with seemingly supernatural elements makes "Nancy Drew" a must-watch for fans.
Riverdale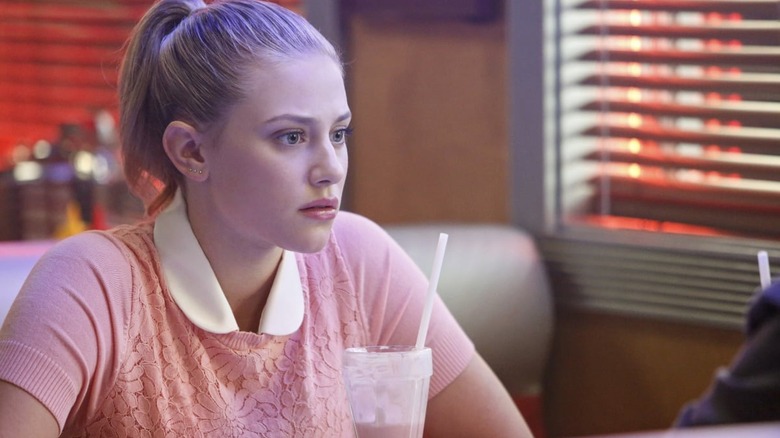 The CW
"Riverdale" is quite the departure from the original Archie Comics that spawned its characters, focusing more on young adult problems. The series follows Archie Andrews as he navigates high school — and discovers a hidden darkness behind his small town's unassuming exterior after the death of former student Jason Blossom. Aside from all this, Archie has to deal with many changes in his relationships, including with his best friend Jughead, and the difficulty of trying to pursue his love of music.
Unlike "Nancy Drew," there really aren't too many references to the original material in "Riverdale," which makes it incredibly accessible to new viewers. In addition to this, the stylistic choices make the small-town feel timeless — and reminiscent of classics like "Twin Peaks" at points, with a bit less focus on the strange. Visually, it is like a modernized Archie comic, creating a fascinating neon contrast to the darker subject matter of the series. Fans of the original comics may be hesitant at first, but "Riverdale" is a welcome and unique adaptation of the classic character.
Pretty Little Liars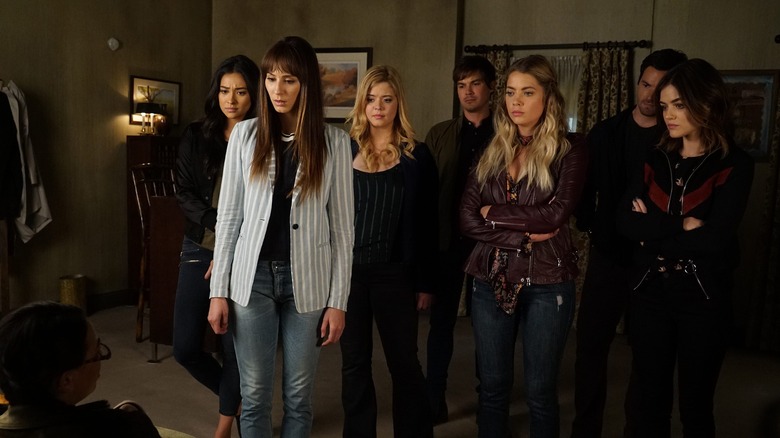 Freeform
"Pretty Little Liars" is one of the older shows on this list, but it still is just as entertaining. It follows friends Spencer (Troian Bellisario), Aria (Lucy Hale), Emily (Shay Mitchell), and Hanna (Ashley Benson) one year after their friend Allison's disappearance. They are now estranged and receiving text messages from a mysterious figure named "A" who is threatening to expose all their secrets — of which they have many.
One of the many positives of this show is the complex relationship between each friend and how the dynamics are constantly shifting. The group is in a constant state of deterioration and distrust — which was even true when Allison was around, as we learn when their relationships are explored through flashbacks. Another great aspect of the show is how quickly the mystery is introduced: within the first five minutes of the show, which is somewhat unique for a slow-burn mystery. "Pretty Little Liars" definitely hits the ground running — but it still has plenty of gas by the time it concludes.
The show is also incredibly overdramatic, which works to its benefit in the sense that these kinds of rocky relationships are common to the high-school-age members of its audience. The relationships are complex, and the problems are not easily resolvable, making the series all the more engaging. It's also good for fans of the genre to see one of its major influencers: As previously mentioned, "Pretty Little Liars" is (just a bit) older, so you'll be seeing plenty of flip phones and dated tropes — but it's fun to see this chapter in the TV crime drama's evolution.
Dead to Me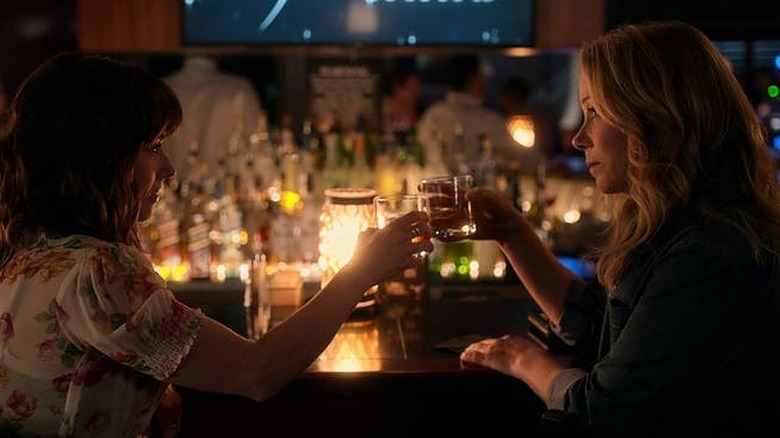 Netflix
Netflix's "Dead To Me" follows Jen Harding, a real estate agent whose husband was recently killed in a hit-and-run crash. Jen attends a grief support group and meets Judy Hale, a very different, free-spirited person who strikes up a friendship with Jen despite their opposing personalities. As the friendship grows, Judy gets more desperate to shield Jen from a terrible secret. Unlike other crime dramas, "Dead To Me" is more focused on grief and the friendship between Jen and Judy — which just happens to sync perfectly with how the mystery develops. These elements work together to engage viewers with a unique and natural storytelling style.
It also helps that the show has two excellent leads with great chemistry: Christina Applegate shows so much emotional range as Jen that the viewer can really feel her fits of rage and sadness through the screen. Linda Cardellini also gives a top-notch performance as Judy; her guilt and trauma really resonate emotionally with viewers. Buoyed by these performances, the way the main mystery branches off into other parts of the story ensnares the viewer. You find out so much about Jen's husband, Judy's personal life, and their relationship to each other that one can't help but be engaged.
Due to the genre-blending, stylistic choices, influence, and of course, countless surprises, these shows are a cut above the rest. Each offers quite a bit to like and dissect. They convey different political statements, social issues, and overall critiques on everyday aspects of our lives that one wouldn't necessarily think about; this form of entertainment encourages the viewer to solve things. If you couldn't get enough of "Blood & Water," these shows might be your next obsession.