Netflix November 2021 - The Best New Movies And TV Shows To Watch
The autumn leaves are more colorful than ever for Netflix. The streaming platform's had a field day with the global smash hit "Squid Game," and luckily, it has plenty of things lined up to follow up that success. This, of course, is an excellent thing for you, the viewer. Rarely has the streamer been able to boast as brilliant a lineup as it does for this November. The month marks the transition from Spooky Season to full-on Holiday Season, but while you might have a rough idea of what kind of programming that entails, rest assured that Netflix has a whole bunch of nice surprises up its sleeve, too. 
But what should you watch during November 2021, a true Holy Grail month for Netflix subscribers? What's the hot new thing everyone's talking about at the virtual water cooler, and what shows and movies should you quickly add to your queue before they leave the platform? To help you with these tough, tough decisions, we've compiled a list of best new Netflix movies and TV shows for November.
All the cool original shows heading for Netflix in November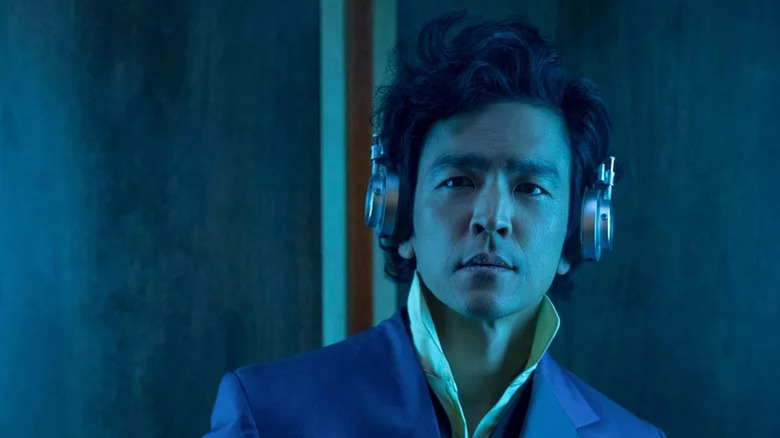 Kirsty Griffin/Netflix
As tends to be the case these days, Netflix will pepper November with all sorts of new platform-exclusive shows, as well as new seasons of old fan favorites. On the new show front, "Squid Game" has proved that virtually any newcomer has the potential to become the next big thing, but the biggest name out of the gate is quite possibly the John Cho-starring live-action version of the legendary anime "Cowboy Bepop," which will drop on November 19. 
Many old favorites are also set to make their grand Netflix return this month. On November 5, viewers are treated to a double whammy of "Narcos: Mexico" Season 3, and the fifth season of everyone's favorite filthy, animated coming-of-age show "Big Mouth." Speaking of animation, Kevin Smith's "Masters of the Universe: Revelation" Season 2 will drop on November 23 — and if the fan backlash to Season 1 is anything to go by, it'll one of the platform's most talked-about things all month. 
November 5
Big Mouth: Season 5
The Club
The Unlikely Murderer
Glória
Narcos: Mexico: Season 3
November 6
Arcane: Episodes 1-3
November 9
Swap Shop
November 10
Gentefied: Season 2
November 11
Love Never Lies
November 13
Arcane: Episodes 4-6
November 15
Lies and Deceit
November 17
Christmas Flow
Tear Along the Dotted Line
The Queen of Flow: Season 2
November 19
Cowboy Bebop
Blown Away: Christmas
Hellbound
November 20
Arcane: Episodes 7-9
New World
November 23
Masters of the Universe: Revelation: Part 2
November 24
Selling Sunset: Season 4
True Story
November 25
F is for Family: Season 5
Super Crooks
November 26
Light the Night
School of Chocolate
November 28
Elves
COMING SOON
Decoupled
Netflix goes all in with original films on November
The time of year being what it is, it's easy to think that Netflix's original films on November will skew toward the Holiday season. Indeed, the month's original offerings are tactically sprinkled with titles ranging from "The Claus Family" to "A Boy Called Christmas" and "A Castle for Christmas" — but don't think for a second that's all you're getting. 
One major heavy hitter arrives on November 3, when "The Harder They Fall" premieres on Netflix. The Western from Jeymes Samuel looks amazing and features a Who's Who of prominent Black actors, from Idris Elba and Jonathan Majors to Delroy Lindo and Regina King — all playing fictionalized versions of real Old West heroes and villains. On November 11, Netflix delivers another stacked cast in the star-studded heist movie "Red Notice," which puts tentpole movie stars Gal Gadot, Dwayne Johnson, and Ryan Reynolds against each other. Regardless of who will emerge as the victor, the real winner is the viewer.
November 1
The Claus Family
November 3
The Harder They Fall
November 5
Love Hard
Meenakshi Sundareshwar
We Couldn't Become Adults
Yara
Zero to Hero
November 7
Father Christmas is Back
November 10
Passing
November 11
Red Notice
November 17
Prayers for the Stolen
November 18
The Princess Switch 3: Romancing the Star
November 19
Love Me Instead
Dhamaka
Tick, Tick ... BOOM!
November 22
Outlaws
November 24
A Boy Called Christmas
Bruised
November 26
A Castle For Christmas
Green Snake
Spoiled Brats
November 30
The Summit of the Gods
More the Merrier
COMING SOON
Happiness Ever After

Netflix is bringing you plenty of original documentaries and comedy specials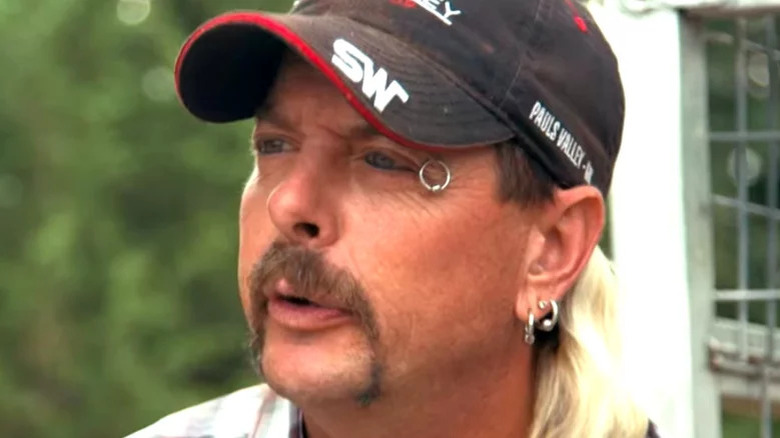 Netflix
There are many great documentaries coming out on November, but let's be honest — you don't need a crystal ball to figure out which one stands the best chance of becoming a runaway hit. It will be interesting to see whether the second installment of "Tiger King," which premieres on November 17, can replicate the early-days-of-pandemic cultural phenomenon success of the original. Netflix has promised that "Tiger King 2" will contain "just as much mayhem and madness as Season 1" (via Twitter), which promises some pretty big things, considering what went down last time.
Other interesting Netflix docs worth checking out are ... well, all of them, really. From "Camp Confidential: America's Secret Nazis" to the mountain climbing documentary "14 Peaks: Nothing is Impossible," the month has something for everyone. On the comedy front, Netflix gives you the gift of a comedy special from Carlos Ballarta, as well as Oliver Polak's "Your Life Is A Joke."
November 2
Camp Confidential: America's Secret Nazis
November 3
Lords of Scam
November 4
Catching Killers
November 5
A Cop Movie
November 9
Your Life Is A Joke
November 10
Animal
November 17
Tiger King 2
November 18
Lead Me Home
Carlos Ballarta: False Prophet
November 19
The Mind, Explained: Season 2
Procession
November 23
Reasonable Doubt: A Tale of Two Kidnappings
November 26
Dig Deeper: The Disappearance of Birgit Meier
November 29
14 Peaks: Nothing is Impossible
Netflix has a great November lineup for family shows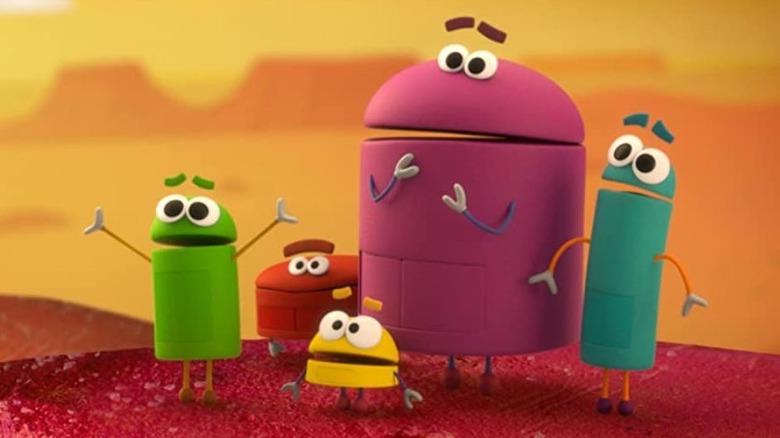 Netflix
Netflix always has something for every pair of eyes, regardless of their age. The month of November is no exception, and the platform has new family content arriving on a steady schedule throughout the month. 
The educational StoryBots return in November 16 with their newest show, "StoryBots: Laugh, Learn, Sing," which promises a music-themed look at the alphabet. Another animated offering, "Robin Robin," is an interesting-looking stop-motion story about a bird that grew up with mice. The family-themed month ends in November 30 with three "Charlie's Colorforms City" educational specials for the youngest members of the family.  
Oh, and hey, "Dogs in Space" drops on November 19. Who doesn't love dogs having adventures in space? They're space dogs!
November 2
Ridley Jones: Season 2
November 16
Johnny Test's Ultimate Meatloaf Quest
StoryBots: Laugh, Learn, Sing
November 18
Dogs in Space
November 19
Extinct
November 23
Waffles + Mochi's Holiday Feast
November 24
Robin Robin
November 30
Charlie's Colorforms City: Classic Tales with a Twist
Charlie's Colorforms City: Snowy Stories
Charlie's Colorforms City: The Lost Valentines Musical
Netflix is packing November with classic movies and shows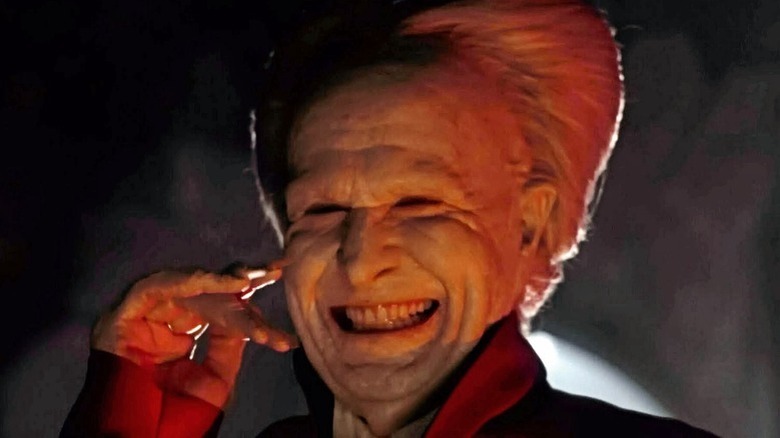 Columbia Pictures
If you love to spend this time of the year tucked in with your favorite snacks and watching a classic movie or five, Netflix has your November all worked out. The month's very first day brings in an opening salvo of epic proportions, as a combination of movies ranging from "Moneyball" to "Snakes on a Plane" arrives on the streaming platform. 
The day's arrivals are a rare, true case of "something for everyone," with most every genre and era getting its moment in the limelight. Horror fans can treat themselves to "Bram Stoker's Dracula" and "It Follows."  fans of war films have "The Thin Red Line" to look forward to, and action enthusiasts can enjoy Arnold Schwarzenegger in the meta action comedy "Last Action Hero."
1980s comedy enthusiasts have a great time in the early days of the month, as the Bill Murray-Harold Ramis comedy "Stripes" premieres on Netflix. Of course, there are also plenty of requisite seasonal offerings. In fact, if you want to go truly all in, mark November 14 in your calendar. The day ushers in the inevitable with an animated movie called "Mariah Carey's All I Want For Christmas Is You," which draws inspiration from its namesake song, which is once again about to dominate the airwaves in the coming weeks. 
November 1
21 Jump Street
60 Days In: Season 6
A River Runs Through It
Addams Family Values
American Gangster
An Elf's Story: The Elf on the Shelf
Angry Birds: Season 4 – Slingshot Stories
Bella and the Bulldogs: Season 2
The Big Wedding
Bram Stoker's Dracula
Elf Pets: Santa's St. Bernards Save Christmas
First Knight
Forged in Fire: Season 7
Gather
The General's Daughter
It Follows
Johnny Mnemonic
JoJo's Bizarre Adventure: Golden Wind
Last Action Hero
Moneyball
Montford: The Chickasaw Rancher
My Dad's Christmas Date
The Nightingale (2018)
Total Recall (2012)
Snakes on a Plane
Stripes
Tagged
Te Ata
Texas Rangers
November 12
Legacies: Season 3 (New episodes)
November 14
Mariah Carey's All I Want For Christmas Is You
November 15
America's Next Top Model: Seasons 21-22
Kuroko's Basketball: Last Game
Snowbound for Christmas
Survivor: Season 16
Survivor: Season 37
November 17
Supergirl: Season 6 (New episodes)
November 22
Vita & Virginia
November 30
Coming Home in the Dark
Last call for these departing titles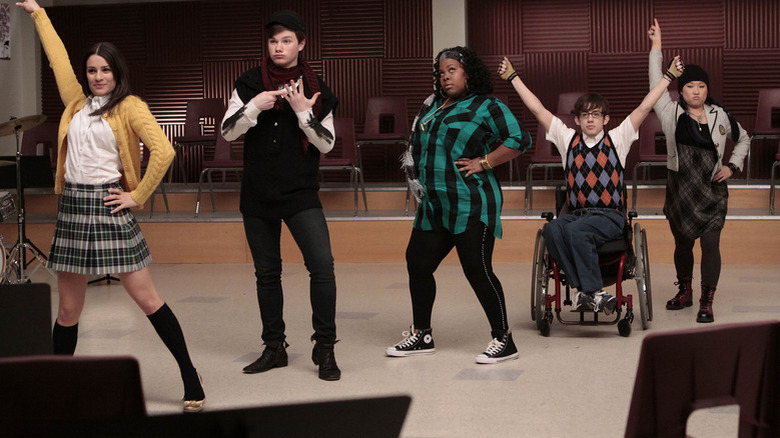 20th Television
For all the new content Netflix is planning to give you over the course of November, it's also worth keeping a keen eye on the shows and movies that are about to leave the platform. There are plenty of classics and gems on Netflix at any given time, and there's a decent chance that something on your Netflix queue is on this month's list of departures. 
On the movie front, this is the perfect time to watch Heath Ledger's medieval epic "A Knight's Tale," or perhaps revisit Jack Black's "School of Rock."  If you feel like having a double feature of infamous sci-fi box office flops, you might want to grab a bowl of popcorn and sit down for a back-to-back showing of "Waterworld" and "Battlefield Earth."
If you're a fan of atmospheric British whodunits, you'll definitely want to check out the intense "Broadchurch," starring Academy Award winner Olivia Colman and David Tennant of "Jessica Jones" and "Doctor Who" fame. If you're into lighter but not necessarily any less moving fare, consider setting time aside for the six seasons of "Glee," or the 10 seasons of "Stargate SG-1." All of these shows, and many more, are set to depart in November 30.
November 1
My Little Pony Equestria Girls: Legend of Everfree 
My Little Pony: Happy Birthday to You! 
November 4
Bucket List
The Lovers 
November 5
The Late Bloomer
November 7
Sleepless 
November 10
A Single Man 
November 11
Fruitvale Station 
November 14
America's Next Top Model: Seasons 19-20 
K-on! The Movie 
K-On!: Seasons 1-2 
Survivor: Season 20: Heroes vs Villains 
Survivor: Season 28: Cagayan 
November 15
Safe House 
November 17
Naomi and Ely's No Kiss List
November 19
Spy Kids: All the Time in the World 
November 21
Beverly Hills Ninja
Machete Kills 
November 26
Broadchurch: Seasons 1-3 
November 29
Man Down: Seasons 1-4 
November 30
3 Days to Kill 
A Knight's Tale 
American Outlaws 
Are You The One: Seasons 1-2 
Battlefield Earth 
Chef 
Clear and Present Danger 
Freedom Writers 
Glee: Seasons 1-6
The Happytime Murders
Ink Master: Seasons 1-2
Letters to Juliet 
The Lincoln Lawyer
Million Dollar Baby
Peppermint
Pineapple Express
Rake: Seasons 1-4
Richard Pryor: Live in Concert
School of Rock
Stargate SG-1: Seasons 1-10 
TURN: Washington's Spies: Seasons 1-4
Waterworld