Catwoman: Hunted - What We Know So Far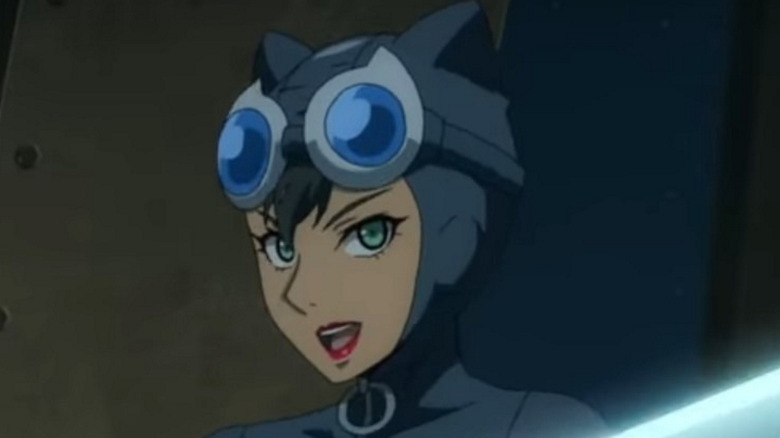 DC/Warner Bros. Animation
There's more than one way to catch a cat. 
Just a few weeks before Zoë Kravitz's rendition of the character appears in director Matt Reeves' "The Batman," DC's most famous burglar will take center stage in the animated movie "Catwoman: Hunted." The new movie will find Catwoman, voiced by Elizabeth Gillies of "Dynasty," caught between Interpol, a cabal of notorious DC criminals, and at least one member of the Bat family after an attempted heist.
The film represents something of a aesthetic departure for DC, as it uses a whole new animation style. It's directed by Shinsuke Terasawa, who has worked in the animation department of such Japanese anime series as "Arc the Lad," "The Tower of DRUAGA: The Aegis of URUK," and, perhaps crucially, various "Lupin the Third" movies. The trailer for "Catwoman: The Hunted" showcases this anime-inspired style in a big way, as well as featuring a bouncy score that seems more than a little reminiscent of Steven Soderbergh's "Ocean's" films. 
This time, it seems, the assembled gang is unquestionably a villainous one, and the criminal mastermind protagonist will be tasked with stopping their exploits. Here's what we know so far about "Catwoman: Hunted."
When will Catwoman: Hunted be released?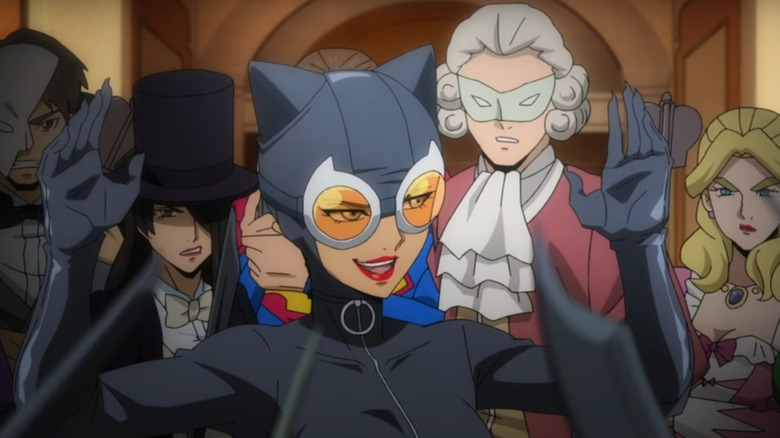 DC/Warner Bros. Animation
After months of tagging the film with only a vague "early 2022" date, DC finally announced the release date for "Catwoman: Hunted" at its DC Fandome event. The new animated film will arrive on February 8, 2022.
It will be the first in what looks to be a busy year for DC animated projects. A few months after the Catwoman animated flick premieres, the spring of 2022 will see the release of the animated crossover "Teen Titans Go & DC Super Hero Girls: Mayhem in the Multiverse" which will feature characters from the two Cartoon Network series team up for a comedic adventure. Soon afterward, a new Green Lantern film — "Green Lantern: Beware My Power" — will premiere in the summer of 2022. Character and plot details for the latter film, were not yet released, but presumably it will not follow the same plot as "Beware My Power," the extra-long premiere episode of the 2011 "Green Lantern: The Animated Series." The fall will feature the first-ever fully CGI DC Animated movie, "Battle of the Super Sons," as well as an R-rated, 4K omnibus edition of the two-part "Batman: The Long Halloween" film series.
Before all of that, though, "Catwoman: Hunted" will open the gates, and presumably get audiences excited to see the live-action Zoë Kravitz version in theaters.
What characters will feature in Catwoman: Hunted?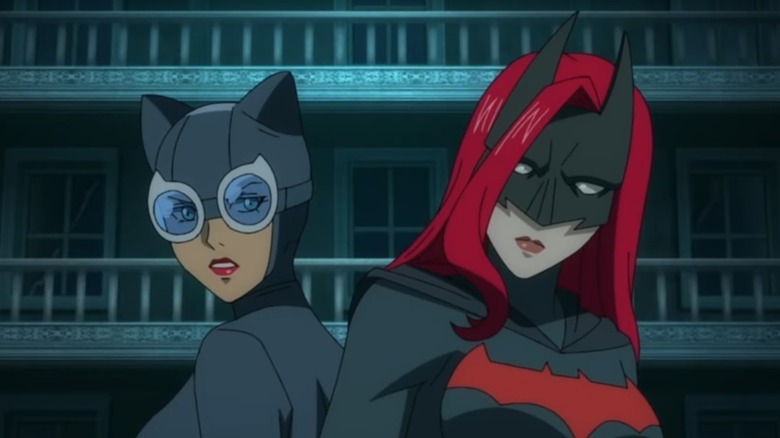 DC/Warner Bros. Animation
It takes more than one villain, or hero, to keep Catwoman in the crosshairs.
On Team Villain, the "legendary" bad guys she's up against will include Black Mask (Jonathan Banks), Barbara Minerva aka Cheetah (Kirby Howell-Baptiste), Talia al Ghul and Nosferata (both Zehra Fazal), Tobias Whale (Keith David), Cheshire (Kelly Hu), Solomon Grundy (Steve Blum), Boss Moxie (Jonathan Frakes), Doctor Tzin (Ron Yuan), La Dama (Jacquelin Obradors), Domino 1 (Eric Lopez) and Mr. Yakuza (Andrew Kishino). For those counting at home, that seems to be more than 10 potential opponents, so place your bets as to who might be working toward their own ends even more so than the rest during the film.
On Team Good Guy, there's Batwoman, who is being played by "Brooklyn Nine-Nine" alum Stephanie Beatriz. Bat family support person extraordinaire Julia Pennyworth (Lauren Cohan) and spymaster King Faraday (Frakes again) will also feature.
What is the plot of Catwoman: Hunted?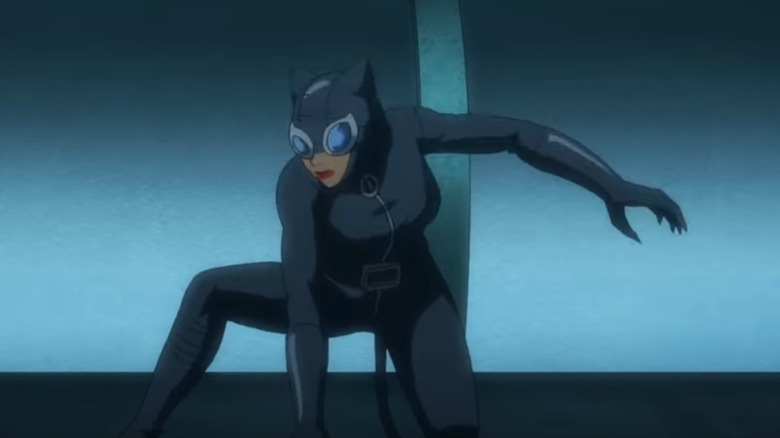 DC/Warner Bros. Animation
"Catwoman: Hunted" follows DC's part-time hero, part-time villain as she –– what else? –- attempts to heist a priceless jewel.
However, either this attempt or some of her previous crimes seem to have finally caught up with her, and she's offered the opportunity to have her warrants wiped out if she helps the authorities and Batwoman take down the Leviathan Crime Syndicate. The trailer promises that Catwoman will have to stop "10 legendary villains," presumably involved with the syndicate. Jet-setting, sword-fighting, and acrobatic avoidance of security lasers will ensue.
One interesting note for comics fans: There's a quote in the trailer that seems to refer to Leviathan as Minerva's organization – as in Barbara Minerva, the alter-ego of DC's Cheetah – but traditionally in the comics, Leviathan has been a project of Talia Al Ghul. Considering that both characters are appearing in the film, this is either a change, or Leviathan has a complex organization chart somewhere back at headquarters. Given the sheer number of crime kingpins and queenpins on the cast list, the latter might be true, anyway.