Why Madame Rouge From Doom Patrol Season 3 Looks So Familiar
"Doom Patrol" is arguably one of the most unique DC television shows on the air right now, thanks to its elaborate, bizarre storylines and its relatable, flawed characters. Now in its third season, which kicked off on September 23, "Doom Patrol" continues to add new cast members, giving the core not-quite-superhero team more opportunities for growth and rich character drama. While the cast is already quite stacked with beloved actors like Brendan Fraser, Matt Bomer, Timothy Dalton, and April Bowlby, Season 3 looks to widen its featured stable of talent.
One of the biggest additions to Season 3 is the Madame Rouge character played by Michelle Gomez. In the comics, Madame Rouge is a supervillain who has the ability to stretch — a similar power to Bowlby's Rita Farr — and shapeshift into anyone (via Nerdist). On "Doom Patrol," this new character has certainly made good use of the latter superpower thus far, but her motives have yet to become clear aside from the fact that she's searching for Niles Caulder (Dalton) and that she's suffering from amnesia as a side effect of time traveling.
Some "Doom Patrol" fans may recognize Gomez from other high-profile roles she's played in the past. Here's why she looks so familiar.
Michelle Gomez played a pivotal villain on Doctor Who
Per Michelle Gomez's IMDb profile, the Scottish actress had plenty of television roles on U.K. shows like "Green Wing" and "The Bill" before she landed the part of Missy on "Doctor Who" Season 8 in 2014. However, despite racking up more than two decades' worth of onscreen credits, it's arguable her performance on "Doctor Who" is the one that brought her the most widespread fame and attention. 
The Master has been one of the most notorious villains on "Doctor Who" throughout the show's long and notable run. In the past, the character was always played by a man, but "Doctor Who" changed things up with the introduction of Missy, a female incarnation of the character (via BBC One). As both the Master and the Doctor are Time Lords and thus capable of regenerating into new bodies when close to death, this move made plenty of sense. 
Gomez's portrayal of Missy likely started her down a path of playing villains in various television shows and movies, which has since culminated in her "Doom Patrol" Season 3 role. Her work on "Doctor Who" is well-regarded to this day and, according to showrunner Steven Moffat, contributed to the decision to cast Jodie Whittaker as the first female incarnation of the Doctor (via Radio Times).
Michelle Gomez played a supernatural being on Chilling Adventures of Sabrina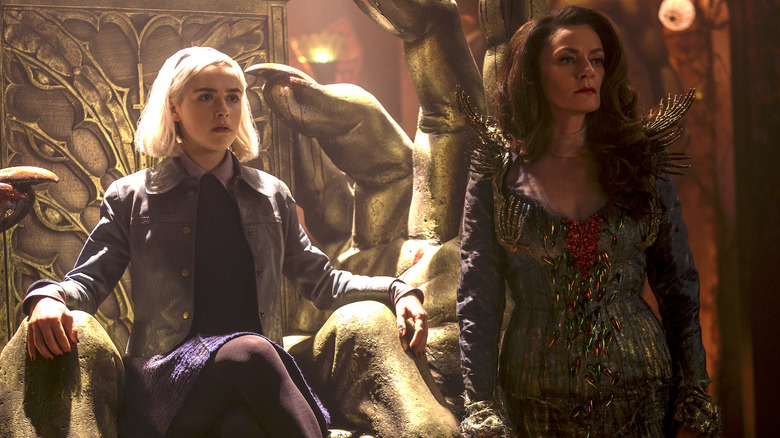 Diyah Pera/Netflix
A year after finishing up her role as Missy on "Doctor Who" in 2017, Michelle Gomez made her debut as a villain in yet another high-profile show, Netflix's "Chilling Adventures of Sabrina." The show is a darker take on the Sabrina the Teenage Witch character and is based on the Archie comic book series of the same name. During the series' three-season run, Gomez played the character of Mary Wardwell, a teacher at Greendale High School whose body is possessed by Lilith, Lucifer's lover and an enemy-turned-ally to Sabrina (Kiernan Shipka). Tackling the dual characters of Miss Wardwell and Lilith was a darker turn for Gomez, though she brought a lot of complexity to both parts and gave fans an entirely different kind of villainous performance.
While the character would eventually have something of a redemption arc near the end of "Chilling Adventures of Sabrina," it was most likely Gomez's past role as Missy that helped her land the role. Still, while Gomez may be typecast as a villain, it's clear that she tries to bring something different to each antagonistic role she steps into. "Chilling Adventures of Sabrina" is no exception to this rule.