The Character Everyone Forgets David Bowie Played In The Prestige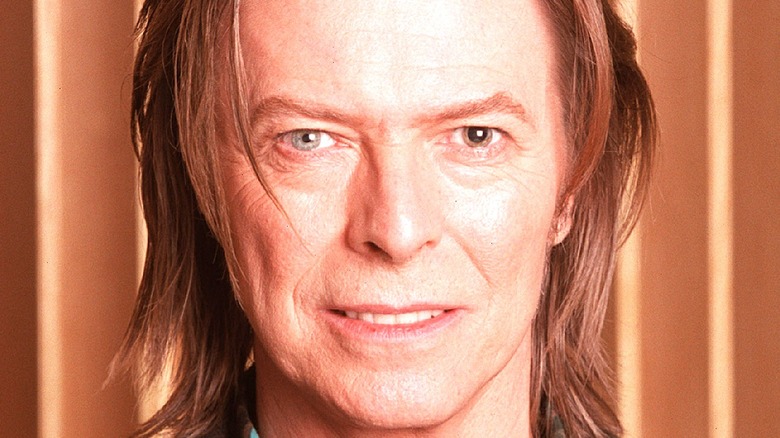 Dave Hogan/Getty
Whether you called him Ziggy Stardust, the Starman, the Thin Goblin King, or any of his other numerous nicknames, there's no doubt that David Bowie was a true rock and roll innovator. In the course of his decades-long tenure as a legit music icon, he released a total of 25 albums (not including live releases and compilations), all of which were as boundary-pushing as they were wholly unique. As with everything Bowie did prior to his 2016 death, including his legendary live performances, each of those releases was theatrical in nature, with the artist changing personas as often as he changed his sound.
Given his penchant for playing different roles in his music life, it was hardly a surprise when David Bowie started claiming roles on the big screen. It was even less of a surprise that he proved a skilled thespian with a larger-than-life screen presence. Throughout his career, Bowie brought that presence to a handful of classic films, including 1976's sci-fi marvel "The Man Who Fell to Earth," 1983's erotic vampire thriller "The Hunger," 1986's puppet-friendly fantasy "Labyrinth," and David Lynch's wild 1992 "Twin Peaks" prequel film, "Fire Walk With Me."
Still, one of Bowie's best performances came later in his career, and it came in Christopher Nolan's under-appreciated 2006 thriller "The Prestige." Here's who David Bowie played in the film.
Bowie played real-life magic man Nikola Tesla in The Prestige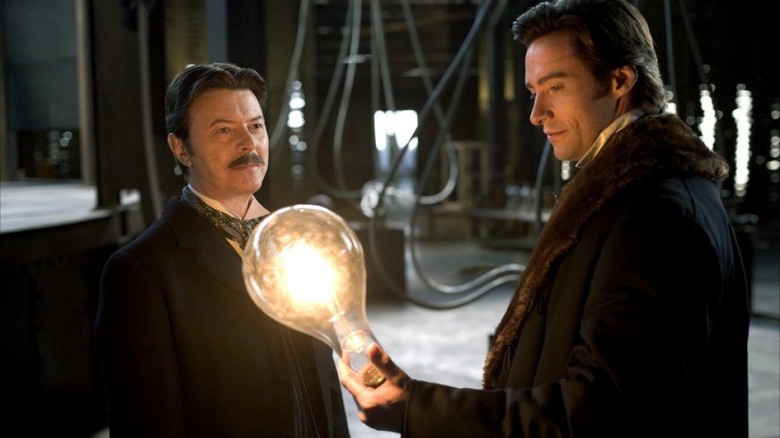 Warner Bros. Pictures/Buena Vista Pictures Distribution
If you've yet to see Nolan's masterful, magical mystery film, "The Prestige," it is set largely in turn-of-the-century London, and finds a pair of gifted magicians (portrayed by Christian Bale and Hugh Jackman) locked in a fierce battle of wits and wills as they obsessively attempt to upstage one another with the perfect illusion. That battle gets more twisted, and far deadlier, than either man likely would've expected. And yes, it gets wonderfully weird about halfway through the action, when Jackman's character makes the journey from London to the mountains of Colorado in search of a scientist who can build a complicated machine capable of aiding him in his magical endeavors. 
That man turns out to be none other than legendary real-life inventor and engineer Nikola Tesla, who indeed spent considerable time conducting radical experiments with electricity and wireless technologies in Colorado Springs circa the late 1890s and early 1900s (per PBS). And without spoiling anything for those who haven't seen "The Prestige," the machine Tesla ultimately makes does something that can only be described as unexpected.
As for Bowie's appearance as Tesla in "The Prestige," it was every bit as unexpected for many viewers, as it was not widely publicized ahead of the film's release. Likewise, the artist's entrance into the world of "The Prestige," was as electrifying as it was utterly unforgettable. So, too, was Bowie's performance, with the actor skillfully internalizing Tesla's rich emotional states while still deftly conveying the restless intellectual workings of his beyond fertile mind.