The Helena Scene On General Hospital That Went Too Far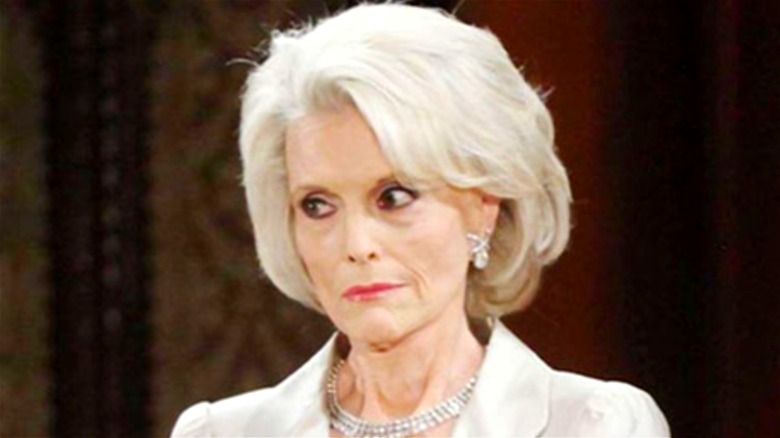 ABC
"General Hospital" villain Helena Cassadine (last played by Constance Towers in 2020) has been a force of nature ever since she showed up at Luke and Laura Spencer's wedding and cursed them both all the way back in 1981 (and in the form of Elizabeth Taylor). The notorious matriarch is driven by only two things, revenge and a lust for power. More often than not, she doesn't care who she has to sacrifice to get what she wants. 
But what act stands out as the worst among the many foul deeds Helena has committed? After all, the character is a straight-up murderess two times over (via Soaps.com). Helena's also got a rap sheet that includes kidnapping, brainwashing, turning Drew Cain (then Billy Miller, now Cameron Mathison) into a supersoldier by planting false memories in his mind, combining her son Valentin's (James Patrick Stuart) sperm with Lulu Falconeri's (Emme Rylan) eggs, and hiring a surrogate to carry the resulting embryo — not to mention many other awful incidents. Even with all that in mind, this is undeniably the lowest point she's ever reached.
Helena killed her own daughter
With Helena, "too far" can be a relative term. She once took part in a plot to freeze over the world, after all. But trying to kill her own daughter was definitely a fresh form of evil for the villainess. This incident popped up on Soaps.com's list of Helena's 21 most notorious deeds. It's also one of the many reasons TVOM referred to Helena as "a snake" and ranked her the worst villain in GH history. "[S]he will go against her own family, children, women, babies, and anyone else she feels is in her way," Tiffany Rainford wrote in 2019
Back in 2012, a mystery blonde (Alyshia Ochse) was introduced to "GH." She bore the moniker Cassandra, and her elusive ways haunted con artist Ethan Lovett (Nathan Parsons). Ethan eventually learned that Cassandra was an amnesiac living under the care of a private psychiatrist. Ethan and Cassandra fell recklessly in love, with Cassandra insisting all the while she never wanted to learn who she really was.
In reality, "Cassandra" always knew her true identity — she was Irina Cassadine, daughter of Helena and an unnamed man. Helena sent Irina to seduce and then kill Ethan, motivated by the fact that Ethan was the biological son of Holly Sutton (Emma Samms) and Luke Spencer (Anthony Geary). That made him another prime target in the never-ending Spencer-Cassadine feud. To wit, Helena had planned to slay Ethan and claim revenge on Luke for murdering her own sons, Stavros and Stefan.
What Helena didn't count on was Irina falling in love with Ethan along the way and refusing to comply with her mother's nefarious scheme. But Helena had a solution for such insubordination.
A bulletproof plan
After Irina refused to kill Ethan, Helena forced the girl to confess her true identity to her lover at knifepoint. It turned out that Irina had been held prisoner by Helena for years as the grande dame tried to hone Irina into a weapon, keeping Irina's existence a secret from the rest of their family. Helena had originally intended for Irina to kill Luke and Laura's son Lucky, but the man left town before they could hatch the plan. Irina knew that her mother was feeding her exaggerations and lies about the Spencer family and tried to escape her island prison, but nearly drowned in the process. The trauma truly had left her with partial amnesia, which was why she'd enlisted psychiatric help.
Helena had captured Luke, and had her henchmen drag the beaten man into the room, then handed her child a gun. She'd hoped to have Irina shoot Ethan in front of Luke so he would understand the pain he'd caused her by killing her sons, but when Helena turned around, Irina tried to shoot her own mother. Yet Helena had anticipated her daughter's betrayal and loaded the gun with blanks. Without so much as a flinch, she ordered her goons to kill Irina. They promptly shot her to death.
Luke and Ethan were rescued by Holly, once again foiling Helena's wicked plot and keeping her from withering the Spencer line. Helena ultimately never accomplished this goal — she died onscreen in 2015, survived by Luke, Laura and their progeny — but Helena's evilness continues to cast a shadow over "General Hospital" in the form of her own children, grandchildren — including Nikolas Cassadine – and great-grandchildren.