One Of William Shatner's Star Trek Co-Stars Is Ripping On The Actor's Trip To Space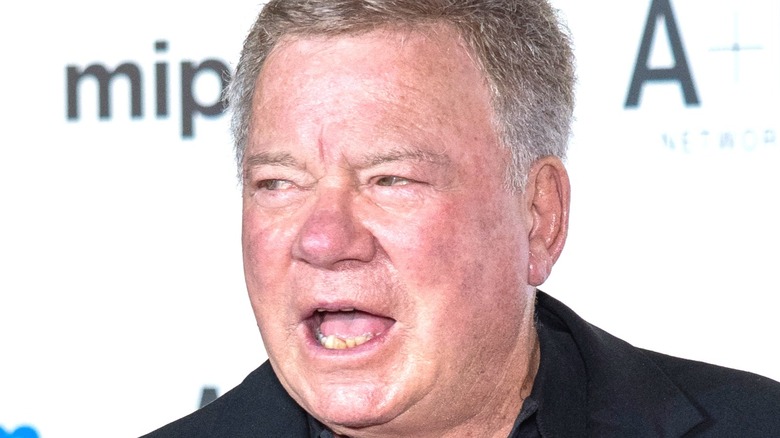 Arnold Jerocki/Getty Images
While the world continues to celebrate William Shatner's historic trip to space aboard Amazon founder Jeff Bezos' Blue Origin rocket earlier this week, at least one of the legendary actor's "Star Trek" co-stars is throwing cold water on all the revelry.
Shatner, who earned his sci-fi icon status by playing U.S.S. Enterprise Captain James Tiberius Kirk on the classic "Star Trek" television series and subsequent feature films, was one of four civilian crew members aboard the Blue Origin during its 10-minute trip to space. And while the prolific film and television star has compiled nearly 250 screen roles in his 70-year career, there was no acting involved in the moments after Shatner floated back to Earth after the space flight.
Speaking on camera to Bezos (via CNBC) after Blue Origin's safe landing, Shatner was full of nothing but real human emotion: "What you've given me is the most profound experience I can imagine," Shatner, on the verge of tears, told Bezos. "I am so filled with emotion about what just happened. It's extraordinary. I hope I never recover from this. I hope that I can maintain what I feel now, I don't want to lose it. It's so much larger than me and life; it hasn't got anything to do with the little green and blue orb. It has to do with the enormity and the quickness, and the suddenness of life and death. Oh, my God, it's unbelievable."
George Takei says Shatner was a 90-year-old 'guinea pig' on Blue Origin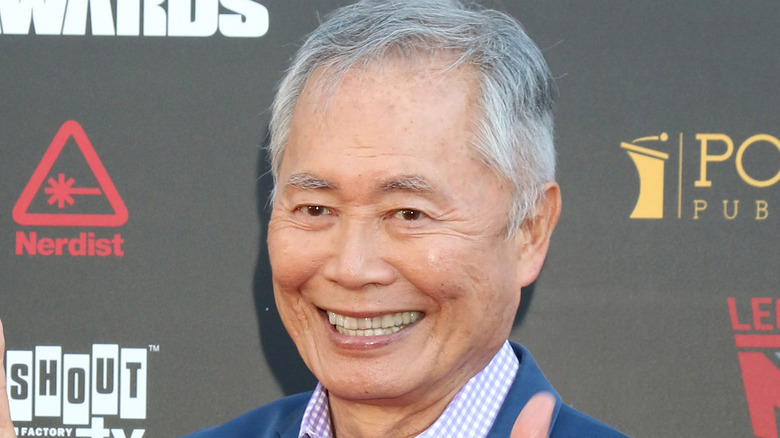 Kathy Hutchins/Shutterstock
Apart from the pop culture significance of a "Star Trek" actor's life coming full-circle by actually rocketing into space, Shatner's flight aboard the Blue Origin was historic in that he became the first 90-year-old person to go on such an adventure. Still, "Star Trek" actor George Takei — who played Lt. Hikaru Sulu in the series and franchise movies — reacted to the event by saying his former co-star was nothing more than a glorified "specimen" on the flight, knocking Shatner's physical fitness in the process.
"He's a guinea pig, 90 years old and it's important to find out what happens," Takei bluntly told the New York Post's Page Six in the hours after Shatner's flight. "So, 90 years old is going to show a great deal more on the wear and tear on the human body, so he'll be a good specimen to study. Although he's not the fittest specimen of 90 years old, so he'll be a specimen that's unfit!"
As for the space trip itself, Takei downplayed Shatner's participation by telling Page Six, "He's boldly going where other people have gone before."
The feud between George Takei and William Shatner is nothing new
For those who don't follow "Star Trek," or Takei and Shatner, for that matter, this isn't the first display of public animosity that's surfaced between the two actors. According to the New York Post, Shatner and Takei have been at each other for years, stemming back to discord on the set of the "Star Trek" series.
As such, the Post quoted a 2008 interview with Shatner on his YouTube channel over his alleged displeasure of not being invited to Takei's wedding, where the actor said, "There's such a sickness there, it's so painfully obvious that there's a psychosis there. I don't know what his original thing about me was, I have no idea. I didn't read his book that was printed many years ago. I didn't know him very well on the series, he'd come in for a day or two, as evidenced by the role he played."
Despite the consternation between the two, Shatner, in the same YouTube interview, expressed sadness for Takei, saying, "There must be something else inside George that is festering, and it makes him so unhappy that he takes it out on me, in effect a total stranger. Why would he go out of his way to denigrate me? It's sad, I feel nothing but pity for him."
Ironically, Takei was invited to publicly lambast his former co-star in the cable special "The Comedy Central Roast of William Shatner" in 2006, where Shatner, among fellow roasters, reacted to Takei's harsh, filthy barbs about their feud with smiles and laughter.