The Scene Lee Jung-Jae Actually Improvised In Squid Game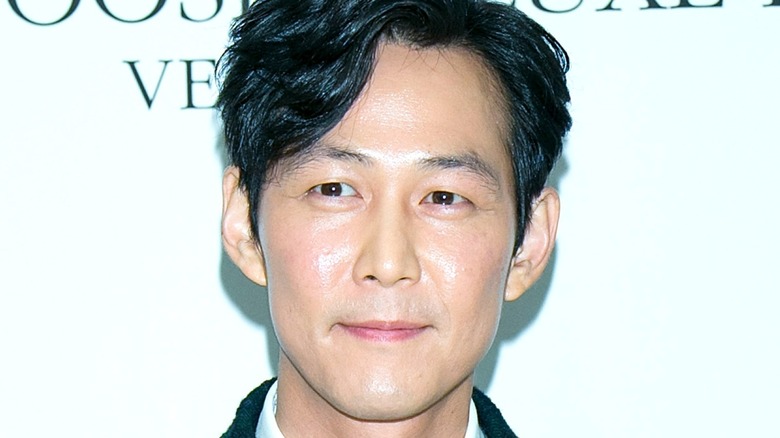 Han Myung-gu/Getty
Netflix's sensational, record-breaking South Korean thriller series "Squid Game" is tightly plotted, but that doesn't mean there was no room for improvisation on set.
"Squid Game" tells the story of people desperately in need of cash who agree to take part in a mysterious experiment where they play children's games for the chance to win a large cash prize –- if they can stay alive. If they lose, they're violently killed.
The first episode of the series tracks how Seong Gi-hun (Lee Jung-jae) gets involved in the game. He's very down on his luck. He's unemployed, and his only source of income is gambling, and that's not going very well for him. He owes a lot of money to loan sharks. One day at the off-track betting place, he hits big time. He has money in his pocket and he's feeling good. He even tells his daughter he's going to take her to a nice restaurant and buy her a great gift for her birthday. However, as he's running from a loan shark, he collides with Kang Sae-byeok (Jung Ho-yeon), who picks his pocket, leaving him broke again.
According to Lee, he improvised his reaction during the scene.
Beverage-based improv comedy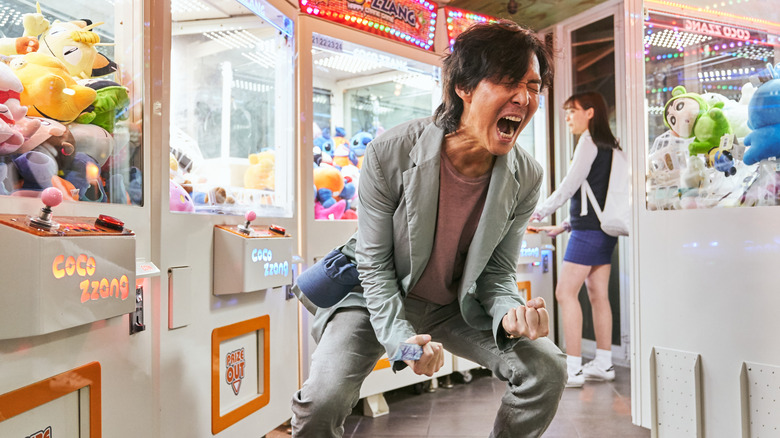 Noh Juhan/Netflix
The cast of "Squid Game" appeared on "The Tonight Show," and host Jimmy Fallon asked Lee Jung-jae if any of the show was improvised. He said there was a lot of improv, and the most memorable moment to him was that first scene between his and Jung Ho-yeon's characters, when they bump into each other and fall down, and she drops her coffee.
"Typically, you would just pick it up and hand it to her, but I noticed the straw on the ground, so I improvised and tried to stick the straw back into the cup," he explained. "I tried to do it multiple times. That made Ho-yeon crack up so hard that she couldn't lift her head up." He then did a head-bowed, shoulder-shaking impression of Jung laughing uncontrollably, which is funny because her character never even cracks a smile during the whole show.
They don't reveal any other improvised moments, but Cho Sang-woo actor Park Hae-soo talked about how his son was born the same day "Squid Game" premiered, which is magical and adorable and maybe the best day any person has had in 2021. His friends have nicknamed his son "Baby Squid."