The Brettsey Scene In Chicago Fire Season 10 Episode 4 Fans Couldn't Help But Love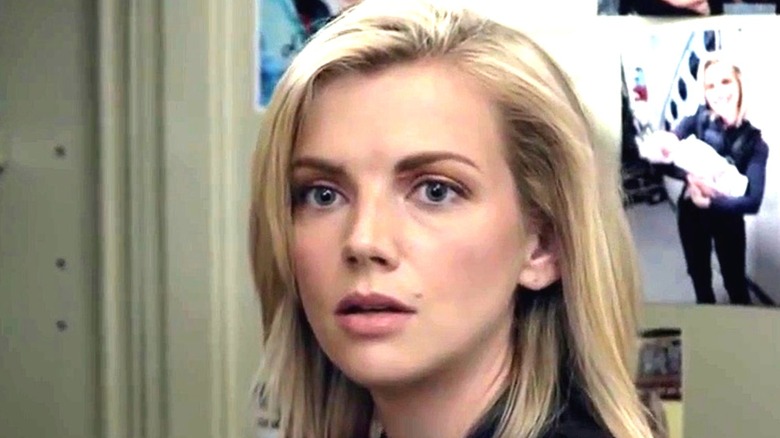 NBC
While the pairing of Captain Matt Casey (Jesse Spencer) and paramedic Sylvie Brett (Kara Kilmer) was once one of the more divisive relationships on "Chicago Fire," the couple has quickly become a new favorite among fans. A steamy Brettsey moment early in the season caught viewers' attention, and it seems like things are only getting better for the burgeoning romance.
However, it wasn't long ago that the pair couldn't have been further apart. Casey, who has been a primary character in the "One Chicago" universe series since it premiered in 2012, has been a part of two serious relationships on the show. He was first partnered with Dr. Hallie Thomas (Teri Reeves), to whom he was briefly engaged, and later to Gabby Dawson (Monica Raymund), to whom he was briefly married.
Brett, on the other hand, arrived a few seasons in and took part in a few casual relationships before finally settling down and becoming engaged to Chaplain Kyle Sheffield (Teddy Sears), a relationship that ended in Season 8. After spending most of Season 9 in a sort of will they, won't they situation, the two finally connected, and Season 10 seems to have put them together for good.
As the pair enjoys a relatively stress-free honeymoon period, fans have been taking notice and wishing the young couple the best. Here is the recent Brettsey scene in the "Chicago Fire" Season 10 Episode "The Right Thing" that fans couldn't help but share their appreciation for.
Fans feel that Brett and Casey are moving toward a stable domestic relationship
In the recent Brettsey moment, "Chicago Fire" opens on the happy couple as they prepare for their day, just as the show did a few episodes earlier in "Head Count." Viewers see Brett put on earrings, while Casey puts on his jacket, eager to return home so he can pack for his trip to Oregon. However, Brett mentions that it seems strange that Casey doesn't keep more of his things at her place, considering the amount of time they spend together. After emptying a couple of drawers for him to use, Casey says, "That'll do ... for now," before the two say goodbye and kiss.
Fans couldn't get enough of their steadily progressing relationship. @Learnthingss wrote, "Starting off with Brettsey again?? I mean cmon," followed by a series of crying and heart emojis that made their positive feelings clear. 
In response, @IamLindaL noted, "They're starting all the episodes with #Brettsey cuz they're awesome!"
Other fans felt that the invitation was foreshadowing real progress in the relationship. Twitter user @hamburgerheroes observed, "God, he really would marry her tomorrow if she asks, huh?"
Of course, there's more going on in "The Right Thing" than just another adorable moment between Brettsey, such as the wayward family that Casey visits in Oregon, which makes him wonder if he needs to move closer to help them stay together. Fans worried there might be consequences from those events, such as @BrettseyDaily, who felt that the couple may face some time apart — but hopefully, a long-distance relationship will be only temporary.