Kurt Russell Explains How Guardians Of The Galaxy Vol. 2 Pulled Off That Opening Scene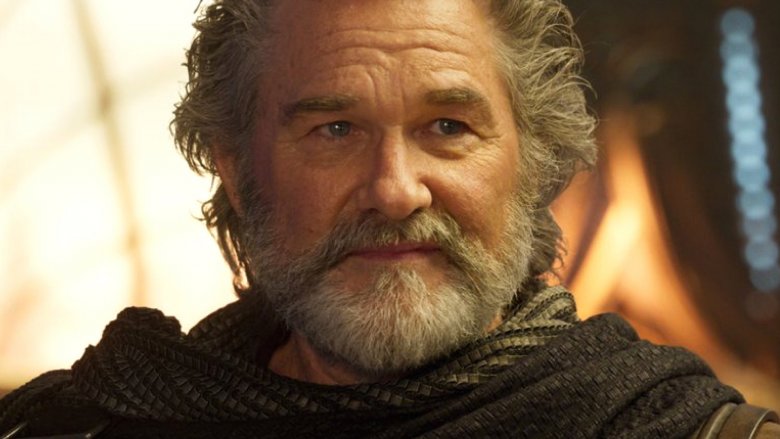 Minor spoilers ahead for Guardians of the Galaxy Vol. 2.
Some of the many, many people who poured out to the theaters to see Guardians of the Galaxy Vol. 2 this past weekend might have been astonished to see that the movie had managed to de-age Kurt Russell back to his '80s glory for its opening scene, which showed a young Meredith Quill and Ego, played by a Russell who looks, shockingly, 29. According to Russell, while CGI definitely played a role in his transformation, a lot of it came courtesy of having a good make-up artist.
This, of course, isn't the first time that Marvel has de-aged one of its actors– Michael Douglas was taken back 25 years for the opening of Ant-Man, while Robert Downey Jr. was transformed into a teenager for Captain America: Civil War's simulation. However, Russell's was among one of the most shocking and impressive transformations, especially considering how iconic the actor was when he was in his late 20's. Director James Gunn said that the goal for Guardians was to get Russell back to his Used Cars-era look, which meant that he was supposed to be slightly older than Laura Haddock's Meredith. Russell went back to someone he has been working with since Tango and Cash to achieve the impressive feat, with filmmakers relying heavily on make-up man Dennis Ledger, along with CGI courtesy of visual effects house Luma Pictures, to make Russell look young again.
"Dennis Ledger said to these guys, 'I can age him down, kinda shockingly so,'" Russell told Yahoo! Movies UK. "He said, 'I gotta lot tricks in my bag too. I know that you're thinking of CGI and I know there's going to be some of that involved,' so they said 'Anything you can do to help in that regard would be great.'" Russell said that it wasn't just CGI and make-up used to make him look young– it also required being able to act young. "You've got to give the actor the opportunity to just play young in that regard," Russell said. "It's very hard to do but it's a lot of fun, and when you see the result I think it's a lot more natural."
You can see Russell's feathered hair for yourself in Guardians of the Galaxy Vol. 2, which is in theaters now. If you've already headed out to the theater, see what the ending of the film really means.