Why Jules From Chicago P.D. Looks So Familiar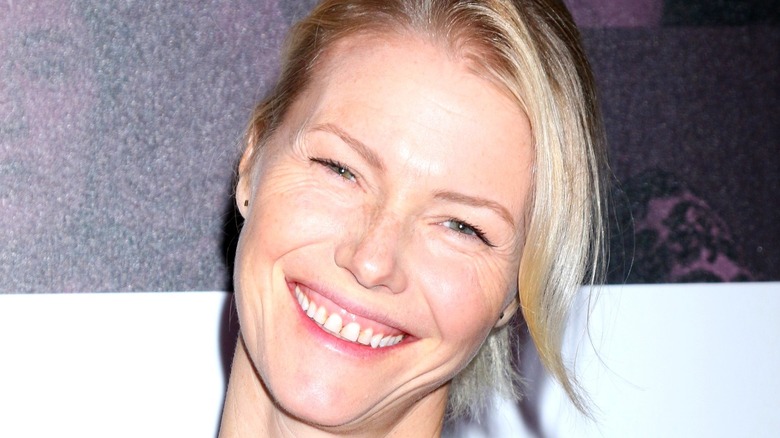 Kathy Hutchins/Shutterstock
While she was only in one episode of the show, Detective Julie Willhite of the Chicago Police Department left a huge impact on the television series "Chicago P.D." and its future. Played by actress Melissa Sagemiller, Detective Willhite, commonly referred to as "Jules," is introduced in the pilot episode of "Chicago P.D." as a devoted officer who is highly respected and well-liked by her coworkers. Jules is a wife and mother, and she has a particularly close relationship with Detective Erin Lindsay, played by Sophia Bush.
Unfortunately, Jules doesn't make it past the pilot because she is killed in the line of duty. In the first episode of the show, a handful of detectives are sent to investigate a building as part of their take-down of drug lord Adres Diaz (Arturo Del Puerto), also known as Pulpo, but they are unaware that the place is occupied. Just as they are instructed to leave by their superior, someone shoots through the door, hitting Jules in the neck. Although her fellow officers attempt to save her, she dies. 
Despite her short appearance in "Chicago P.D.", Jules is still a very important part of the show, and Sagemiller does a fantastic job. Along with that, many viewers might recognize Sagemiller from other shows and movies she's acted in over the years. Here's why Jules from "Chicago P.D." looks so familiar. 
Melissa Sagemiller starred in a series of romantic comedy films
Early on in Sagemiller's career, she mostly appeared in romantic comedy films. Here earliest work is in 2001's "Get Over It," which stars a bunch of familiar faces, including Kirsten Dunst, Ben Foster, Mila Kunis, Zoe Saldana, Colin Hanks, and even Martin Short. The film is a modern take on "A Midsummer Night's Dream" by William Shakespeare taking place in high school, with Sagemiller playing Allison McAllister, the popular girl who dumps Foster's Berke Landers for another guy. He then works hard to get a part in the school's musical rendition of "A Midsummer Night's Dream" in order to win her back.
Sagemiller also played Tracy in the 2007 comedy "Mr. Woodcock" starring Seann William Scott, Billy Bob Thornton, Susan Sarandon, and Amy Poehler, which follows Scott's character John Farley as he is forced to face the trauma left from the abuse of his middle school gym teacher, Jasper Woodcock (Thornton), who is about to marry his mother, Beverly (Sarandon). Sagemiller's character Tracy is Farley's love interest and an old classmate of his. But when Farley starts acting childish in his attempts to stop Woodcock and Beverly's marriage, Tracy is put off, and he must work hard to keep her affection.
Alongside those two films, Tracy also appeared in 2002's "Sorority Boys," as well as a handful of indie horror films like "Soul Survivors" from 2001 before she started to venture into other areas of film and television. 
The actress played Gayle Bishop in Sleeper Cell
In 2005 and 2006 Sagemiller had her first major role on television, playing Gayle Bishop in the Showtime drama series "Sleeper Cell." The show stars Michael Ealy as Darwyn Al-Sayeed, a Muslim FBI agent who must go undercover in a terrorist sleeper cell that reportedly plans to attack Los Angeles. The main antagonist of "Sleeper Cell" is an extremist named Faris al-Farik, played by Oded Fehr, who is one of the leaders of the cell, and the series explores the complexities of extremists and their beliefs while also showcasing a Muslim hero with Darwyn.
Sagemiller's character Gayle is introduced in Season 1 of "Sleeper Cell" as a love interest for Darwyn. He opens up to her about his troubled past and current anxieties, while she finds comfort with him while also dealing with her own issues. Unfortunately, Gayle's association with Darwyn because a weakness for him and a danger for her, and the couple's love doesn't exactly end well. 
Sagemiller portrayed Michelle Ernhardt in Raising the Bar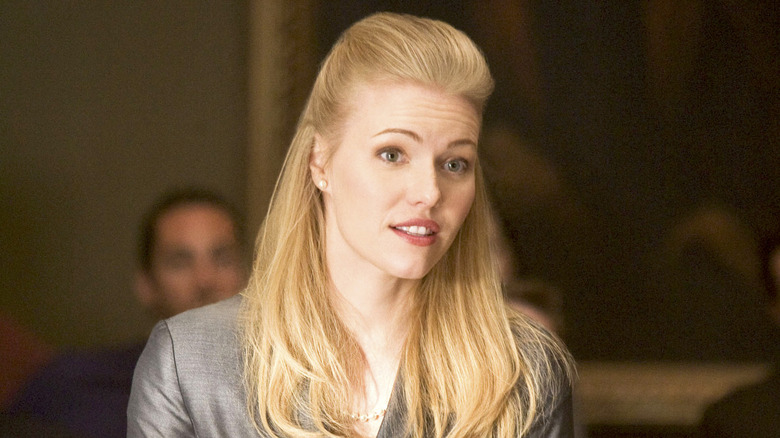 TNT
Sagemiller's next major role came in 2008 with "Raising the Bar," a TNT series that stars Mark-Paul Gosselaar as a public defender named Jerry Kellerman who has strong morals and hope that he can do good with his position. Unfortunately, other individuals in the system have their own agenda that clashes with his, as is the case with Judge Trudy Kessler, played by Jane Kaczmarek, who is trying to set herself up to be the next District Attorney. 
Then there's Michelle Ernhardt, played by Sagemiller, who is a charming yet manipulative woman working as an assistant district attorney. Ernhardt constantly gets in the way of Kellerman's plans, but that doesn't stop the two from having a steamy secret fling. While Ernhardt has been taught to do whatever it takes to win the case, she learns from Kellerman that sometimes it's more important to do what's right. "Raising the Bar" also stars Gloria Reuben, J. August Richards, Jonathan Scarfe, and more, and it ran for two seasons on TNT before being canceled.
Sagemiller was A.D.A. Gillian Hardwicke in Law and Order: Special Victims Unit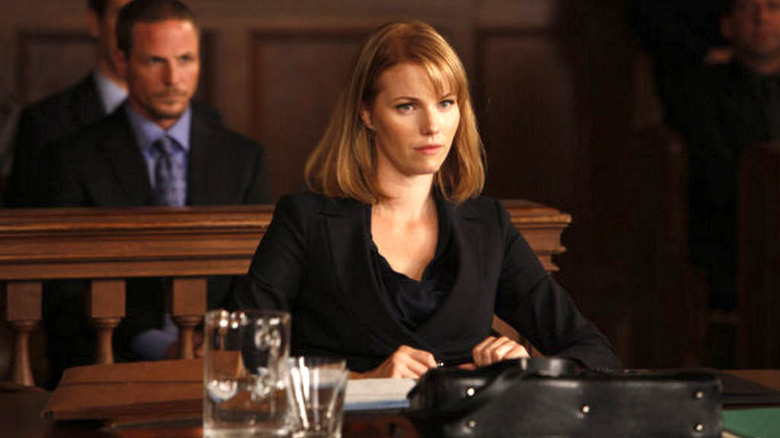 Most recently, Sagemiller played the role of A.D.A. Gillian Hardwicke in "Law and Order: Special Victims Unit." She first appeared in the show in the sixth episode of Season 12, "Branded," in 2010, as the new A.D.A. helping out on the case of a criminal who is sexually assaulting and branding people. Soon the detectives find out that it is a woman who is doing this, unraveling a complicated and years-long story of how the woman was raped by three men years ago and is now getting revenge. With the help of Hardwicke, Detective Olivia Benson (Mariska Hargitay) and her coworkers are able to prove the truth in court and pursue just punishment for the men responsible for the original crime. 
Over the next year, Sagemiller would return to her role as Hardwicke for another nine episodes, with her last appearance being Season 12, episode 19, "Bombshell." Funnily enough, Sagemiller also had a small guest role in "Law and Order: Special Victims Unit" all the way back in 2000, playing a character named Becky Sorenson in Season 1, episode 12, "Russian Love Poem."