The Character Everyone Forgets Patricia Clarkson Played In Jumanji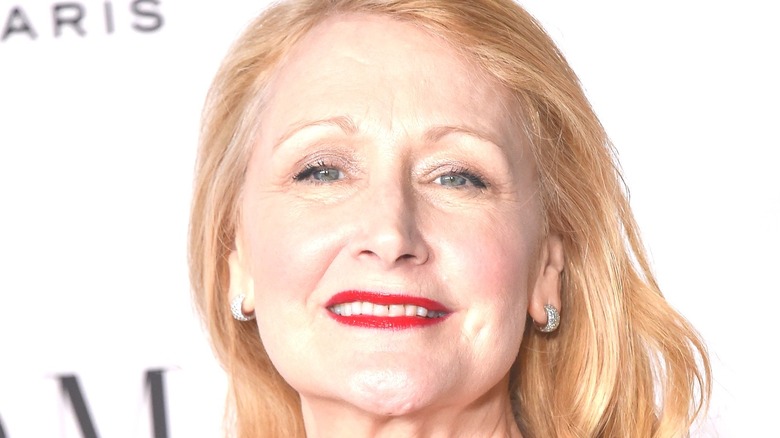 DFree/Shutterstock
Almost three decades — and several sequels – after its release, "Jumanji" remains one of the most revered family films ever produced. It's also one of those family films that maybe wouldn't get made today. It is, at times, a dour, and frequently terrifying little adventure film. For the un-indoctrinated, that adventure finds creatures and characters from a magical board game bleeding through to wreak havoc on folks living in the real world. Among those characters are unsuspecting youngsters Judy and Peter Shephard (Kirsten Dunst and Bradley Pierce) who make the fateful mistake of playing the game, only to find themselves in mortal peril as the madness unfolds.
Swooping in to help the pair make it to game's end is the crazed, middle-aged man Alan Parrish (Robin Williams) — who got trapped inside the game for decades after playing it himself — and Sarah Whittle (Bonnie Hunt) — who watched her pal Alan disappear into the game decades earlier and never really got over it. With those names fronting the film, "Jumanji" already had an impressive cast in place, with the likes of Bebe Neuwirth, David Alan Grier, and Jonathan Hyde rounding out the cast.
There is, however, one major actor even die-hard fans tend to forget appeared in "Jumanji," as the great Patricia Clarkson playing a small, but vital role in the action. 
Clarkson played Alan's doting mom in Jumanji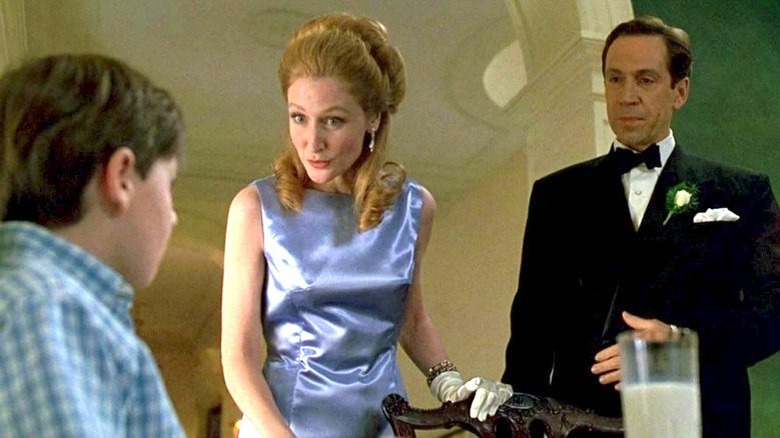 TriStar Pictures
As most "Jumanji" fans no doubt remember, the film actually opens in 1969 when young Alan (played by Adam Hann-Byrd) was a bullied pre-teen with a knack for getting into trouble. As it happens, he was in hot water with his dad (Hyde) the very day he and Sarah (Laura Bell Bundy) made the life-altering choice top play "Jumanji." In fact, the Parrish boys exchanged a few harsh words about whether or not Alan would be shipped off to boarding school in the early moments of the film. And things might have gotten more heated had the lady of the house not stepped in to temper the mood.
That was indeed Patricia Clarkson portraying Alan's forceful, yet caring mom Carol in the film. And while the actor's screen time in "Jumanji" is clearly on the limited side, the actor more than seizes the moment with her signature blend of maternal warmth and icy elegance. In doing so, she manages to leave an indelible mark on the narrative in a role that might otherwise have been forgotten altogether.
Clarkson has, of course, had knack for doing just that throughout her career, of course. Over the years, the actor has delivered scene-stealing supporting work in the likes of "The Untouchables," "Good Night and Good Luck," "Shutter Island," and HBO's lauded mini-series "Sharp Objects," in which her maternal instincts undoubtedly erred on the side of deeply troubling.